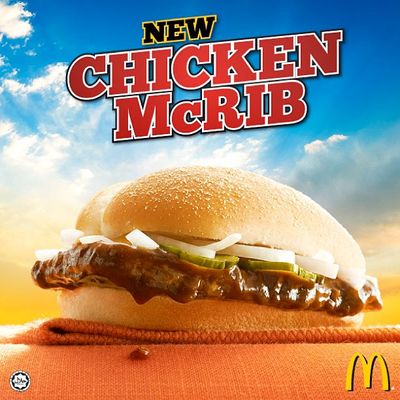 No, we're not making it up. This is what we know so far.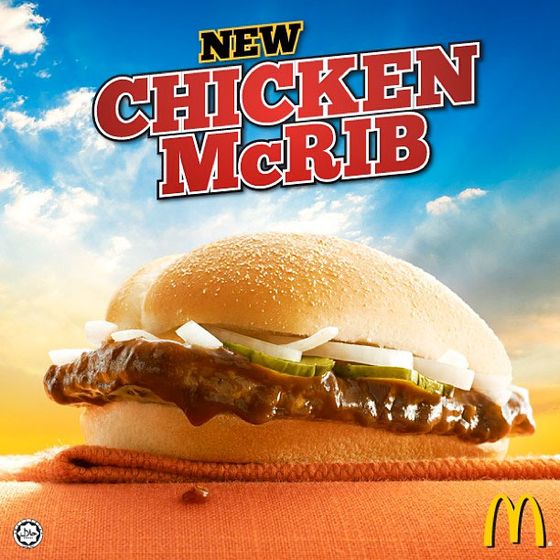 "The patty is like a big McNugget,."Photo: McDonald's Malaysia/Facebook


1. The Chicken McRib is a real thing, now being served at McDonald's locations throughout Malaysia. Chickens actually do have rib cages, including a large floating rib near the bum, thank you very much. Nonetheless, most anyone serving "chicken ribs" in general is being euphemistic.
2. In its marketing, McDonald's is slyly saying, "Don't get it twisted": Unlike its infamous boneless pork McRib, what they're cooking up is just a "juicy ribbed chicken patty cooked to perfection." In other words, pulverized chicken meat whipped into a batter and molded into the flat patty shape, with bonus grooves on the surface of the meat.
3. An outpouring of anger on the chain's Malaysia Facebook page suggests no one wanted chicken ribs in the first place. Malays are Muslim, so the O.G. pork McRib is off the table, but what about lamb ribs? Tony Roma's has "really nice" lamb ribs, according to a Facebook commenter. Or maybe beef ribs? In any event, another Facebook user says McDonald's is misleading customers with false advertising: "It's like selling 'crab BREAST' or 'fish DRUMSTICK,'" he writes. Others just want the fast-food restaurant to bring back its grilled chicken burger.
4. Taste-testers are calling the Chicken McRib disappointing. "This burger sucks to the max," one writes. "The patty is like a big mcnugget," writes another. Others complain that the barbecue sauce slathered on the sandwich is being used on too many other menu items at the chain.
5. Another customer says it's the "worst burger I've ever tried at McDonald's" and nothing at all like the chain's "Samurai Burger," which several other users also seem to miss.
6. There's also such a thing as the Double Chicken McRib, and it's big. "This is the first time I ever seen so much sauce on any burger," an unamused reviewer writes, comparing handling the behemoth as "similar to flipping a whale around."
7. The chain claims there are "101 Reasons to try the new Chicken McRib." These include the notion that "tasting one is like catching a glimpse of a falling star," which, given the feedback, seems like it might not be the best comparison.

The Chicken McRib Is Here! [McDonald's Malaysia/Facebook]