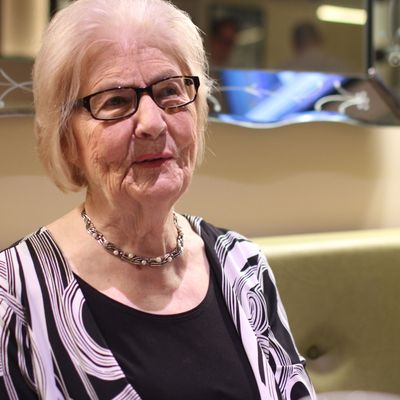 Hagerty, at the Butterfly.
Photo: Melissa Hom
Taking Marilyn Hagerty — the viral Olive Garden critic from North Dakota — to a haute New York restaurant has become a go-to story angle, the heartland-meets-NYC version of the foraging with René Redzepi piece. So when I learned she'd be in town promoting Grand Forks, her new Anthony Bourdain–backed collection of restaurant reviews, I wanted to meet with her, but I didn't want to get her opinion of Le Bernardin or Marea. Eating at a nice restaurant with Marilyn Hagerty is probably a lot like eating at a nice restaurant without Marilyn Hagerty, and I was more interested in getting Hagerty's thoughts on the kind of spot she might actually review back home.
Hagerty, after all, writes about her ongoing mission to find the best Reuben sandwich in Grand Forks. She's concerned with getting back to North Dakota in time for tonight's UND-Valparaiso football game. So instead of some haute temple, I suggested she and I get lunch at the Butterfly, Michael White and Eben Freeman's bar and restaurant that aims to re-create many of the charms associated with the supper clubs that dot the Midwest.
"We have a little place like this in Grand Forks," Hagerty says as she settles into the leather banquette. "They serve sandwiches, but it's mostly just a bar." She tells me the thing to order at that restaurant — Bonzer's — is the egg salad.
"The size is inviting," she says of the space at the Butterfly. The staff is exceedingly nice, both because they know who she is and because you get the sense they'd be exceedingly nice to any 87-year-old customer. Hagerty asks for a soda. The Butterfly has two on draft, a raisin soda and homemade smoked Coke, which the waiter says tastes like drinking a barbecue.
"I'd like to drink a barbecue," she says. I tell her Freeman originally created the smoked Coke at another restaurant for a bourbon cocktail named after Waylon Jennings. She lights up: "I love Waylon!" The meal is off to a great start.
Here's why eating with Marilyn Hagerty is fun: She's completely immune to all the noise and nonsense that surrounds New York restaurants. The deviled eggs that arrive before lunch aren't some ironic bar snack; they aren't a tired concept that's been done to death by other chefs. They're just eggs, and the fact that the kitchen cares enough to cut the bottoms flat so the egg halves don't roll around the plate is a thoughtful little touch that doesn't go unnoticed. ("What do you do all day?" she imagines asking the cook charged with the task. "Oh, I cut eggs.") Hagerty likes them but mentions that her hairdresser's recipe is quite good, too — Chinese mustard is key.
"This smoky Coke kind of grows on you," she says as she takes another sip. "It does go well with the food." She's taking notes, presumably for her own review.
Hagerty orders the bratwurst sandwich. She hesitated at first — "When I see bratwurst, I always wonder how long it's been sitting around" — but the menu lists it as homemade, which is a good enough indication that it's probably fresh. I get a chopped salad. "It's all very well presented," she says when the food arrives. "That sends a message that the kitchen really cares."
After a few bites of the sandwich, she delivers the verdict: "This is very good, and it's different. So many times you get the same-old, same-old."
To recap: Marilyn Hagerty likes football games, Waylon Jennings, and bratwurst sandwiches. She's like a delightful bro.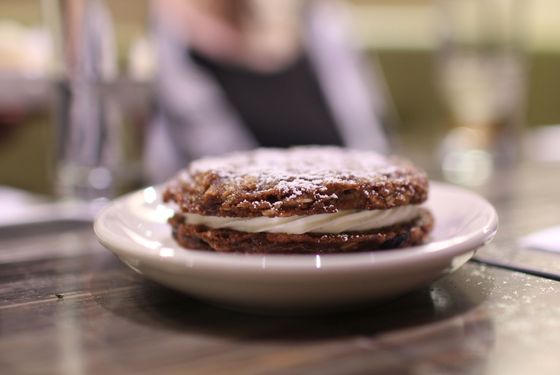 A high-end Oatmeal Creme Pie.Photo: Melissa Hom
When the desserts arrive — a lemon bar, a coconut-and-chocolate magic bar topped with bananas and caramel, and a cheffed-up version of Oatmeal Creme Pies — she's impressed. "They certainly do use their imagination," she says before taking some bites. The "Oatmeal Creme Pie" is declared the winner, but, overall, nothing was bad: "It's a place that I would like to come back to."
I ask her about the fuss that surrounds her when she goes out now, and about getting taken around to some of New York's tony restaurants. "You can't beat that," she says of the meals. "But I don't have sophisticated tastes. I just like to eat."
Earlie: Making Sense of the Whole Marilyn Hagerty Olive Garden Review Fiasco