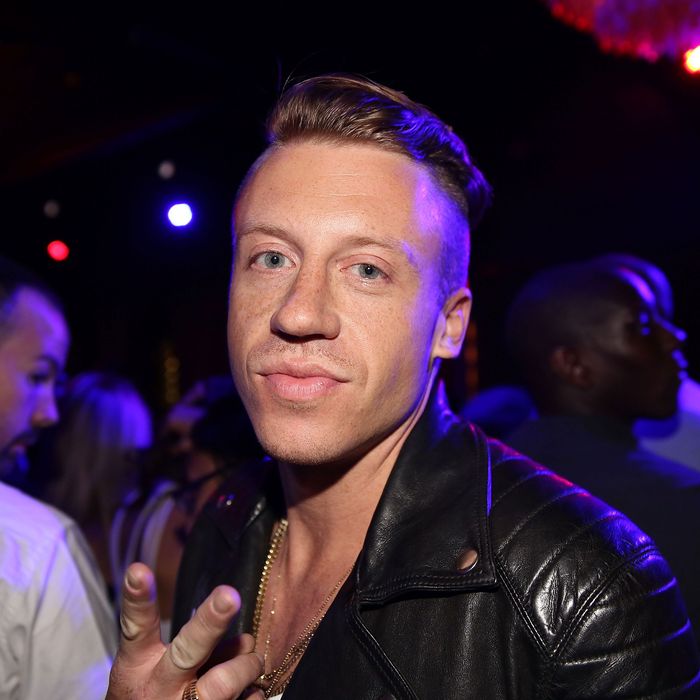 Likes fine dining and thrift shops.
Photo: Shareif Ziyadat/FilmMagic
The MTV Video Music Awards brought a whole lot of celebs to town — and into restaurants. Rihanna and Drake ate dinner at Sons of Essex, Macklemore dined with Ryan Lewis at A Voce, and Justin Timberlake met up with Jessica Biel, Jay Z, and Beyoncé at PH-D. Plus: The U.S. Open started, bringing Rafael Nadal to Tao and Serena Williams to Bagatelle for their respective date nights. This, and more, in our weekly roundup of celebrity dining.
A Voce Columbus: Macklemore and Ryan Lewis ate together in the restaurant's private dining room. Will and Jada Pinkett Smith dined a few tables away. [Page Six/NYP]
Bagatelle: Serena Williams snuck away for a romantic dinner with her boyfriend, coach Patrick Mouratoglou. [Page Six/NYP]
Bobby Van's Grill: Dan Marino, Bill Cowher, Marv Albert, and Greg Gumbel hung out at an NFL season kickoff party. [Page Six/NYP]
Buddakan: Debbie Harry, Jason Wu, and Lorraine Schwartz were spotted together. [Page Six/NYP]
Carmine's: Big Sean celebrated the birthday of a labelmate with music exec Kevin Liles. [Page Six/NYP]
Costata: Prince didn't initially pay for his feast at Michael White's restaurant, but after Grub called him out, a manager settled up days later and left a big tip. [Earlier]
dell'anima: Olivia Wilde met Jason Sudeikis and a friend for a late-night dinner. Per usual, she gave her boyfriend a huge kiss when she sat down. [Page Six/NYP]
Elio's: Bruce Springsteen, Patti Scialfa, Rita Wilson, and David Geffen had dinner together at the Upper East Side restaurant. Richard Cohen and Patricia Duff were also there, but ate at their own table. [Page Six/NYP]
Peasant: Michelle Obama dined with Malia and Sasha at the Nolita restaurant. Crowds gathered on Elizabeth Street while the Obama ladies ate a healthy meal of roasted asparagus, baked cuttlefish, a summer vegetable salad, grilled orata, and sautéed greens. But for dessert, they had panna cotta, bread pudding, and, of course, fruit. Michelle went back to the kitchen and gave chef Frank DeCarlo a big thank-you hug, and flashed her famous "thumbs up" on the way out. [Grub Street]
PH-D at Dream Downtown: JT, Jay Z, Beyoncé, Jessica Biel, Drake, and pretty much everyone important hit up this VMA after-party. [Page Six/NYP]
Philippe Chow: Rihanna had an early dinner at the restaurant, and later football player Braylon Edwards stopped by for a bite. [Page Six/NYP]
Sons of Essex: Rihanna and Drake had drinks and dinner with a big group of friends in town for the VMAs. [Grubstreet]
Tao: Fans swarmed the restaurant as Rafael Nadal and his longtime girlfriend Maria Francisca Perello ate together. [Page Six/NYP]
Tello's Ristorante: Rachel Roy shared dessert with her two daughters. [Page Six/NYP]
WIP: Cassie celebrated her birthday at the Soho club with Mel B, Malik Yoba, Trina, and Rocsi Diaz. [Page Six/NYP]
XL: Rob Lowe was at the club's Tuesday-night dance party. [Page Six/NYP]