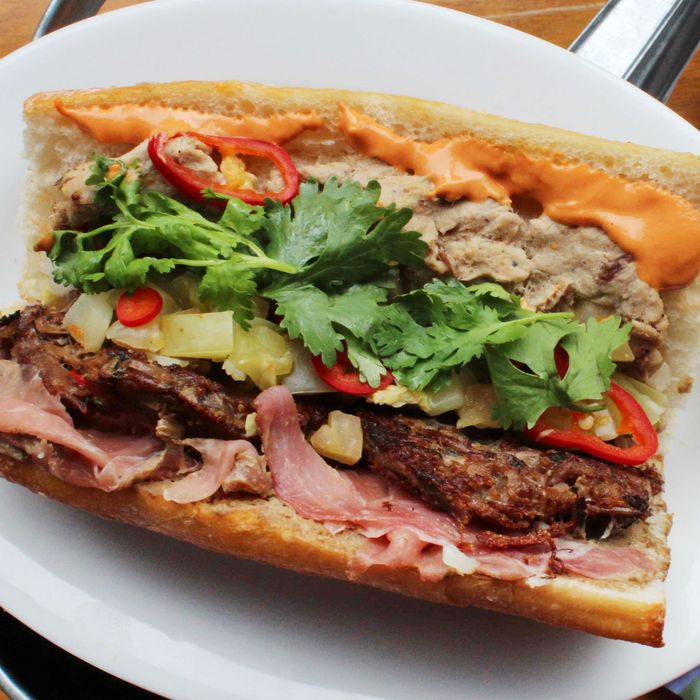 Marietta's Knuckle Sandwich, a "southern bánh mì by way of Brooklyn."
Photo: Courtesy of Marietta
If you actually have a job where you can get away for lunch, you owe it to yourself to make it count: Restaurants around town are becoming destination lunch spots by saving some of their best — and cheapest — dishes for daytime diners. (Not to mention a whole slew of top-flight burgers.) Another bonus: Spots like the Butterfly, Lafayette, and Cull & Pistol can get packed at dinnertime, but if you hit them midday, you can typically stroll right in and try something new. Here are some of the top lunch-only dishes that are worth going out of your way — or maybe even taking a day off — to taste.
"Knuckle" Sandwich
Where to Get It: Marietta
Cost: $12
This newish Clinton Hill restaurant is opening for lunch at the beginning of September, and the "Knuckle" sandwich basically contains an entire charcuterie plate: housemade pork-cheek terrine, chicken-and–foie gras mousse, Finchville Farms ham, housemade brown jam (pulled-pork rilettes), green tomato chow-chow, and Marietta's comeback sauce. Damn.
Grilled Swordfish Sandwich
Where to Get It: Cull & Pistol
Cost: $16
Anyone who works in Chelsea Market (or across the street at Google) is in a good position: Cull & Pistol is offering a grilled-swordfish sandwich with avocado, pickled squash, and sauce gribiche (a French, mayonnaise-style cold egg sauce) on focaccia.
Pork Bánh Mì
Where to Get It: Lafayette
Cost: $16
Andrew Carmellini's French bistro isn't the first place you'd think to go for Vietnamese food, but Lafayette makes a great sandwich with pâté maison, roast pork, spicy pickles, and mint. And the restaurant looks even prettier when it's light out.
Moroccan-Style Sub Sandwich
Where to Get It: Zizi Limona
Cost: $10
The Underground Gourmet praised this Williamsburg restaurant for its modern Israeli fare in this year's Cheap Eats issue. The sub with shredded chicken, smoked eggplant, tahini sauce, cilantro, preserved lemon, tomato, and home fries is a steal at $10.
Vodka-Sauced Slice
Where to Get It: Rubirosa
Cost: $5
At lunchtime only, Rubirosa sells its signature vodka pizza (a layer of vodka sauce is added to tomato sauce and mozzarella) by the slice. It's available both inside the restaurant and at the to-go counter until 5 p.m.
Steak Sandwich
Where to Get It: Schapiro's
Cost: $13
This recently opened Lower East Side spot serves Jewish- and Eastern European–influenced New American fare. The steak sandwich, with caramelized onions, watercress, Swiss cheese, and frisée, is a good deal for $13.
Turkey Club
Where to Get It: The Butterfly
Cost: $14
Michael White is serving his excellent patty melt and fried chicken at lunchtime, but don't overlook the turkey club deluxe, which isn't available at dinner. It's composed of house-smoked turkey breast, bacon, avocado, tomato, and butter lettuce on seven-grain bread.
Roasted Pig Sandwich
Where to Get It: ABC Cocina
Cost: $18
Dan Kluger and his team recently launched lunch service, and while there are plenty of spa-friendly options like raw fluke and a tuna burger, you should treat yourself. The roasted pig sandwich comes with red watercress and marinated radishes.
Pizza-Salad Combo
Where to Get It: Motorino
Cost: $12
It's not technically a single dish, but at both the new location in Williamsburg and in the East Village it costs only $12 for your choice of a whole margarita, marinara, Brussels sprout, or soppressata pie and a mixed-greens salad.
Big "BLAT" Sandwich
Where to Get It: Saxon + Parole
Cost: $12
This spring, Saxon + Parole opened a takeout window, where you can order the Big "BLAT": bacon, lettuce, avocado, tomato, smoked paprika mayo, and a fried egg on toasted seven-grain bread.
Croque Monsieur Saumon Fumé
Where to Get It: Montmartre
Cost: $17
Chef Tien Ho's take on the classic French sandwich includes salmon roe, scallions, and radishes. Plus: You can sit in the restaurant's pretty outdoor garden.
Olive Pâté Bánh Mì
Where to Get It: Falansai
Cost: $7
The olive pâté bánh mì sandwich is an homage to the owner's Chinese-Vietnamese family. The pâté is made of black olives and fermented greens, and it's paired with green papaya, cucumber, carrot, and daikon.
B.L.Torta
Where to Get It: Salvation Taco
Cost: $12
All the tortas are on the lunch mdaikoenu only, and you should opt for the B.L.Torta, with house-smoked bacon, heirloom tomatoes, and avocado. If you're in a rush, Salvation Taco can pack everything to go.
Caramel Pork Belly Vietnamese Sandwich
Where to Get It: Nightingale 9
Cost: $11
A caramel pork belly Vietnamese sandwich with fried egg and phu quoc black pepper makes for a fantastic lunch. There's a vegetarian option with market mushrooms and tofu, too.
ETB Burrito
Where to Get It: El Toro Blanco
Cost: $12
Josh Capon is only offering a burrito during the day, and it's packed with Mexican red rice, pinto beans, avocado, pico de gallo, crema, and queso Oaxaca. You can add chicken, steak, pork, or shrimp for an additional charge, too.
Pulled Chicken Torta
Where to Get It: Cómodo
Cost: $11
The Latin American restaurant is a nice, quiet spot for lunch — but the restaurant also offers delivery. The pulled chicken torta with homemade tomatillo salsa is excellent and won't weigh you down if you still have work to do.
… And the Burgers
Tons of restaurants opt to serve burgers only at lunch. Here's a quick rundown of the best new(ish) additions to the list: Northern Spy's lamb burger ($16 — including duck-fat fries), Perla's caciocavallo-topped burger ($16), El Toro Blanco's Oaxaca burger ($16), Lafayette's brisket burger ($18), Calliope's hamburger ($15), and ABC Cocina's cheeseburger with molé ($20). Lastly, there's the onion-and-American-cheese topped Steak House burger ($12) from the Brindle Room, which winds up on all sorts of best-burger lists.