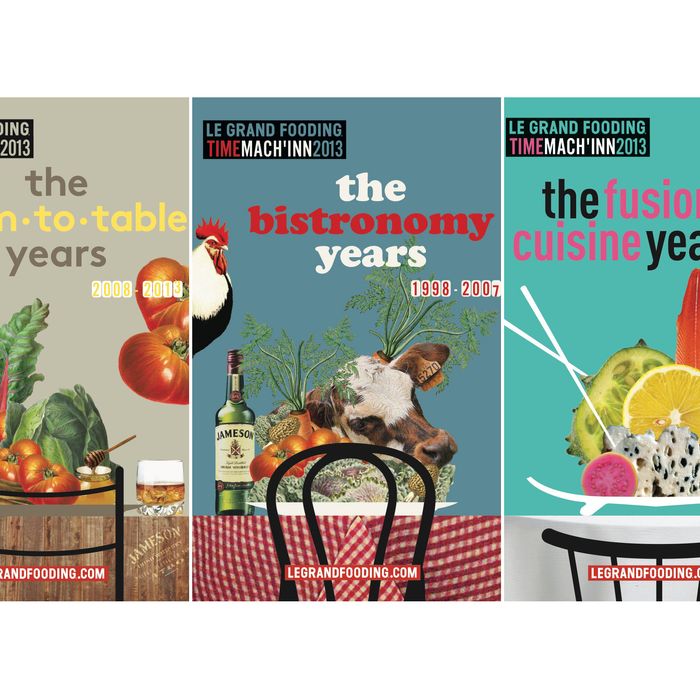 Last year's installment of Le Grand Fooding New York brought a weeklong culinary celebration to Brooklyn, but this year, Alexandre Cammas is taking diners back in time. On September 27 and 28 at 7 p.m., a three-course meal at Res will showcase three different major cooking trends from the nineties, aughts, and teens. Plus: Grub hears that you can expect live entertainment and "special goodies." Tickets, which cost $100 and include drink pairings, go on sale in early September. However, Le Fooding is also offering 40 presale spots to Grub Street readers, which can be found right here. If you're on the fence, check out the menu and the participating chefs, straight ahead.
First Stop: The Fusion Cuisine Years (1991-1999):
The Sugar Club's Peter Gordon is making the appetizer: plantain, tamarind, coconut seal with goat's cheese, and a smoked-salmon wanton. Mixologist Jeannette Levis, a Jameson ambassador, will craft a nineties-style cocktail.
Second Stop: The Bistronomy Years (1998-2007):
Yves Camdeborde of Paris's Le Comptoir du Relais is roasting veal breast for the entrée, and Booker & Dax's Tristan Willey is making an aughts-style cocktail.
Third Stop: The Farm-to-Table Years (2008-):
Frankies 457 Spuntino & Prime Meats' Frank Falcinelli and Frank Castronovo are behind a dessert called "tomato and honey," which will be served with Jameson Black Barrel on the rocks.
September 27 and 28, 7 p.m., Res, 372 Columbia St.
This post has been updated to include the link to the presale tickets.