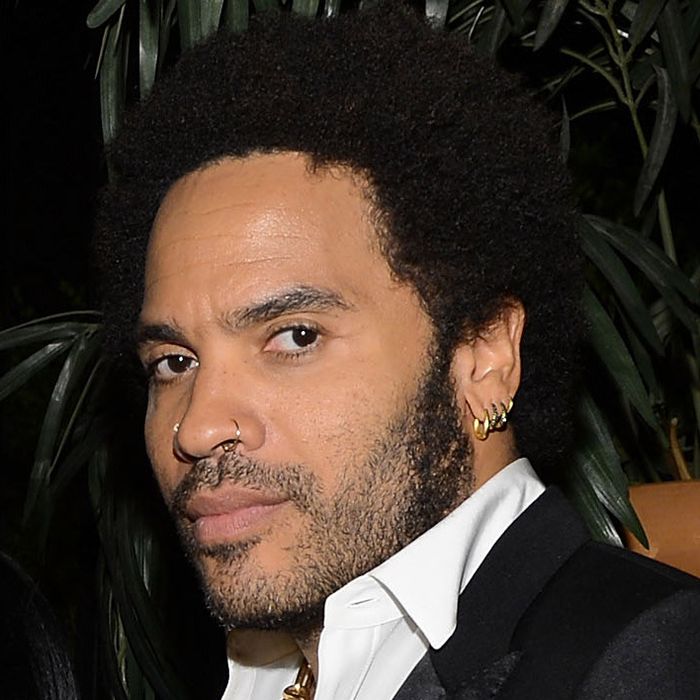 Are you going to fry his way? Lenny's got to know.
Photo: Larry Busacca/Getty Images
Date nights abounded in this week's Celebrity Settings: Katy Perry and John Mayer feasted at the Lion, and in the Hamptons, Hilaria and Alec Baldwin went to Babette's, while Joy Behar ate stuffed lobster with her husband at Bostwick's. More festively, James Marsden had a boy's night out at Manon, and elsewhere Ashanti danced with friends at Lavo. This, and so much more, straight ahead in our weekly roundup of celebrity dining.
Arte Café: Italian film star Gina Lollobrigida ate with the restaurant's matriarch, Dina Malta. The pair discussed Silvio Berlusconi, which must have been fun. [Page Six/NYP]
Babette's: Hilaria and Alec Baldwin ate with friends at the celebrity-friendly East Hampton spot. Hilaria, who is pregnant, was overheard telling friends that her due date is this week. Molly Sims ate a kale salad, and Jessica Alba had tofu. [Page Six/NYP]
Blossom: Alec Baldwin ate at this vegan restaurant. [amNY]
Bostwick's: Joy Behar and husband Steve Janowitz ate stuffed lobster and arugula salad in East Hampton, presumably at a choice table overlooking Three Mile Harbor. [amNY]
Harlow: Ellen Barkin had dinner with Patricia Duff at Richie Notar's restaurant. [Page Six/NYP]
Hybird: Lenny Kravitz hopped behind the counter of Questlove's Chelsea Market food stand to take pictures with staffers, because Lenny Kravitz is cool like that. [Page Six/NYP]
Lavo: Ashanti danced with some girlfriends at the "Riviera Sundays" party hosted by Rocco Ancarola. [Page Six/NYP]
The Lion: Katy Perry caught up with friends at the bar before heading upstairs to a private dinner room to meet on/off/on/off/on-again-right-now boyfriend John Mayer. A spectator said the couple was "adorable" and that "Katy introduced him to people as her boyfriend and John affectionately held her close with his arm around her." Just as their party of fifteen finished up their meals, Rihanna arrived and sat with Katy and John, took a photo, and posted it to Instagram with the caption "She. X She. #KatyAnna #RIHunited." What? [People]
Manon: James Marsden had a boys' night with Cougar Town's Josh Hopkins and a few other guy friends in the meatpacking district. [amNY]
Nick & Toni's: Jessica Alba had dinner with friends at the East Hampton celebrity favorite. [amNY]
Park 143 Bistro: Brian Williams ate at the Bronxville restaurant. [Page Six/NYP]
Sanctuary Hotel: The awnings of the hotel's Sanctuary Rooftop lounge had to be rolled back upon the arrival of six-foot-six NBA legend and TNT commenter Charles Barkley. Charles ordered four steak tacos: three for himself and one for his daughter Christiana. [Page Six/NYP]
Redeye Grill: Barbara Walters stopped by for dinner. [amNY]
The Riverhead Project: Michael J. Fox ate fried chicken, kale salad, and scallops with his wife and son at the farm-to-table restaurant on Long Island's East End. [amNY]
Serafina: Alex Rodriguez dined with his daughters and Torrie Wilson at the 55th Street restaurant. After the meal, A-Rod met visiting family at the Bar at the Dream Hotel. [Page Six/NYP]
Tutto il Giorno: Rita Schrager, Kenny G, and friends ate at the Southampton restaurant. [Page Six/NYP]
75 Main: Joe Biden lunched at the Southampton restaurant. [amNY]