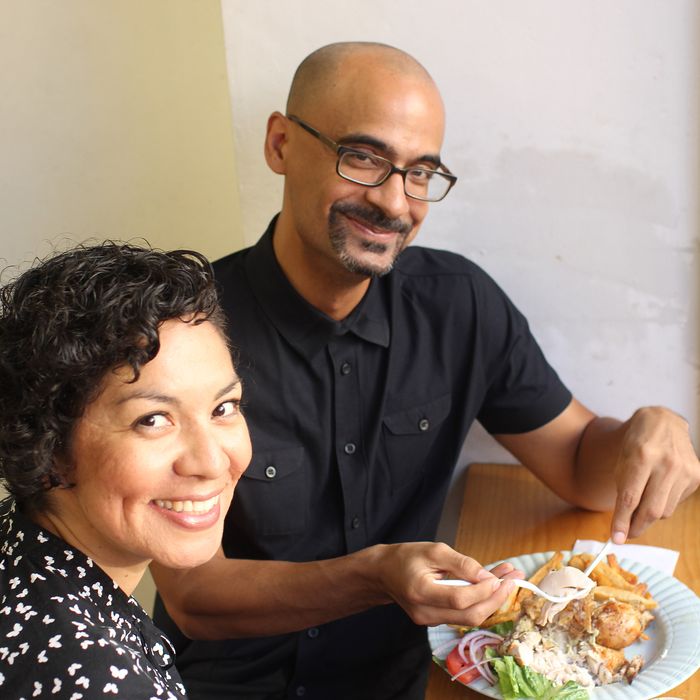 Díaz, right, with Aurora Anaya-Cerda of La Casa Azul bookstore.
Photo: Melissa Hom
Junot Díaz, the celebrated author of The Brief Wondrous Life of Oscar Wao and This Is How You Lose Her (which is out in paperback next week), took a different approach to tracking his diet for us. Instead of a week of consecutive days, Díaz, who spends half his time in Boston, chose to recount five days from throughout the summer when he was in New York. He's Junot Díaz — he can write whatever he wants. But the resulting diary is also a fitting look back at summer for the last Grub Street Diet before Labor Day.
Friday, July 26  
I drive down from Boston in the early a.m. Get lucky and miss out on all the Cape traffic. Spend the whole three-plus hours listening to this crazy podcast called "The Leviathan Chronicles." High-level nerditry. When I reach Manhattan, I pull onto Dyckman and have a café con leche at the ever-reliable Albert's Mofongo House. Coffee in the Heights amidst the morning bustle, the waitress calling me cariño and that's how I know I'm home.
I have uptown errands and by the time I finish it's lunch and so I shoot over to Jin Ramen, which is as close as uptown gets to Ippudo. For a starter, I'm usually all about the steamed pork buns (the chashu is nice and dense) but today I tuck into the shishito peppers instead. Followed by the miso ramen with an extra boiled egg. Boston, where I spend half my time, is extra weak in ramen so I try to score some every time I come home to NYC. Jin never fails. The broth is consistently mouthwatering, the noodles nicely rendered.
Afterwards I drop down to the Village to hang out with anthropologist extraordinaire Arlene Dávila; we talk the explosive growth of shopping malls in Latin America. We're nerdy like that. That evening I have to run back uptown to do a reading/conversation at Gregorio Luperon High School on 165th. This is a school close to my heart, with some of the most committed faculty in the five boroughs. Tonight it seems like half the Dominican left is in attendance. Conversation goes well enough and since Word Up Community Bookshop — one of the only bookstores in the Heights — is having its grand reopening party across the street, I hit that too. Dinner is rotisserie chicken from El Malecón, which I devour right on the sidewalk in front of Word Up. El Malecón is an uptown institution and its chicken is a personal favorite. I once saw a scuffle break out in El Malecón because they ran out of chicken. It really is fight-worthy pollo.
Saturday, July 27 
For breakfast, I have coffee that Arlene brought over from a research trip in Colombia. I grew up on beans from my abuelo's finca in Ázua and this café has the same rip. Spend the morning working on a piece for a writers of color anthology and then meet a friend for lunch at the Meatball Shop in Williamsburg. Wish I could say it's important business but it ain't — mostly gossip about her ex. I have the naked balls, spicy pork with classic tomato to be exact, and a side of sautéed broccoli that I cover in red pepper flakes. Hipster comfort food but works for me. I'm not a pasta person but I do have a tremendous fondness for meatballs. One of the dishes my mom used to make when she was happy. Her American dish. Her meatballs always had hunks of hard-boiled eggs worked into them to make the meat go further.
More anthology work, which I break up by browsing at St. Mark's Books. Around 8 p.m. I meet one of my best friends from my grad school days for dinner. Back then she was in law school and I was in my MFA. Now we both teach, though she's public school, the real deal. Since she's never tried Filipino we meet at Maharlika. Hands down one of my favorite eateries in the city. I was one of those people who started going to Maharlika when it was a pop-up brunch spot and for me the magic hasn't faded one lick. I always go bananas there, order more than anyone should. Start with the kalamansi water and the Pacquiao's Punch (rum and ginger and other goodness), munch on the complimentary chicharron de pollo dipped in spicy vinegar while the dishes materialize one by one: the marinated flank steak, the ginataang isda (a superb salmon with snap peas and coconut milk, the longganisa (sweetest tastiest longga in town), a side of garlic rice, a side of long beans, a side of eggplant. The founders, Nicole Fonseca and Miguel Trinidad, are out — which is sort of good because they would have sent over more food. They are beautiful like that.
Can you believe we still had room for dessert at Chikalicious on 10th Street? We both had the prix fixe. Mine was a panna cotta with grapefruit sorbet; hers was a warm chocolate tart. Perfection.
Sunday, July 28 
I conduct two interviews for a future book project. A pair of Dominicans who immigrated to the city in the early sixties, back when Dominicans had a reputation for being the hardest workers anywhere. Both my interlocutors talk about the cold and about the closeness of the community. Between conversations, I squeeze in a big-ass plate of mangú with salami. The classic Dominican breakfast. I don't mess with queso frito anymore. Not since I had to give up running. No one makes salami like the old days, but the mangú was fresh and firm and the onion garnish was perfectly brined and that makes up for it.
Spend the day seeing family friends and getting my fill of the Heights. These are my Dickens days. Walking around, absorbing, listening, talking, catching inspiration. Run into friends up on Wadsworth — their kids old enough now to have their own iPhones. I have to drive back to Boston that night, so for dinner what I do is buy three pastelitos de pollo from this cat named Javier on the corner of 163rd and Broadway. He's one of the regular vendors who push their coolers up and down Broadway. His pastelitos are lovely — has just fried them up so they are still crisp at the edges and the chicken is seasoned beautifully. I eat them so fast I burn my tongue to pieces and that keeps me awake the whole ride back to Boston.
I'm supposed to be back to the city in a couple of days but I get hemmed up and don't make it home until August. This is what happens when you're living a two-city life. Shit is always happening.
Thursday, August 15
Another day, another three-hour drive to NYC. This time I keep the radio off; I'm trying to work, turning plots over in my head. Lunch is on Dyckman again, corner of Nagle. Dyckman Express. Owned by the Moronta family who have a mini-empire on that stretch of the Heights — they also own 809. When I lived in the area, this was one of my go-to restaurants. Today I keep it simple. I have an avocado salad. My server can't believe I don't want anything else. No quieres un chín de pollo? O moro? The salad is more than enough. It's a monster. A large serving of lettuce, tomato, cabbage, beets, and a glorious fan of sliced avocado flavored with little bit of vinegar and oil. The guys at the nearby table are talking A-Rod. How dumb he is. But also how the Yankees are trying to weasel him out of his money.
I conduct one more interview for the book project and then drive over to my favorite bookstore, La Casa Azul in East Harlem, which is celebrating its one-year anniversary. Me and its founder, Aurora Anaya-Cerda, have an excellent ice coffee at the Delicious Bread House on East 102 and Lex, this super-cute mom and pop place run by this awesomely welcoming (and awesomely named) couple Carl and Chia — if there's a better ice coffee uptown, I haven't had it, and then dinner around the corner at Best Lexington Pizza and Peruvian food. This joint is a gem. Forget the pizza — stick to the Peruvian menu. The owners, Luisa and Juan, do amazing ceviche and a roast chicken to rival the uptown pollo powerhouses and their lomo saltado is homey perfection. We order the roast chicken and then Luisa brings out a plate of the lomo saltado just because. I'm thinking I'll just have a few bites and then save the rest for later but that doesn't happen. We eat every damn scrap.
I finish the night on the Dyckman circuit with my cousin, actor Manny. He just flew in from the DR where he was starring in a homegrown feature comedy about a baseball pitcher; next up for him is a recurring role in the new season of Homeland. We meet at Altus Cafe where Manny is tucking into a swell seared Alaskan king salmon. I of course have to try it. Once he's done we move to La Marina which has become the epicenter of the uptown social scene but the epicenter is kinda slow so it's over to Mamajuana where half the bar knows my cousin and finally we end up at Corcho. Somehow a bottle of Dyckman Beer ends up in each of our hands. No idea how this happens. Which always means that it's time for bed.   
 
Friday, August 16 
I read most of the morning. A young adult book from my youth, Tom de Haven's USSR. Total Cold War pulp. And chapter three of Victoria de Grazia's Irresistible Empire. I have coffee with Arlene again. It's our little ritual. She tells me more about her research trip to Bogotá, the malls she visited and how lame the tango scene was. I didn't have a good dance for three weeks, she said. Her fridge is empty so we walk to the Trader Joe's on 14th. On the corner of Broadway and 14th stands Sofia with her mangos — that's been her spot for a while. Arlene and I split a whole mango with the works. Lime juice, salt, chile powder. Like putting your mouth through a flavor roller coaster.
Ssäm Bar for lunch. They're serving lamb, something new, and even though I'm tempted it's the duck I want. What else needs to be said about Ssäm's duck lunch besides try it. And soon.
Today my boy Baye (Newark!) is having a party in Brooklyn. He just got into this dope program at Harvard, after many a year in the trenches. A going away party of sorts. Me and Baye been boys since our Cornell young activist days. Back when we were both gym rats and he had a gold tooth and a Suzuki Samurai. Dude gave me many a lift home from Ithaca. He's staying with his girl Amy on Madison Street, in Bed-Stuy, pretty deep Brooklyn for those from Upper Manhattan. Brooklyn has changed so much since I used to live there in 1992 and I can only imagine how it looks to the real local. His street ain't turned yet but it's on its way. Turns out to be one of those classic parties. Lasts until 1 p.m. the next day. A lot of the old gang from Cornell and the Malcolm X Grassroots Movement show up. My boy Fanon from Kyoto is in town too but I don't stick around long enough to see him or to try one of the brownies everybody talks about the next day. I have to drive back to Boston that night. I promised a friend to help him with some campaign stuff in the early morning.
On my way out of the city, I make one last pit stop. Catch Patsy's in East Harlem before it closes. I used to live around the corner on 119th and the guys still remember me. I ask for the slice with a little char on it. Munch in the car. A patrol car parked behind me, the cops inside waiting for their slices. A group of sanitation workers parked in the front of me, going at a pie like it's the end of days. A couple of drunk brothers walk by, start shouting, Give me a fucking slice, give me a fucking slice. No one pays any of them any mind. The pizza is too good.