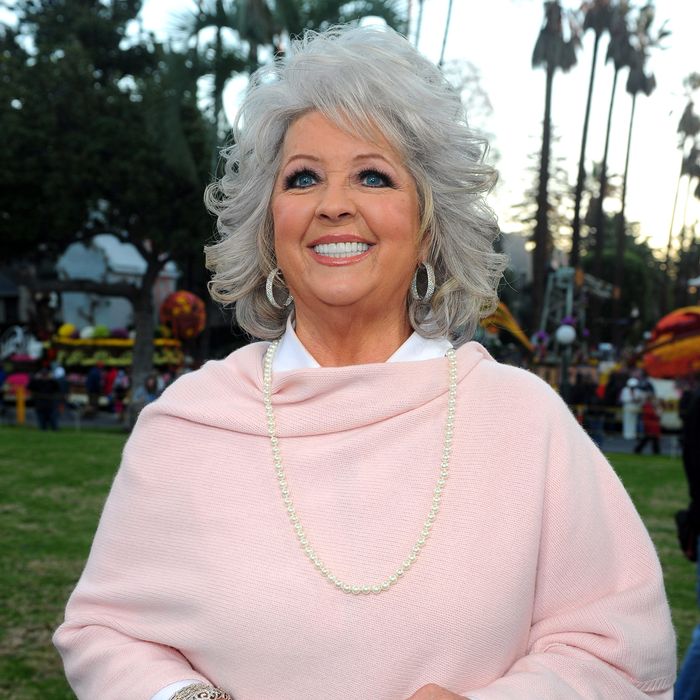 Today was a good day.
Photo: Alberto E. Rodriguez/Getty Images
It's the rare day that brings good news for Paula Deen, but here's some: U.S. District Judge William T. Moore Jr. has partially granted a motion to dismiss the racial-discrimination claims in Lisa Jackson's lawsuit against Deen and her brother Earl "Uncle Bubba" Hiers.
You can read a PDF of the full twenty-page order here, but the gist of the ruling is that there's no evidence to suggest Jackson herself was the target of any racial discrimination. The ruling states, "At best, [Jackson] is an accidental victim of the alleged racial discrimination. There are no allegations that Defendant Hiers's racially offensive comments were either directed toward Plaintiff or made with the intent to harass her."
It goes on:


In this case, the Court concludes that Plaintiff is not an aggrieved party under Title VII because her interests are not those arguably sought to be protected by that statute … Instead, Plaintiff contends that she suffered injury because Defendants deprived her of "harmonious working relationships with her African-American subordinates"

[…]

While Plaintiff may have faced significant challenges in managing a workplace allegedly permeated with racial discrimination, her difficulties do not fall within the zone of interests sought to be protected by Title VII and cannot support a claim for racial discrimination under that statute.
Despite the ruling, the damage has, of course, already been done to Deen's reputation, and the ruling itself doesn't do anything to absolve Deen and Hiers of racism; it just says Jackson can't sue because her claims don't make clear that any alleged racism was directed toward her. And the suit itself will continue because Jackson also claims she was sexually harassed while working for Deen and her brother.
Judge dismisses racial claims in Paula Deen lawsuit [Savannah Now]
Race-Based Claims Thrown Out in Paula Deen Lawsuit [AP]
Earlier: Paula Deen Extortionist Takes Plea Deal
Related: Paula Deen's Longtime Cook Has a Few Complaints of Her Own