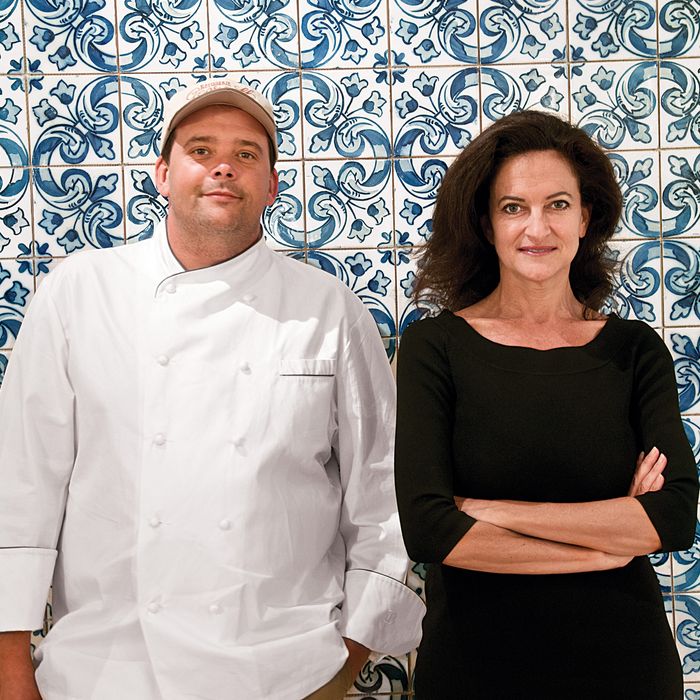 David Malbequi and Georgette Farkas.
Photo: Sarah Silberg/New York Magazine
A cursory glance around New York's restaurant world reveals a generation of talent who've worked for Daniel Boulud and gone on to achieve personal acclaim: Andrew Carmellini. David Chang. Tien Ho. Mario Carbone. Rich Torrisi. Georgette Farkas. Georgette who? If this last name doesn't immediately register, that's because for the past seventeen years, Farkas has served as Boulud's trusted director of communications and marketing, as his empire ballooned to fourteen locations around the world. But Farkas, as it turns out, didn't grow up dreaming about drafting press releases and leading hard-hat tours. No, her girlhood fantasies revolved around going to Swiss hotel school and opening her own European-style hostelry somewhere in the countryside.

So after Harvard, she headed straight to the École Hôtelière de Lausanne, squeezing in stages along the way at Roger Vergé's Moulin de Mougins, Alain Ducasse's Le Louis XV, and even a pastry stint with Boulud himself in his earliest New York days. But then came the epiphany: "Luxury hotels are nicer to stay at than to work in," she says. "And I'm a city girl." Recently, when the entrepreneurial urge reemerged, Farkas found a new calling, one informed by her own taste for refined comfort and inspired by memories of meals she enjoyed in France as a child. This fall, she steps out of Boulud's shadow to open the 90-seat Rôtisserie Georgette, centered around spit-roasted meats and French-accented sides. To prepare, she visited poultry farms in Amish country, scoured salvage yards and Provence's brocante markets for furnishings, and even bused tables at DBGB to reacquaint herself with the rigors of service (and the importance of comfortable shoes). Occupying the ground floor of a onetime residential hotel built in 1903, the space has high ceilings and a certain grandeur, which Farkas aims to accentuate with a design that combines new and old in a way that reflects her dual passions for Europe and New York. She's as proud of the parquet de Versailles floors—hand-scraped, vinegar-tinted, and oil-rubbed by Bronx craftsmen—as she is of the azulejo tiles her mother fortuitously shipped home from a trip to Lisbon 45 years ago, oblivious of the role they'd eventually play in her daughter's design schemes.


Salade Francine.

Photo: Bobby Doherty/New York Magazine


In the kitchen, fellow Daniel alum David Malbequi plans to put the twin Rotisol rotisseries to use on all manner of bird and beast, but especially chicken—by the whole or the half, tucked into potpies, pulled and doused in jus on sandwiches, and showcased in a variety of entrée-size salads, a requirement for the neighborhood's considerable lunching-ladies contingent. Not that anyone is going to mistake the joint for Boston Market, but Farkas will offer delivery too. She may have yet to crack Relais & Châteaux's ranks, but she knows what flies in this town.

Rôtisserie Georgette, 14 E. 60th St., nr. Madison Ave.; 212-390-8060; October.
*This article originally appeared in the September 2, 2013 issue of New York Magazine.

More From Our Fall Preview
Team M. Wells Puts a Quirky Spin on the Steakhouse
Marco's Is Franny's, All Grown Up
Jonathan Wu Goes From Per Se to Chinatown With Fung Tu
The Season's New Crop of Hotel Restaurants
Notable Openings for Fall