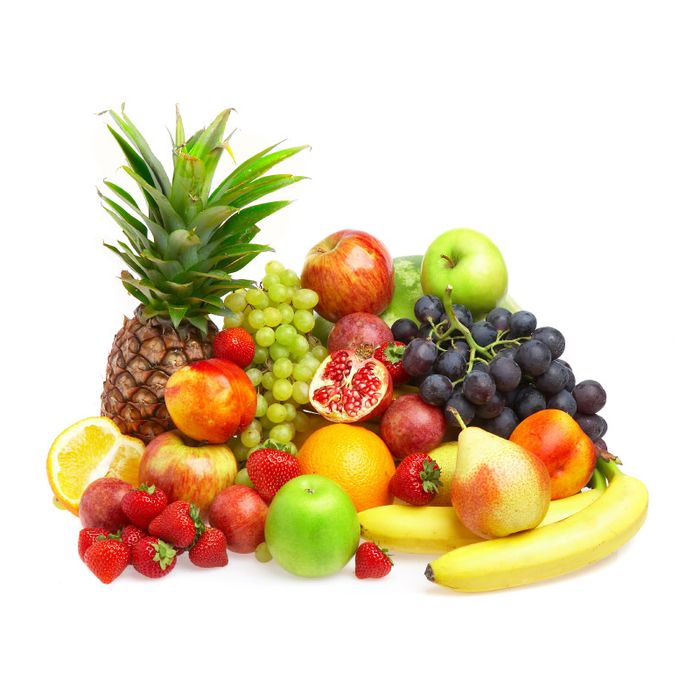 Eat up!
Photo: Andrey Armyagov/iStockphoto
Camp Walden, located 220 miles north of New York City, looks like every summer camp from every eighties camp movie you've ever seen. There is a roped-off swimming area that gives way to the wide expanse of Trout Lake. The main lodge sits on a hill above the water, and a dirt path leads to some cabins, basketball and tennis courts, and a ropes course. But when I was at Camp Walden last week, it wasn't full of horny counselors and unruly campers. It was full of fruitarians.
Fruitarianism is more of a philosophy than a specific set of edicts, and among the extreme diets of today — Paleo, the "fast diet," pretty much any eating advice from Gwyneth Paltrow — fruitarianism is pretty straightforward. Michael Arnstein, one of the movement's most prominent figures, is a 36-year-old gem salesman and former long-distance runner turned fruit-diet guru. "The name explains what it is," he says. "I eat almost only fruit." On a typical day, Arnstein will snack on, say, two dozen bananas. Some health experts say fruitarianism can lead to all sorts of nutrient deficiencies. Arnstein — and others — say the diet is one of the most life-changing ways anyone can eat.
Other critics have labeled it a cult. "I think it can be [cultish]," Arnstein concedes when I bring it up. "There haven't been any people I know who have died from the diet or any crazy leaders who have started dating sixteen women or whatever," he adds. But, he continues, "If anybody is a cult leader in the fruitarian movement, it's me, and the Fruit Festival is our cult happening."
He's referring to the Woodstock Fruit Festival. In 2011, Arnstein organized the first festival. One hundred fifty people showed up that year. In 2012, 400 showed up, and Arnstein moved the festival to Camp Walden to accommodate the larger group. This year, Arnstein says just shy of 600 people paid more than $1,000 to attend.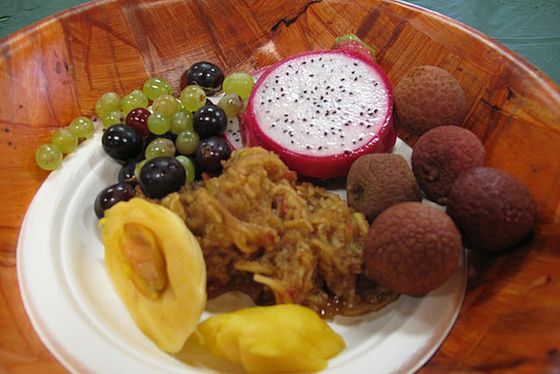 A fruitarian feast.Photo: Noah Davis

The seven-day fruit festival is a serious undertaking: Arnstein's budget runs upwards of $600,000, including $150,000 for fruits and vegetables. Over the course of the week, the fruitarians in attendance will go through more than 100,000 pounds of produce, including 15,000 pounds of watermelon. "We have four walk-in refrigerators that are constantly being replenished from three cooler trucks outside," Arnstein says. "The organic stuff comes from Amish country, but it's six and a half hours from here. That's $600 in gas alone."
Mornings start with milk from fresh coconuts — "I've opened at least 1,000 this week," says a fit, shirtless dude before returning to the task. Throughout the day, everyone eats fruit constantly. There were oranges, tangerines, grapefruit, watermelon, grapes, apples, litchi, passionfruit, dragonfruit, and lots more. For dinner, head chef Alicia Ojeda — a former Dreamworks Studio executive chef — preps things like a "high-end" salad bar with "honey mustard" dressing consisting of sweet dates blended with mustard seeds that have been soaked overnight to activate enzyme inhibitors.
The week's activities are typical of any retreat: The days are filled with workout sessions and lectures such as "Figs, Grapes, and the Diversity of Fruit" or "Create Raw Soup Recipes with Leftover Produce in Your Fridge."
So, who comes to something like this? One attendee characterizes the group as "the hippies to the sports freaks to everyone in between," which feels accurate. As I tour the camp with Arnstein, I see plenty of dreadlocks and Vibram FiveFingers sport shoes — and many tanned, toned bodies (though there are others in less impeccable shape). The entire camp has the feel of a liberal-arts-college quad, though the people in the drum circles are older than 18 or 19. When I see Arnstein's wife across the camp, she's wearing a shirt that reads "Peace, Love, and Seasonal Fruit."
The growth of the festival offers proof of its value. Arnstein already expects more than 1,000 attendees next year and hopes to have two sessions, one targeted to singles — "speed dating was packed," he tells me — and another aimed at families.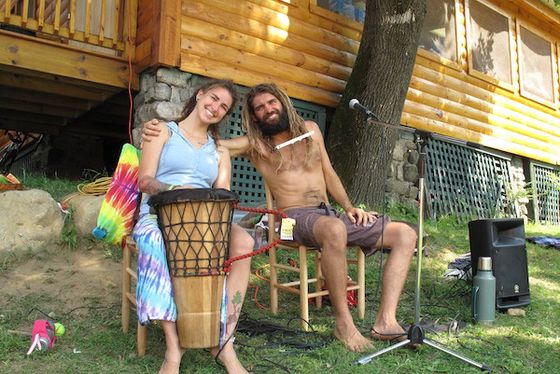 The duo specializes in reggae-influenced jams about the evils of Big Food.Photo: Noah Davis
In June, I met Arnstein in his midtown office, which is decorated with racing bibs, awards, and other running paraphernalia. (I first encountered Arnstein when writing about his running.) He's regarded as one of the best ultramarathoners in the world, specializing in 100-mile races. For the lunch in June, Arnstrein made zucchini with a blended date-and-mango sauce and a second course of spiralized zucchini "pasta" with diced tomato and avocado.
As is often the case with extreme diets, fruitarians cite amazing, incredible health benefits: Arnstein credits the diet with turning him into a world-class super-long-distance runner. He also says fruitarianism increased his energy, cleared up his skin, improved his digestion, lifted his mood, and "cleared his mind." Dr. Samuel Arthur Mielcarski, a physical therapist who switched to a raw diet after experiencing health problems, is more blunt with his analysis: "It changed my life."
A working set of rules for fruitarians goes something like this: Consume 80 percent of your calories from carbs found in fruit, 10 percent from fat, and another 10 percent in protein. (The so-called 80/10/10 diet.) The appeal is simple: Fruit tastes good, and you can eat a lot. Arnstein, who takes in between 3,000 and 6,000 calories a day, lost 30 pounds soon after starting the diet and now finds it nearly impossible to gain weight.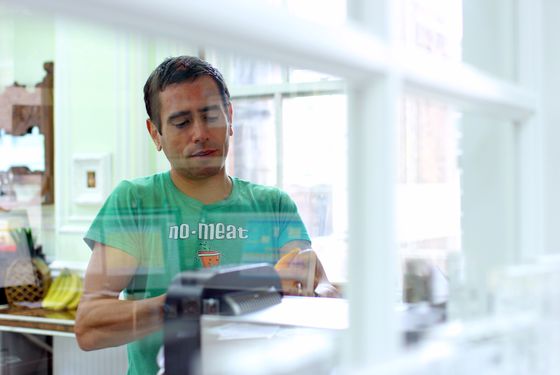 Arnstein, at his midtown office.Photo: Melissa Hom
At the camp, Arnstein tells me that about half of the attendees are new to the diet, so the festival is as much about introducing like-minded people as it is about introducing the diet to a new audience.
Frankly, the biggest reason for the "fruitarian" label could be branding: Fruitarians eat plenty of vegetables, but there are plenty of vegetarian diet experts. Calling yourself a fruitarian expert helps you stand out. Every movement has its leaders — who live in a world of micro-celebrity — and fruitarianism is no exception.
At the Woodstock Fruit Festival, Dr. Douglas Graham — inventor of the 80/10/10 diet (he literally wrote the book on it) — is the elder statesman, hosting daily talks and exercise classes ("He's paid well," Arnstein confides to me). There's also Freelee the Banana Girl. She founded the fruitarian site 30 Bananas a Day and has nearly 70,000 subscribers to her YouTube channel. At the festival, Arnstein says, "Her exercise classes are like a mob." He adds, "She's like a god to the girls here."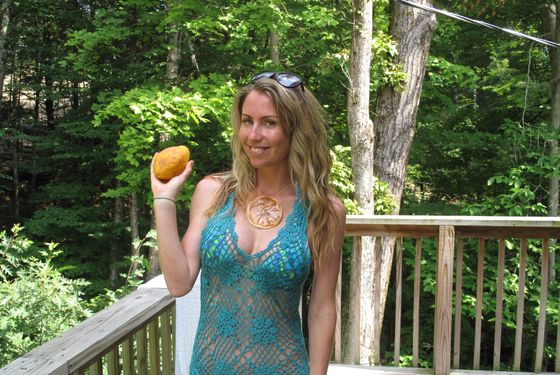 Freelee the Banana Girl.Photo: Noah Davis
I can't shake the feeling that there's an obvious tension between fruitarianism's holistic origins and the reality that successful, charismatic gurus like Freelee can make a living by selling ideas and philosophies. I talked to Dr. Samuel Arthur Mielcarski — the physical therapist whose life was changed — before the festival and asked him about the monetization of the fruitarian lifestyle. "You're going to find that in all niches," he said, "not just raw foods or natural health. It's wellness, and wellness is a huge industry."
At the actual festival, Dr. Sam, as he's known, concludes one of his lectures with a plug for his new book and retreats he hosts in Costa Rica. Prices for the retreats range from $1,550 to $1,950 per person, not including airfare to Costa Rica. At the Woodstock festival, Dr. Sam gave away small stickers sporting his logo for free.
As the day winds down in Woodstock, Arnstein poses with a man for a photo. Instead of cheese, they say "litchi" when the smartphone flashes. I decide to start my drive back to Brooklyn. I'm told I'll miss the nightly bonfire — the best part of the day. "It's amazing," Freelee the Banana Girl says. "That jungle beat, and the fire's going off. People are dancing around and connecting." As she's talking, I remember something Arnstein had told me when I asked him about the diet back in June. "It's fringe fanatical," he said, "but it's not unhealthy."