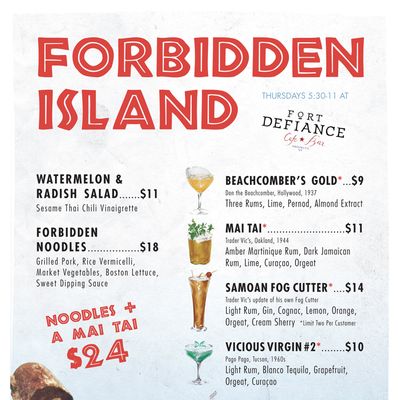 Photo: Courtesy of Fort Defiance
This Thursday, well-loved Red Hook bar and restaurant Fort Defiance will roll out a once-weekly menu of classic tiki drinks made famous at places such as Trader Vic's (the Samoan Fog Cutter) and the Hilton Kuala Lumpur's famed Aviary Bar (the Jungle Bird). Owner St. John Frizell has turned over creative control here to head bartender Zac Overman, who is setting the mood with a period-appropriate exotica house soundtrack and who has also coordinated a few special menu items (a special of grilled pork and noodles paired with Vic's original 1944 mai tai is $24). Check out the full, painstakingly researched menu, which even includes two Fort D. originals, straight ahead.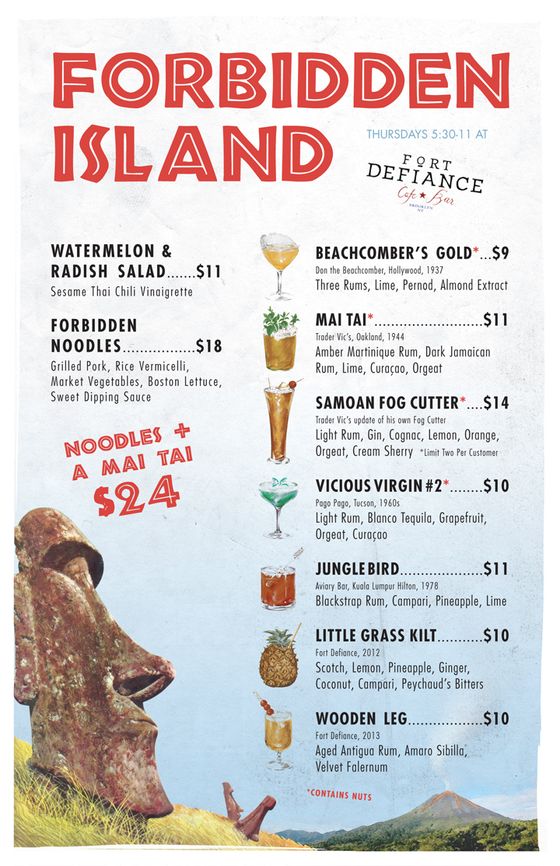 Try the "Wooden Leg."Menu courtesy Fort Defiance

Forbidden Island food is served from 5:30 to 11 p.m. Thursdays, with drinks until midnight. For those feeling less festive, Fort Defiance will make its other food and drink menus available during these hours.