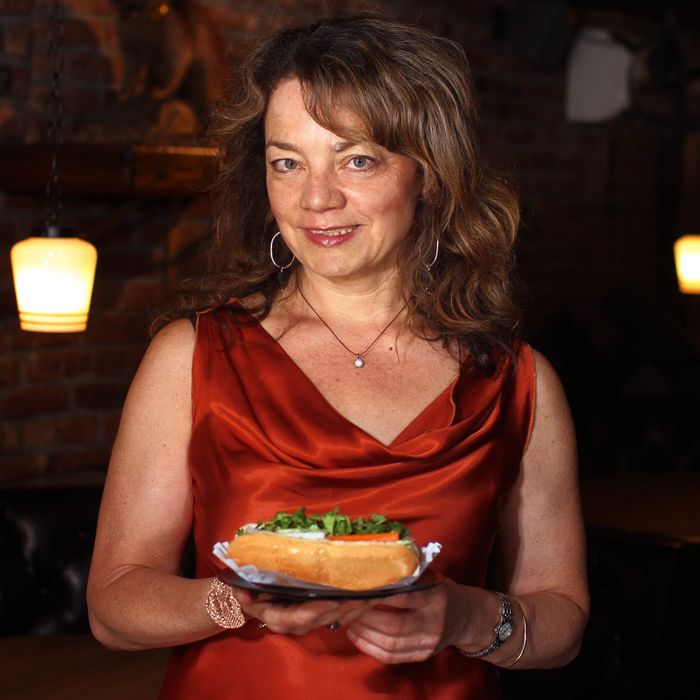 Krader, with PDT's new Pok Pok dog.
Here's how deeply entrenched Food & Wine's restaurant editor Kate Krader is in the New York food scene: The team at PDT decided to launch its newest chef hot dog — it's called the 2Pok, and it's the work of Pok Pok's Andy Ricker — this weekend, just to coincide with Krader's Grub Street Diet. (Pretty sure it's the first time that's happened.) Though her day job involves hanging out with chefs, grabbing meals at amazing restaurants, and generally getting to tell people where to eat awesome things, the gig isn't for everyone. Keeping your finger on the pulse of the nation's restaurant scene requires a dietary fortitude that would take down a mere mortal. Krader's week involved, among other things, multiple tastings in F&W;'s test kitchen; a weekend in Philly full of faux cronuts, beef-fried poutine, creamed kale, and plenty more; a French fry taste test with Danny Meyer; and, of course, those Pok Pok hot dogs. Read it all in this week's Grub Street Diet.
Friday, August 2
I woke up and got coffee from Cafe Pedlar, as I always do, with generous amounts of milk and sugar. I know I shouldn't be putting so much milk and sugar into Pedlar's, you know, elite coffee, but I still do.
I'm not a breakfast person — I try, but I never eat breakfast — but when I get to work I usually have an apple, unless it's really not apple season, in which case I'll have blueberries or a mango. But if there's any way to get an apple that I can feel might have come from a farmers' market, and it hasn't been cellared for nine months, I go for that.
Sometimes on Fridays in the test kitchen you can score a really good lunch — someone will be making soup, or there's a grain salad or a burger. On this Friday, I was not in luck. But I still ate too much. We're testing these recipes for chocolate-covered matzo cookies from Andrew Zimmern, so that was lunch.
That night I went to Philadelphia on a reconnaissance mission for the magazine and went to a ton of places. I can't talk about some of them because they're for future stories, but one spot was Vernick, where my friend Joy Manning and I split these really good toasts. We had peas and bacon, and avocado with spicy radish, which was excellent. They had that exact right ratio of topping to toast.
Saturday, August 3
In New York I don't even think I've said the word cronut, and I've never had one or stood in line, but, for whatever reason, I got to Philly and I became obsessed with finding fake cronuts. It's like that phenomenon where you cross the border into Tijuana and just feel like you have license to go crazy — I wasn't home, and I would not shut up about fake cronuts.
So I found this place called Artisan Boulanger, and they have fake cronuts. I went over to get some, and they were already sold out at 9:30 in the morning. Apparently the line started at 6 a.m.
But because, I guess, they're nicer in Philadelphia, they make a second batch at 3 p.m. I decided to come back, and in the meantime, I went to Federal Donuts. There was this stellar one made with Indian spices that was still warm when I got it. That was awesome.
When I got back to Artisan, I got a box of five fake cronuts. They even let me get them a little early because they'd seen me there in the morning. And because they had really good bread, I had a banh mi sandwich. I wouldn't put it in the hall of fame of banh mi sandwiches, but it was still quite good.
That night we had a photo shoot with Questlove. One of the reasons I got the fake cronuts was because I'd seen Questlove make cronuts on Late Night, and I wanted to have good manners. He said they were almost as good as the real thing.
I broke a personal record that night and had four dinners — again, for future stories. One place we went to was called Talula's Garden, right in the middle of Philly. We had a table full of food, and it was great. They do really nice salads and have a ton of cheeses. I love cheese, so we did a tasting and had a marinated-watermelon salad with corn that was super, and really, really nice creamed kale.
Sunday, August 4
I went to Parc, in Rittenhouse Square. It's one of Stephen Starr's restaurants, so I had breakfast with him. I'm not a breakfast person, and at that point I was so overfed — I was coming off a 100,000-calorie day, if I were to estimate. But I bravely sat down and had a smoked-salmon tartine with a bit of horseradish crème fraîche on it — and it was really good. If I were going to eat breakfast, that would be my jam.
After that I was hanging out with Adam Erace, and we went to his cute market called Green Aisle. We also had this totally over-the-top poutine at Marc Vetri's Alla Spina, which was beef-fat French fries with cayenne Hollandaise, a fried egg, mozzarella curds, and guanciale. They did put some chives on it, so that's going to make it all better, right? A little bit of green to balance it out.
I got home and biked ten miles at the gym and was proud of myself, but that night I went to PDT with Laurent Gras and his wife, Jen, and Laurent had biked 80 miles that day.
Anyway, we had a bunch of drinks and, this is cool, a new hot dog called the 2Pok, which is by Andy Ricker and named for Pok Pok. It's got their chicken-wing glaze, pickled carrots, and fried shallots on it.
Monday, August 5
I woke up with a huge weekend food hangover. The trick to those kinds of trips where you eat around all weekend and go crazy is you have to come home and hold off for a day — my version of a cleanse.
But the test kitchen had some really good marmalades from Blue Chair in San Francisco, and we tested a cabbage soup from Chris Kostow, the chef at Meadowood in the Napa Valley, and it was the most delicious soup you could imagine.
But that was all I ate during the day. And, for dinner, no hot dogs, no poutine, no alcohol — just salad. Hot-sauce salad. My new trick is I put hot sauce in my salad dressing, instead of mustard. You need a thick hot sauce, and you can make an emulsified salad dressing that's just a little spicy. I like spicy, so that's good.
Tuesday, August 6
We're working on the Thanksgiving issue at Food & Wine, so we've been going crazy with turkeys. I wish I could tell you who was working on them, but what I can say is that I'm on day ten of Thanksgiving tasting right now, and I've probably eaten enough turkey to take me through 2040.
That night I had dinner with my awesome friends Robin Insley and Doris Choi. First we went to Charlie Bird. I get crushes on restaurants, and Charlie Bird is my big crush right now. The chef, Ryan Hardy, is making some of the best food. It's such a good time to eat pasta in this city, and he's making such good pasta. They also have this really good peach-and-prosciutto salad going right now, and if you combine that with their stracciatella, it's the most magnificent combination.
Then we went to Estela, where I'd shamefully never been before. I had no business eating any more food, but we still got a couple of things. The best thing we had was the mussel escabeche on toast. When you're not hungry at all and cold seafood can still get your attention, you know that means it must be really good.
Wednesday, August 7
I got to taste the new Shake Shack fries with Dana [Cowin, Food & Wine's editor-in-chief] — Danny Meyer was there and let us do a side-by-side tasting with the old ones. The tasting was with cheese sauce and ketchup, and, in general, I'm not super snobby on fries, but I was 100 percent into the hand-cut fries. I couldn't even look at the crinkle-cut fries anymore.
I got their chocolate–peanut butter concrete, too, which has chocolate toffee and sprinkles. So much texture, so delicious.
I said I wasn't going to eat anything after my French fry–and-concrete feast, but that night I ended up going to Il Buco Alimentari. I thought I knew their menu, but they have this new dish of roasted gnocchi, which were insane. And they have a pomodorini salad, which was heirloom cherry tomatoes and something I had never seen before: cucamelons.
That was it for me, though. The next day Dana and I were having an Instagram photo lesson with Daniel Krieger at the John Dory Oyster Bar — April Bloomfield was the special guest star, and I knew we'd have to order as many pretty dishes as possible, so I wanted to save room.