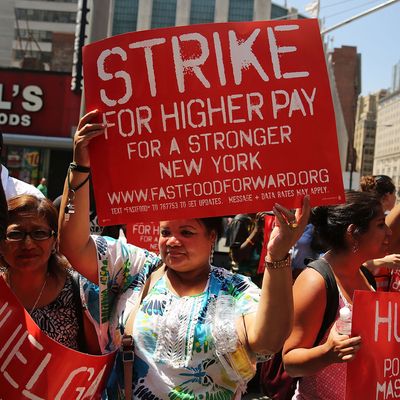 Workers want $15 per hour.
Photo: Spencer Platt/Getty Images
The movement of striking low-wage restaurant workers keeps growing nationwide, as walkouts and rallies continue today in Milwaukee, St. Louis, and elsewhere. Employees from several franchises including McDonald's, Wendy's, Domino's, and Burger King are seeking improved working conditions and a living wage. Organizer Fast Food Forward says the goal is an across-the-board raise to $15 per hour for all workers, a move that business groups not only say will hurt their bottom line, but also argue could throw margins at some fast-food outlets so out of whack that some of them would even go out of business.
Industry critics are more directly dismissive of Fast Food Forward: "It is an effort to demonize the entire industry in order to make some organizing and political points," Scott DeFife, executive vice-president of the National Restaurant Association, tells the Times in today's front-page article. DeFife argues that the group's message is misleading because most fast-food workers are young, and only a small group of employees earn minimum wage.
Meanwhile, the Seattle Times runs an op-ed from a worker at an unnamed fast-food franchise who says he's only gotten one 50-cent raise despite five years on the job, during which time he's strengthened his employer's brand with consistent customer service. Fernando Cruz argues that increasing hourly pay for low-wage employees, who are frequently asked to work ten-to-twelve-hour shifts without getting paid overtime, is a more straightforward matter of respect.
"You can't get that time back," Cruz writes, reflecting on trying to manage sixteen-hour workdays and raising a family at once. "But you should at least get paid for it."

A Day's Strike Seeks to Raise Fast-Food Pay [NYT]
Guest: Show respect for fast-food workers with sufficient pay [Seattle Times]
Earlier: On the Front Lines With New York City's Striking Fast-Food Workers