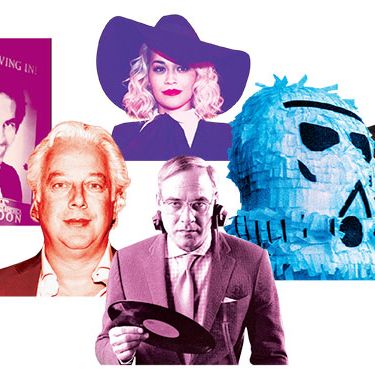 Photo: Patrick McMullan (Ora, Sevignys, Rosen); Kevin Devine (Star Wars)
Where: The Raven
55 Gansevoort St., nr. Ninth Ave.; Late Aug.
For: Those who still go out in the meatpacking district; Samantha Ronson and Rita Ora, who partied there on opening night.
Scene-Maker: British banker turned nightlife guru Henry Stimler, whose past projects include the J Soho and Madame Wong's. "When I go to a club I like to converse," Stimler says, "but I also like to get naughty. I've had ten years of party practice under my belt, and I've got loads of celebrity friends."
You Can Expect: The 3,200-square-foot subterranean "den of sin" is decorated with "edgy" art like a needlepoint wall hanging that declares, "FUCK YOU SUNRISE." There are two separate zones: "Chill" (with intimate leather couches) and "Crazy" (luminescent chandeliers by Bradley Rothenberg throb in time to the music). Hostesses will sport black latex dresses, and patrons receive complimentary e-cigarettes.
Where: Paul's Baby Grand
At Tribeca Grand, 2 Sixth Ave., nr. Walker St.; Late Sept.
For: The Olsens, Roitfelds, Santo Domingos, Mossharts, Delevingnes, Brants, Guinnesses, etc.
Scene-Maker: The first solo venture from Paul Sevigny: D.J., former Beatrice Inn honcho, and avid collector of Napoleonic-era paraphernalia.
You Can Expect: At this chic club and lounge on the first floor of the Tribeca Grand, the staff, clad in uniforms designed by Chloë Sevigny, will provide silver-tray service. Décor is Dorothy Draper-inspired, and the bar itself will be "eye-popping" and "highly opulent."
Where: Max Fish
132 Metropolitan Ave., nr. Berry St., Williamsburg; Late fall
For: Ryan McGinley's onetime assistants; skaters who had
bit parts in Kids and have reluctantly schlepped to Brooklyn.
Scene-Maker: After soaring rent increases forced the bar out of the Lower East Side last month, its beloved owner Ulli Rimkus decided to move her 24-year-old institution across the river. "Max Fish is Max Fish; it doesn't matter where it is," Rimkus says.
You Can Expect: The new space is double the size but will
mimic the original at every turn. The legendary backlit Julio Iglesias portrait, graffiti-splattered bathroom, iconic jukebox, and harsh lighting will travel with the same cast of staff to a converted garage.
Where: Diamond Horseshoe
Paramount Hotel, 235 W. 46th St., nr. Eighth Ave.; Late fall
For: Friends of the owner, like Larry Gagosian, Tony Shafrazi, Vera Wang, Bono, A-Rod, Anh Duong, and Nicky Hilton.
Scene-Maker: Real-estate magnate Aby Rosen (Gramercy Park Hotel, Casa Lever) and theater producer Randy Weiner (Sleep No More).
You Can Expect: This camp, $20 million club is located in the basement of the Paramount Hotel. Developers are tight-lipped about specifics, but it's been reported that the Dalí-esque vision is ostentatious and over-the-top down to the last detail. There will likely be fog and circus performers.
Where: The Stardust Lounge
At Maison O, 98 Kenmare St., nr. Mott St.; hard open late fall
For: Regulars at the Jane and Bowery Hotels looking for the after-party.
Scene-Maker: Lou Ceruzzi, Matt Abramcyk, Serge Becker, Binn and
Genc Jakupi, with flashy-design maverick Jason Volenec heading the overall vision.
You Can Expect: A Star Wars piñata marks a secret stairway in the recently opened Tadashi Ono-helmed izakaya leading to the Christmas-light-strewn basement club. In addition to the main stage, it boasts two private "fantasy" karaoke rooms: one a simulation of a classroom, complete with chalk and wooden desks; the other a sleepy park at dusk with AstroTurf, wooden benches, and lampposts.
*This article originally appeared in the September 2, 2013 issue of New York Magazine.