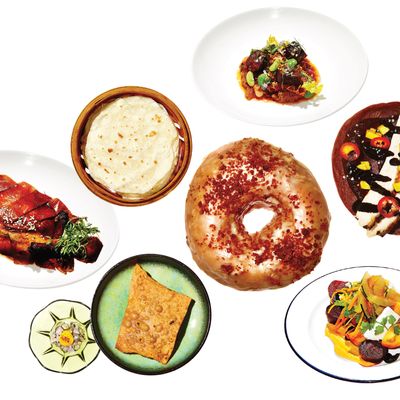 Clockwise, from left: Decoy's Peking duck; Toro's tripe-and-bean stew; La Cenita's chicken mole taco; Little Chef's Scuttlebutt salad; Dough Loco's doughnut; Okonomi's ramen cracker with bonito tartare.
Photo: Bobby Doherty/New York Magazine
SEPTEMBER
Dough Loco
The latest from Corey Cova, the man who brought us the scallion-pancake taco, not to mention the foie gras fluffernutter: an East Harlem doughnut shop that makes some of its dough with stout and its glaze with bean-to-bar chocolate. Blue Bottle coffee, too.
1261 Park Ave., nr. 97th St.; no phone yet.
Contra
Two young chefs—Jeremiah Stone (of the original Isa crew) and Fabian von Hauske (who's worked at Noma and for food scientist Dave Arnold)—plan to package their internationally inspired, New York-rooted fare as a daily-changing tasting menu at $55 a pop. 138 Orchard St., nr. Rivington St.; 212-466-4633.
Taquitoria
Cronuts and ramen burgers are all well and good, but what this town needs
is a good taquito. That, at least, is the opinion of San Diego-raised Matthew Conway, whose day job is sommelier at Marc Forgione. If anyone knows which wine to drink with a rolled-up taco, it's him. 168 Ludlow St., nr. Stanton St.; 212-780-0121.
Han Dynasty
The first New York branch of Han Chiang's Sichuanese eatery, of which there are already six in and around Philly, will feature many of the same menu items, with the dishes' heat levels ranked from one (salt-and-pepper shrimp) to ten (beef and tripe in chile oil). 90 Third Ave., nr. 12th St.; 212-390-8685.
La Cenita
Akhtar Nawab gives the former Abe & Arthur's space some Mexican flavor in
the form of blue-corn-and-wheat "black and white" tortillas, encasing fillings like steak and potatoes with Mexican sweet potato. 409 W. 14th St., nr. Ninth Ave.; 646-289-3930.
Morgan's
The latest entry to the city's barbecue frenzy has a Texan-Cajun twist (its pitmaster, John Avila, opened Austin's Franklin Barbecue; co-owner Chris Morgan grew up on the Texas-Louisiana border), yielding not only turkey tails and dry-rubbed brisket but also gumbo and boudin sausages.
267 Flatbush Ave., nr. St. Marks Ave., Prospect Heights; 718-622-2224.
Otto's Tacos
Many complain about the quality of New York's Mexican food; few do anything about it. Not so Los Angeles expat Otto Cedeno, who grew tired of eating our second-rate tacos and finally "just decided to act on the matter." His team even tested out its product in L.A. to ensure authenticity. 141 Second Ave., nr. 9th St.; 646-678-4018.
Pickle Shack
All those beautiful veggies lying about Shamus Jones's Brooklyn Brine shop just waiting to be pickled have lit a cartoon lightbulb over his head: Why not tap Maimonides of Brooklyn chef Neal Harden to devise a vegetarian small-plates menu? And why not pair courses with Jones's friend Sam Calagione's Dogfish Head beer? Done and done. 256 Fourth Ave., nr. Carroll St., Gowanus; no phone yet.
Toro
The fact that it rarely goes well when high-flying, award-winning out-of-towners breeze into our city expecting the dining public to welcome them with open arms won't stop this Boston tapas specialist from setting up shop inside the old Nabisco-factory building. 85 Tenth Ave., at 15th St.; no phone yet.
OCTOBER
All'onda
Former Ai Fiori chef Chris Jaeckle's restaurant, named for the fluid consistency
to which Venetians like their riso prepared, was supposed to open in May. But construction crews, like risotto cooks, cannot be hurried. 22 E. 13th St., nr. Fifth Ave.; no phone yet.
Empire Diner
They're holding out on the new name for Amanda Freitag's takeover of the Chelsea landmark, but you can count on the Food Network personality to put her refined locavore spin on at least a few diner classics. Whether that includes corned-beef hash with a low carbon footprint was also unconfirmable at press time. 210 Tenth Ave., at 22nd St.; no phone yet.
Gotham West Market
As an epicurean amenity and neighborhood attraction, the ground floor of this new residential building has been conceived as a glorified food court, with separate counters run by Ivan Orkin, Seamus Mullen, the Brooklyn Kitchen, and Williamsburg's Saltie, whose Little Chef offshoot will sell salad versions of its terrific sandwiches. 600 Eleventh Ave., nr. 44th St.
Decoy
RedFarm annexes the laundromat below it for a cocktail bar and Peking-duck destination, but that concept won't officially launch until after RedFarm's kitchen renovation. Until then, Ed Schoenfeld and Joe Ng will operate the space as a temporary pop-up. 529 1/2 Hudson St., nr. Charles St.; 212-691-9700.
Yet-to-Be-Named Battersby Spinoff
Walker Stern and Joseph Ogrodnek, the pair behind Cobble Hill's absurdly tiny Battersby, will travel half a mile south to open a comparatively palatial spot with 50 seats plus a courtyard and, crucially, room for a kitchen with "all you need to execute a full menu," says Stern. Look for slightly expanded selections, with the same à la carte
and "spontaneous" tasting options as the original. 412 Court St., nr. 1st Pl., Carroll Gardens; no phone yet.
Ivan Ramen
What would a fall preview (or, for that matter, a spring, summer, or winter preview) be without a glowing mention of procrastinating soup savant Ivan Orkin and his purportedly imminent Lower East Side ramen shop? Enough is enough, Mr. Orkin. Stop taunting us and give us our noodles. 25 Clinton St., nr. Stanton St.; no phone yet.
NOVEMBER
Telepan Local
After a successful exploratory pop-up mission a while back, Bill Telepan plants his seasonal-locavore flag in Tribeca, where his business partner resides, and where we're sure he'll do his best to discourage the consumption of tomatoes after the first frost. 329 Greenwich St., nr. Duane St.; no phone yet.
China Blue
Café China owners Yiming Wang and Xian Zhang will transform the Sandy-shuttered Capsouto Frères space into a Shanghainese restaurant; fans of their Sichuan spot will recognize a similar attention to detail in the décor, but with more delicate, less spice-focused dishes. 451 Washington St., at Watts St.; no phone yet.
Bar Bolonat
Forget old traditional cuisine: at Taïm chef Einat Admony's latest, it's all about the modern Mediterranean-meets-New Israeli variety. Example: grilled dorade with kale-walnut pesto and tahini. 611 Hudson St., at W. 12th St.; no phone yet.
Okonomi
Pop-up phenom Yuji Haraguchi lands a brick-and-mortar location for his flabbergastingly good mazemen ramen and his perpetually oversubscribed omakase. Down the line: the chef's take on Japanese breakfast. 150 Ainslie St., nr. Union Ave., Williamsburg; no phone yet.
Ristorante Morini
The Upper East Side, that rare Manhattan neighborhood without a Michael White restaurant to call its own, finally gets a taste of the man's handiwork with this posher, multi-regional take on his Osteria Morini concept. 1167 Madison Ave., at 85th St.; no phone yet.
*This article originally appeared in the September 2, 2013 issue of New York Magazine.

More From Our Fall Preview
Boulud's Former Marketing Maven Opens Rôtisserie Georgette
Team M. Wells Puts a Quirky Spin on the Steakhouse
Marco's Is Franny's, All Grown Up
Jonathan Wu Goes From Per Se to Chinatown With Fung Tu
The Season's New Crop of Hotel Restaurants