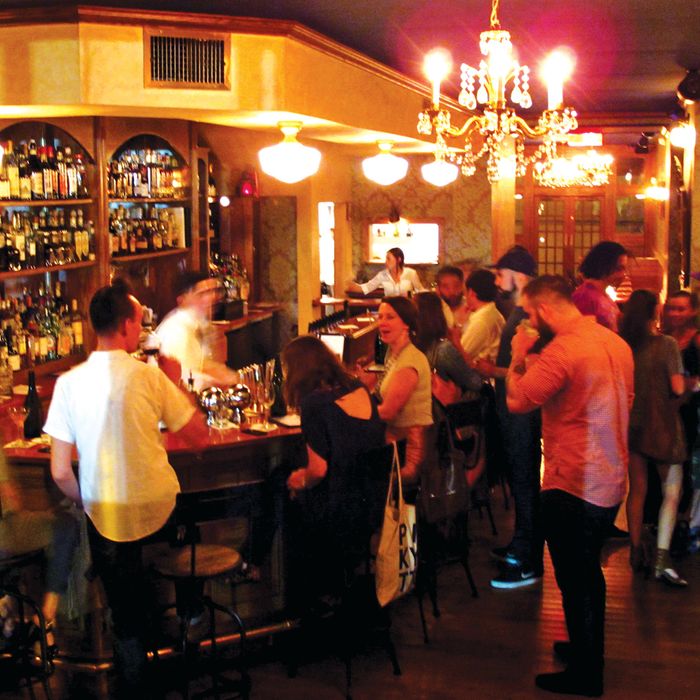 Grand Ferry
Photo: Jenny Westerhoff/New York Magazine
Where to drink, dance, play shuffleboard, and more this fall.
Antique Waterfront Haunt
Grand Ferry
This new cocktail-forward Williams­burg-waterfront bar offers drinks both classic (an $11 Seelbach) and newfangled (the $12 Seven Seas Cooler, which blends amaro Braulio, honey, tea, and rhum agricole). Paisley wallpaper, a mirrored back bar, and ornate chandeliers give the space (from the owners of the Richardson in Greenpoint) an antique feel; while windows overlooking Kent Avenue and the open courtyard in the rear keep the bar well-lit and airy. Come just for drinks or make a meal out of dishes like an Ipswich-clam roll and beer-braised brisket. 229 Kent Ave., nr. N. 1st. St., Williamsburg; 718-782-8500; now open.
Bowery Beer Mecca
Paulaner Brauhaus
This 4,500-square-foot, 240-seat brewpub (formerly home to a cabaret in the forties and fifties) will showcase beers from the titular German beer-maker, produced on-site. Paulaner's first brewhouse in the U.S. will serve its Hefeweizen, Munich lager, and Munich dark, plus seasonals like the Maibock and Salvator, all from the nearly 400-year-old recipes of the Bavarian monks who founded Paulaner. Downstairs will house a private lounge and event space, Sammy's Bowery Follies Room (named for the cabaret). 265-267 Bowery, nr. Houston St.; 212-780-0300; early Sept.
Gay Gym, With Drinks
Atlas Social Club
Four bigwigs of the gay-nightlife circuit—Benjamin Maisani and Pablo Raimondi of Avenue C's Bedlam, plus power promoter Josh Wood and Asi Mazar, of the dearly departed Splash—are opening what Maisani describes as a "cross between a gay speakeasy and a retro athletic club." To that end, the 2,000-square-foot space will be decked out with forties-era boxing and wrestling posters, old ­muscle mags, and Chesterfield furniture. A.S.C. will host regular happy hours but also raucous dancing—till 4 a.m. most nights. 753 Ninth Ave., nr. 51st St.; Sept. 11.
Industrial Megaclub
Verboten
The underground-dance-party promoters behind Verboten are bringing their "dystopian aesthetic" to a permanent home, joining Output and TBA as the third major dance club to open on Williamsburg's bustling Wythe Avenue this year. Similar to that of Output, the concrete-and-steel-accented space is massive, fitting up to 750 people, who'll be able to dance to the same techno-minded D.J.'s who've worked the Verboten parties, and attend live shows from Bushwick cult booker Popgun. In the winter, chef Jeremie Tomczak (Red Rooster, Aquavit) will open a small-plates restaurant inside the club. 60 N. 11th St., nr. Wythe Ave., Williamsburg; 347-223-4732; early fall.
Aussie Speakeasy
Manhattan Cricket Club
Tim Harris and Matilda Boland, two former employees of the Sunburnt empire, along with Summit Bar's Greg Seider, have created an Australian clubhouse of sorts with their new cocktail bar located one floor up from Aussie restaurant Burke & Wills. The space is inspired by the old glamour of Anglo-­Australian cricket clubs Harris grew up visiting; liquor lockers line the entrance, and chandeliers hang from a mirrored ceiling. 226 W. 79th St., nr. Broadway, second fl.; late Sept.
Quirky Hotel Bar
Henry, A Liquor Bar
The Hudson Hotel's "reservations recommended" new haunt is accented with speakers as benches, illuminated chartreuse floor tiling, a massive custom graffiti rug, and a Lee Broom chair dangling upside down from the ceiling. Adding to the spastic vibe: U.K. cocktail master Ryan Chetiyawardana switches up the drinks menu every three months, and music ranges from Wednesday-night jazz shows to sets from resident D.J.'s Paul Sevigny, Harley Viera Newton, and Vikas. The Hudson Hotel, 356 W. 58th St., at Ninth Ave.; 212-554-6000; mid-Sept.
Disco Dive
Golden Cadillac
New York's scuzzy, decadent years, specifically the seventies and eighties, inspired owners Giuseppe Gonzalez (Clover Club, Painkiller), James Tune (Pegu Club), and Greg Boehm, he of Cocktail Kingdom fame. In a room conjuring classic spots like the Odeon of the Bright Lights, Big City days, guests can sip elevated versions of disco-era tipples like Piña Coladas, plus classics like Cosmopolitans and Sidecars. Food (from Miguel Trinidad, of Maharlika and Jeepney) will be similarly city-themed: a hot-dog trio features Sabrett franks on a pretzel bun with smoked mustard. 13 First Ave., nr. 1st St.; early Oct.
New Standby
Glorietta Baldy
If its schizophrenic beer list, unpretentious bartenders, and multiple pinball machines seem familiar, that's because brothers Ben, Seth, and Mike Wiley have applied the well-oiled formula behind their low-key Brooklyn bars, Mission Dolores, the Owl Farm, and Bar Great Harry, to their latest. The 850-square-foot space is brightened by a six-foot-tall window and accented with wainscoting, and the bar itself is nestled below a visible staircase. Bed-Stuy dwellers with late-night cravings will appreciate their light-bites food menu, served well into the evening. 502 Franklin Ave., nr. Fulton St., Bedford-Stuyvesant; early Oct.
Brooklyn Brewpub
Dirk the Norseman
Brooklyn has been largely brewpub-deprived—until now. Ed Raven, who founded Raven Import Co. and Greenpoint growler shop Brouwerij Lane, will pour both his imported European brews (including Jever Pilsner and Gaffel Kölsch) and in-house ales released under the Grain Terminal imprint. Head brewer Chris Prout will craft creative riffs on Belgian and American classics, such as an IPA spiked with tupelo honey. 7 N. 15th St., at Kent Ave., Greenpoint; late Oct.
Ye Olde Lounge
Hudson Malone
Legendary former P.J. Clarke's bartender Doug Quinn has gone out on his own with a two-story spot in midtown. The vibe is old-school New York ("It's hard to find magical places here anymore," he says) with an emphasis on over-the-top hospitality. Upstairs will house the Siren Room, a "Doug Quinn-style" cocktail lounge (read: bartenders will know your children's names) with a piano player. Downstairs there'll be a mahogany-accented saloon-style bar. A full food menu including items like Pat La Frieda cheese­burgers and creamed spinach will be on offer at all times. 218 E. 53rd St., nr. Third Ave.; 212-355-6607; early Nov.
Floridian Funhouse
Royal Palms Shuffleboard Parlor
At long last, the city's first shuffleboard-themed bar has an opening date. The 17,000-square-foot, seventies-Palm Beach-themed extravaganza will house ten courts (pricing is not yet finalized, but the owners are aiming for $5 to $10 per person for an hour rental), and more seasoned 'boarders can even become members and join leagues. Drinks served from two 27-foot bars will "taste like a vacation" (coconut cocktails, key-lime fizzes), and a variety of vittles will come from indoor, rotating food trucks. 514 Union St., nr. Nevins St., Gowanus; 347-766-7256; Dec.
*This article originally appeared in the September 2, 2013 issue of New York Magazine.