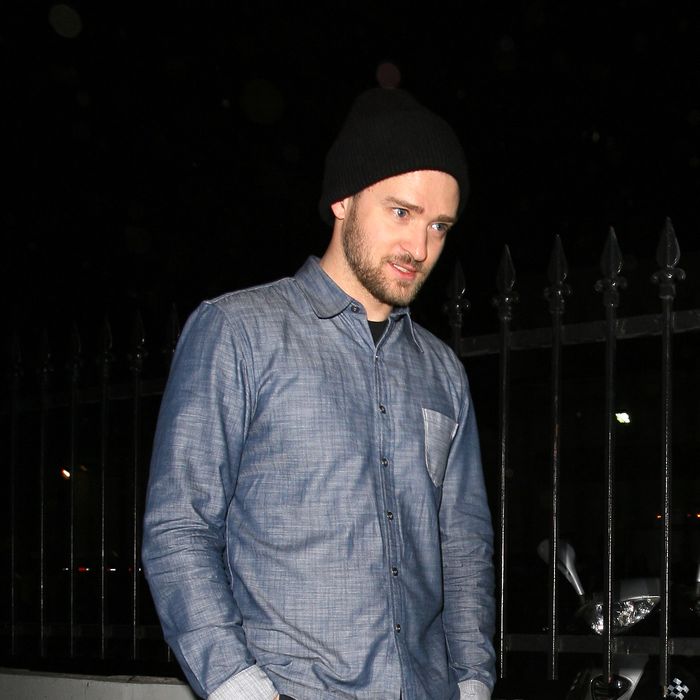 BFFs with Bey and Jay.
Photo: Roshan Perera/Splashnews
In this week's celebrity cronut wars, Heidi Klum brought a bundle of the prized sweets onto her private jet, but Emma Roberts couldn't cheat her way to the front of Dominique Ansel's line. Meanwhile, Sir Paul McCartney and Steve Buscemi ate together at Nick and Toni's, and Beyoncé and Jay Z celebrated around town after her performances. This, and more, in our weekly roundup of celebrity dining.
American Hotel in Sag Harbor: Billy Joel and Governor Andrew Cuomo dined together on Saturday night. Joel wore a baseball cap and dashed out of the restaurant as quickly as possible. [Page Six/NYP]
Brick Lane Curry House: Padma Lakshmi dined with Whitney Museum curator Carter Foster in the East Village. [Page Six/NYP]
Chloe's Soft Serve Fruit Co.: Jake Gyllenhaal and girlfriend Alyssa Miller ate healthy soft-serve in Union Square, probably a treat post–gym date. [amNY]
Da Silvano: Owen Wilson strolled down Sixth Avenue and got stopped by Silvano Marchetto, who brought Wilson into the restaurant, where the actor enjoyed cherry tomatoes stuffed with guacamole. [Page Six/NYP]
Dominique Ansel Bakery: Emma Roberts — and her publicist, of course — tried to skip to the front of the cronut line. They got turned away and went home (though they did get their coveted photo op), and Jimmy Fallon surprised the actress with a cronut on-air. [Daily Mail via DI]
EVR: Jon Hamm and Jennifer Westfeldt attended a friend's party at the lounge. [Page Six/NYP]
Finale: Heidi Klum stopped by the LES club. She successfully got her hands on cronuts this week, too. [Page Six/NYP]
The General: Matt Damon and Jay Pharoah took selfies at a Ciroc after-party for Elysium. [Page Six/NYP]
Joni's: Julianne Moore stopped by the Montauk spot to pick up lunch. [Page Six/NYP]
Landmarc: Kate Upton dined with her Dancing With the Stars boyfriend Maksim Chmerkovskiy at the Time Warner Center restaurant. [Page Six/NYP]
Lure Fishbar: Adrian Grenier shared a cozy dinner with an unidentified female companion. [amNY]
Nick and Toni's: Sir Paul McCartney and wife Nancy Shevell dined with Steve Buscemi at the Hamptons hot spot. Separately, L.A. Reid ate with his wife, and Emily Mortimer dined with her husband. Jeff Gordon, of NASCAR, also celebrated his 42nd birthday here. [amNY]
The Palm: Manolo Blahnik's newest designer, Sarah Jessica Parker, ate with Matthew Broderick and Andy Cohen at the East Hampton outpost. Owner Bruce Bozzi joined. [Page Six/NYP]
Red-eye Grill: Tina Fey dined at the midtown spot. [Page Six/NYP]
The Smith: Olivia Wilde and Jason Sudeikis giggled over dinner at the East Village restaurant. [Page Six/NYP]
Soho House: Beyoncé and Jay Z celebrated after her final Barclays show. [Global Grind]
South Pointe: The Biebs was seen leaving the Southampton club with two waitresses, one of whom was wearing a little white H&M; bow tie borrowed from a man at a neighboring table. As the waitress got into Bieber's SUV, the then-bow-tie-less man chased her out. Someone threw a rock at the Bieb-mobile, there was a brawl, and now J-Bieb is under investigation. Yikes. [Page Six/NYP]
TAO Asian Bistro: Kevin Hart celebrated a friend's birthday. [amNY]
Virgil's Real BBQ: Grub received an e-mail announcing that R. Kelly was "trapped in the studio" this week, recording his twelfth album, Black Panties, when he Instagrammed a photo of his dinner: barbecue chicken and cheddar-cheese grits, catered by his "all-time favorite" New York barbecue joint. [Grub Street]
Woodwork: Beyoncé, Jay-Z, and Justin Timberlake went to the Prospect Heights bar after one of her performances. An onlooker said the power trio arrived at 1 a.m., were very "casual and chill," and that "they seemed to just want to hang out and unwind." [amNY]