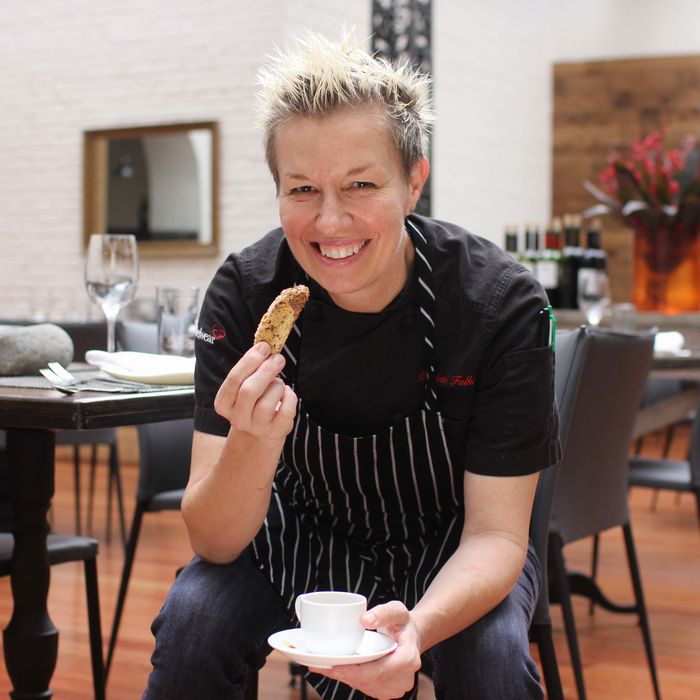 "It feels like I'm in the middle of a military operation."
Photo: Melissa Hom
"Opening a restaurant is one of the most stressful things that a human being can do," says Elizabeth Falkner, who's the chef at month-old Corvo Bianco on the Upper West Side. "I don't have time to think about me yet, and that's just the way it is." This is actually the second restaurant Falkner's opened in less than a year: She launched Krescendo in November 2012 but split with business partner Nancy Puglisi six months later. Despite Falkner's hectic schedule, she still found time last week to hang with Gabrielle Hamilton at Prune, enjoy an Eataly feast with her girlfriend, and cook at home. Read it all in this week's Grub Street Diet.
Friday, July 26
Last night, after shooting something for the Food Network — which I can't say anything about — I had a late-night dinner with chef friends at Willow Road. Fried chicken and cocktails.
When I woke up, I had a latte at Vineapple in Brooklyn while walking Hendrix, my dachshund. I did a quick stretch at home and then rushed to get on the subway to Corvo Bianco. Sometimes it takes me an hour and a half to get there. It's a pain in the butt.
I got my second coffee — a cortado — and an apple-walnut muffin at Irving Farm and then headed into the restaurant on the Upper West Side.
I had a family meal cooked by Reyna, one of my cooks. Chili rellenos! Divine! I can't eat a ton of food right before service because it'll make me tired.
After work, I had a late-night dinner with my girlfriend, Ava, whose office is conveniently located across the street from Eataly. She had picked up prosciutto, avocado, arugula, and breadsticks. We enjoyed all of it with some rosé. We called it a night, as Ava was off to Italy early the next day for a yoga retreat that she organizes.
Saturday, July 27
I had my typical coffee I make at home, which is a cappuccino, with Hendrix. I give him a little, tiny bowl of steamed milk, which he happily jumped out of his beanbag chair to drink.
I picked up a smoked-ricotta-and-scallion tart at Birdbath Bakery and an iced latte at Joe's and went into work.
I tasted a spoonful of violet-blueberry gelato from Adam Marca, our pastry chef, for our Purple Rain special dessert of red-fruit crostata and berries. Then I had a family meal of romaine salad and a bite of pasta with vegetables.
Right before lineup, I drank a Starbucks Java Chip Frappuccino. I love Joe's and Irving Farm, but there's a Starbucks right next to the next restaurant. I was still recovering from the heat wave and the opening and needed a caffeinated milk shake!
Of course, I taste food all during service — little bites of this and that. But I headed to Prune later to visit my friend Gabrielle Hamilton, and she immediately gave me a shot of gazpacho and some fried chickpeas. The bartender made me a great cocktail of gin and rosé, and I chatted with Gabrielle while she cleaned up and set up the kitchen for brunch the next morning.
Sunday, July 28
I had my iced latte in Brooklyn with Hendrix on our morning walk, and I went to the Greenmarket in Brooklyn at Cadman Plaza. I had my second coffee at Joe's on my way into work. Adam immediately gave me a biscotti made of cocoa nibs and caraway. Intriguing.
For my midday meal, I had a delicious pork tinga and tostadas and rice made by Reyna.
At home, I made myself a salad of heirloom tomatoes from the market with peaches, basil, and feta. I drank my preferred summertime beverage, rosé wine, which I buy at Montague Wines in Brooklyn Heights.
I like to cook at home after work, no matter what time it is. I actually wrote my second cookbook about what a chef eats at home. But because we've only been open a couple of weeks and there's such a long commute, I get home at 1 or 2 a.m., and I don't have much time to think about myself.
Monday, July 29
I had an iced latte in Brooklyn and then ran two miles after walking Hendrix. I did a little yoga and then got a lemon Italian ice before jumping on the train to the Upper West Side. There, I picked up a toasted bagel with cream cheese and tomatoes at Irving Farm, and I had a cortado as well.
I missed our family meal and came home to eat avocado, tortilla chips, and tomatoes. I was too hungry and it was too late, and I ended up eating a sleeve of Oreo cookies and milk before going to bed.
Tuesday, July 30
I had a cappuccino at home with Hendrix and then did an hour of yoga. I made a juice of green apple, kale, lemon, and ginger at home. On the way to Corvo Bianco, I picked up a toasted bagel with cream cheese and tomato and an iced latte at Irving Farm.
I had a few roasted potatoes made by chef de cuisine Flavia Amaral during family meal.
There's almost nothing open on the Upper West Side past 11 p.m. It's an emerging neighborhood for restaurants. Every place I've opened has been in the boondocks at first and then become an amazing area to eat in. Restaurants can change a neighborhood. I ended up picking up Chirping Chicken on my way home.
Wednesday, July 31
I had an iced latte with Hendrix and then headed off to a dentist appointment in the city. I had novocaine mouth, so I had a Java Chip and two black-and-white cookies at Starbucks before walking into work. They were soft. I don't want to eat junk food: I've been eating cookies because it's stressful. I find myself saying, "I've got to eat something! It's an emergency!" But I have to take care of myself, too.
On the way back from the dentist, I stopped at the Union Square Greenmarket and bought small white and purple Japanese eggplants. I used them to make a new version of our gnudi last night, which I like better. The gnudi I'm making is gluten-free, and I'm trying to make it an interesting dish for anybody who orders it.
I ate a bit of rice and a bite of chicken during family meal, which was all I could handle. When I got home, I made myself another tomato-and-peach salad with feta, and I ate Stacy's Pita Chips. I was tired. We did about 250 covers that night. It feels like I'm in the middle of a military operation.