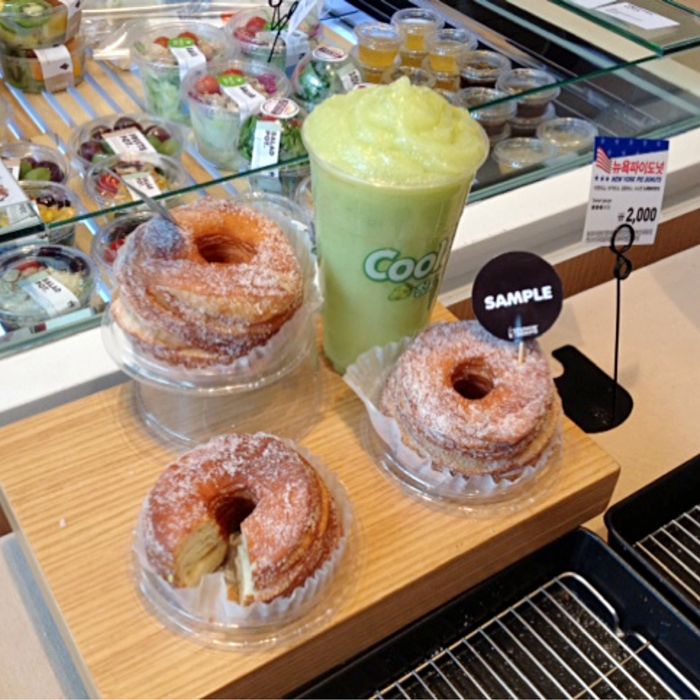 Counterfeit Cronuts and a Kiwi Coolata.
Photo: Doyun Kim
Earlier this week, word spread 'round the world that Dunkin' Donuts' South Korean operation had successfully engineered its very own Cronut knockoff — the New York Pie Donut. Cronut copycats have been around practically since the day Dominique Ansel unveiled his now-famous original. But the Dunkin' Donuts knockoff is different — it resonated because it's from an enormous international conglomerate that could, feasibly, introduce Cronuts as New York Pie Donuts around the world within months — or even weeks. If that's a chilling thought for Cronut purists, the first question surrounding these particular fast-food impostors should really be: Do they taste any good?
The restaurant trickle-down effect is by now well known: High-end chefs introduce ingredients and techniques that slowly move down to more and more casual restaurants until eventually fast-food chains co-opt phrases like "artisanal" bread or Angus burgers that are meant to add an air of authenticity and quality to their mass-market products.
The trickle-down can take years, but in this case it took Dunkin' Donuts a frightening two and a half months to put together its own Cronut imitator — a move that has helped it capitalize on the residual hype surrounding the original.
After seeing the New York Pie Donut news, I called a few Dunkin' Donuts in the Gangnam district to find out which had them. I located the right store and found out they release batches of 50 at 9 a.m., noon, and 3 p.m. It was 1 p.m. I asked how far in advance I should plan to get there for the 3 p.m. batch. "Just by three," the employee on the other end of the line told me. "But there are leftovers from the batch released at noon that you could get now."
No thanks. I wanted hot, fresh ones, so I arrived at 2:46 p.m. First one there. Score.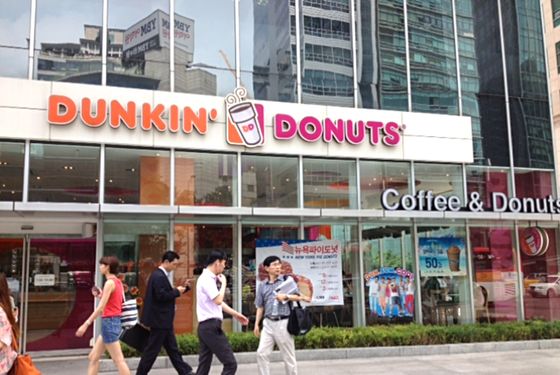 The quiet before the storm: outside Dunkin' Donuts all is calm.Photo: Doyun Kim

The tray came out at 3:02 p.m.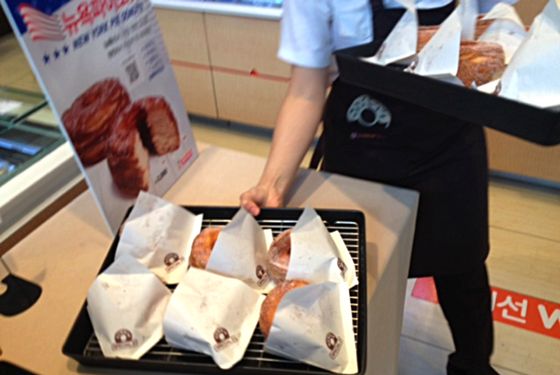 Finally.Photo: Doyun Kim
At this point, more people had filed in, curious about what was going on. I got my hands on two NYPDs, since I'd seen that was the per-customer limit (just like it is at Dominique Ansel Bakery). But the girl next to me had three.
"We can take more than two?" I asked the cashier.
"There's no limit."
I grabbed another.
By 3:20 p.m., all of the NYPDs were sold out. They cost 2,000 KRW per piece, or about $1.78.
I found a seat in the crowded restaurant and unwrapped the donut. My first approach was to rip it into smaller pieces, but the sugar coating fell all over the place. So I gave up on that and took a clean bite.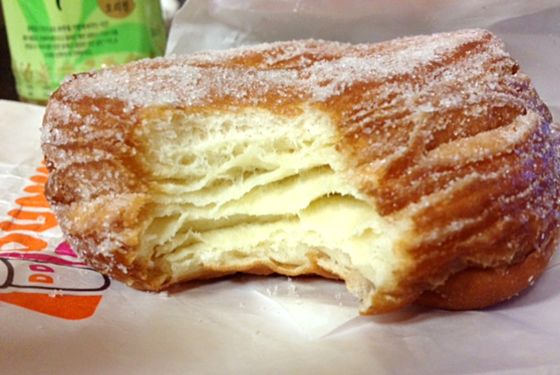 Inside.Photo: Doyun Kim
I haven't had the original Cronut, but this fake still had a lot to offer: Crunchy on the outside, chewy on the inside, and airy thanks to the layered croissant texture. It reminded me of a cake I used to get at a boutique Korean bakery called Passion 5 in Itaewon, Seoul, that was also a mass of deep-fried layers of dough.
Like any imitation of a luxury good, this one pales in comparison to the original — there is no glaze, or icing, or pastry-creme filling, as there is at the original — but it was still undeniably the best thing I've had from a Dunkin' Donuts. I even saved my extra third New York Pie Donut for breakfast the next day.
Sunmin Kim contributed additional reporting to this story.
Earlier: Dunkin' Donuts Figured Out How to Make Cronuts
Earlier: Watch Anthony Bourdain Talk Cronuts
Earlier: Dominique Ansel Launches the Cronut Project to Benefit Food Bank for NYC
Related: Introducing the Cronut, a Doughnut-Croissant Hybrid That May Very Well Change Your Life