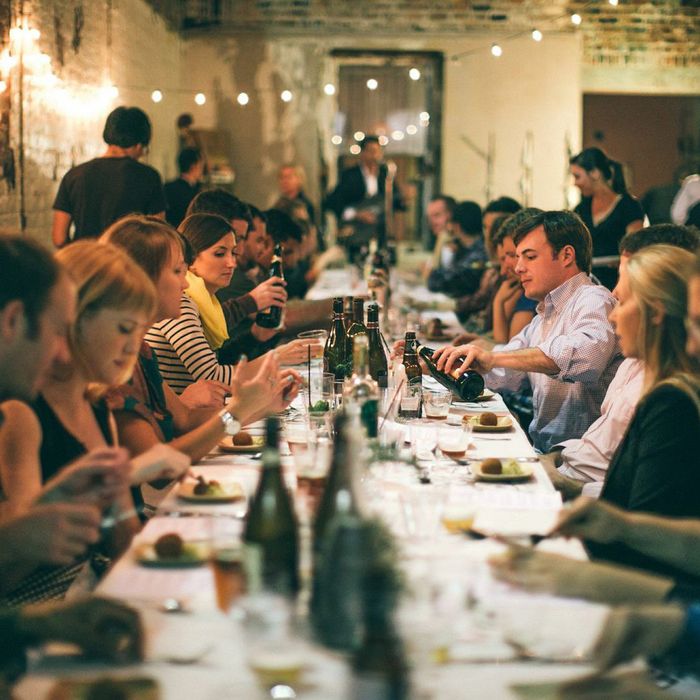 Dinner Lab does things a little differently.
Photo: Courtesy of Dinner Lab
Dinner Lab, a members-only roving dinner series that has made a serious name for itself in New Orleans, Austin, and Nashville, will soon begin hosting meals in New York City — and sales of its coveted member spots start today.
Here's how Dinner Lab works: Membership costs $175 per year. That grants you, and a guest, the ability to opt in to Dinner Lab's events in any of the cities where they operate. (You get first dibs in your home city, New York in this case.) The location is different for each of the twice-weekly dinners, and prices average $75 a head (tip and booze included).
Examples of past meals include a twelve-course Vietnamese feast; an all-raw dinner featuring meat, seafood, and veggies; or one meal that focused on the food of North Korea. Many Dinner Lab cooks work as sous-chefs at high-end restaurants, and an upcoming New Orleans meal will be a multi-course dessert tasting from Marea's Ellie Pegler.
In New York, dinners will kick off in September and founder Brian Bordainick won't divulge details just yet (he's also scouting commissary kitchens where chefs can prep their meals). But locations, revealed 24 hours prior to each dinner, are unusual: A paper mill, a helipad, or a church with pews serving as the seats.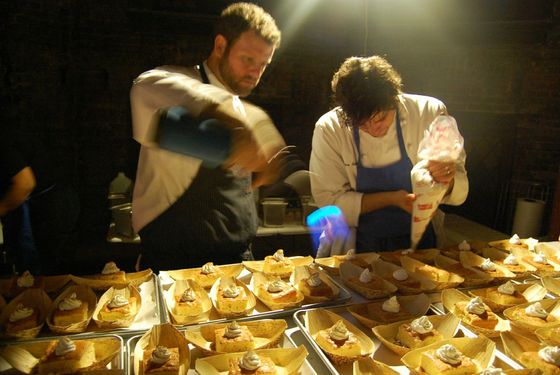 Dinner lab chefs, hard at work. Photo: Courtesy of Dinner Lab
If something like City Grit — a fixed location with dinners hosted by a rotating group of A-level chefs — has emerged as a sort of supper club 2.0, then Dinner Lab is what you might consider Supper Club 3.0.
Membership in New York will cap off at 2,000, and the first 500 spots can be purchased here. Membership for the New Orleans location is currently wait-list only, so if you're interested, you'll probably want to jump on this sooner rather than later.