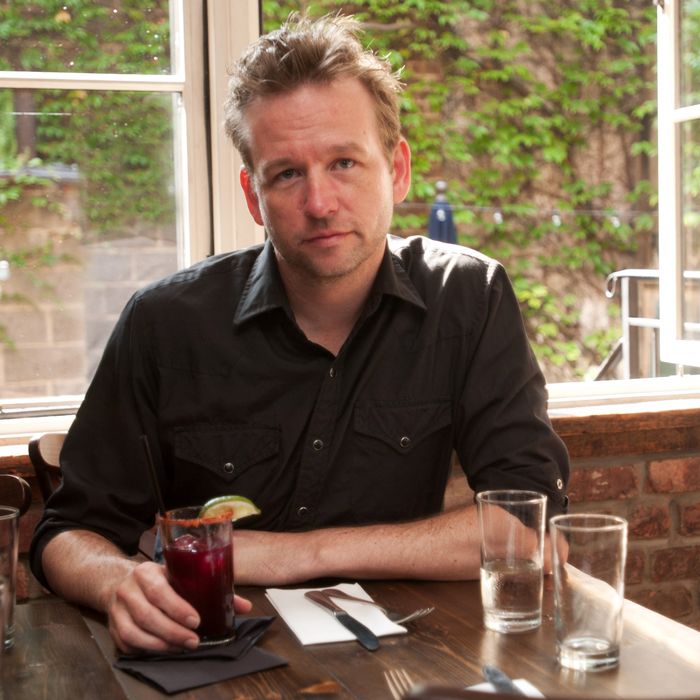 Roberts, at Hudson Clearwater.
Photo: Jed Egan
"I don't have any trepidations about trying anything," says Dallas Roberts, who has been on The Walking Dead, The Good Wife, and is now starring in Unforgettable. "As long as the food on the plate is not living, I will happily eat it." His adventurous eating habits were a boon this week, since a scheduling mix-up meant his partner Christine was out of town with their two sons, and he had the week off from shooting his show. "I decided to hang here in New York and eat a lot of great meals by myself instead," he tells Grub Street. "All I had to is figure out what to eat." To see where he ended up — Daniel, wd~50, and Il Buco Alimentari e Vineria among them — check out this week's Grub Street Diet.
Thursday, August 8
Rather than report what I would normally eat throughout the week, I decided I was going to go crazy this week — my family was out of town, and I was off from work, so I wanted to make it fun for me. First stop, cronuts! I got there at 5:45 a.m., spent two hours in the line, and it was totally worth it! This month's flavor is coconut, and I don't like coconut, but I still loved the cronuts. They're flakey and they're light and there's this cream in the middle. It makes sense that they're a craze, they're that good.
I was off work, but a buddy of mine, Scott Sowers, was playing the bad guy on my TV show, Unforgettable, so I went to work to hang out with him for the afternoon. I grabbed a turkey brie sandwich and strawberry lemonade at a Pret-a-Manger or someplace like that near his trailer.
Then I biked back home and met some guys to go to the Yankee game. At the stadium, I seriously considered having the sushi, but that seemed so intensely un-American. I went with hot dogs and beer around 8 p.m. Plus countless Amstel Lights, and a couple of whiskeys. I think we left around 11 p.m., had some more whiskey at the Yankee Tavern while waiting for the train, and then I talked everyone, or almost everyone, into coming back to my place for more beer. It's Beck's Light because I'm trying to keep the caloric intake down on beer, but that cancels itself when you have ten.
Friday, August 9
I woke up around 10 a.m. The Replacements lyric, "All I want to do is drink beer for breakfast," is what I was thinking, so I had some hair of the dog. The beer was just to sort of get the gears moving, so I could start this hour-long process that it takes for me to make a soft-boiled egg.
I'm sort of a mad scientist in the kitchen: Because the proteins in egg yolks and egg whites denature — they firm up at different temperatures — with a steady source of heat you can put an egg in the oven or a water bath for an hour and they won't overcook. I use a Thermapen to keep the water temperature between 148 and 150 degrees for this creamy, almost custard-y soft boiled egg.
No lunch, because I was saving my appetite for dinner — I was going to wd~50 for the first time. I went with a buddy and we got the tasting menu with wine pairings. It was pretty much tiny dishes the whole way through, little art pieces on a plate. Of the things we tried, the tilefish and the pig tail stood out, in what was a truly mind-blowing experience. There wasn't a miss in the whole menu, but those two dishes — our eyes rolled back in our heads, they were that good.
Saturday, August 10
I'm obsessed with making kale chips these days. It's totally simple and completely cheap. You just get the kale, pull it off its major stem, and rip it into pieces. Put the leaves on a tray, spray a little olive oil on it, put a little sea salt on it, and pop it into the oven for 20, 25 minutes. They come out like potato chips that have nutrients in them. I just end up putting them in a bowl and eating them all day.
For lunch, I made my go-to quick meal, salmon en papillotte. You take some fish, julienne some vegetables — fennel, carrots — and you cook it en papillotte, in paper. The fish and the vegetables sort of steam in their own juices. It's incredible and really fast and makes me feel like I'm a cook.
A buddy of mine took me to I Sodi for dinner. We got half-plates so we could try a few dishes. We got rigatoni strascicate, ravioli burro e salvia, rabbit in porchetta, and the cacio e pepe there, which is so amazing. It's the simplest dish in the world: spaghetti with cheese and pepper. But there is a bit of alchemy in making those things come together that I'm still working on at home. When something is prepared with such grace and economy and just nails it, it's this transcendent experience.
Sunday, August 11
For breakfast, I went to Il Buco Alimentari e Vineria — I love that place, and my kids go to school with the kids of the owner Donna Lennard. I went there for their breakfast sandwich, which is this giant, lovely sausage-egg-and-cheese elevated to Il Buco standards.
It's so giant, and I don't tend to eat breakfast, that I couldn't finish it, so I wrapped the rest of it and had the second half for lunch.
I had wanted to try Degustation, and it's three blocks from my house, so I thought, Let's try it out. I went alone, and it's interesting when you make reservations and you have to use the phrase "party of one." Is it a party, when it's only one? It was in my case!
I had croquetas with chile and lime; Arctic char with peas, potato, dill, and a Riesling froth; and Colorado lamb loin and belly with summer onion puree and a beet jus. It's amazing what they've done with the limited space. It wasn't stuffy at all, just magically delicious.
Monday, August 12
Breakfast was black tea and soft boiled eggs. For lunch, I stayed at home and ordered in from Joe Dough. I got the Stoner's Delight. It's a three-cheese grilled cheese with bacon. Make whatever assumptions you need to about why I was ordering something called the Stoner's Delight at four o'clock in the afternoon.
For dinner, I went to Daniel, because, well, obviously, it's Daniel! I'd never been to a three-star Michelin restaurant before, so I was like, "Obviously, I've got to do that." I got the tasting menu, and it's a choice of "this" or "that" for each thing, so I asked my server what he would have and let him just pick for me the duck terrine, the butter-poached Jade tiger abalone, and the seared Wagyu tenderloin.
The abalone came out in a shell with a sauce over it, like the interior of the shell is that opalescent pearl thing that happens in the ocean, and it was like you were eating off a giant pearl. That struck me.
I remember sitting back, three or four courses in, and just feeling lucky that I was having this experience. I don't know how many ways to say "amazing," "remarkable," "mind-blowing." It made me feel like I should stop cooking! I'll never be able to do this, so what's the point? It's all Kraft Macaroni and Cheese from here on out.
Tuesday, August 13
Black tea in the morning. And then I Citibike'd to Tamar Adler's place in Brooklyn.
Tamar was moving out of her apartment , so  she sent out an e-mail saying, "I'm throwing a dinner party, the last one at my apartment before I move." We had crostini pâte, heirloom tomatoes, bean salad, potatoes, and short ribs with salsa verde, and it was so amazing and rustic and simple, and there was no fuss. And I thought, "Oh, I can cook! It doesn't have to be white linen and creative masterpieces, as long as you take really good simple food and don't mess it up." My faith in cooking was restored.
Wednesday, August 14
I went to Hudson Clearwater for lunch. When I met Matt Hechter, who runs the joint, about a year ago, I was immediately like, "I've got to take Christine here!" There's music, it's romantic, and you feel like you're in your own sort of bubble. But since Christine and the kids were still out of town, I just went to have some lunch. And you got to have a cocktail at lunch, so I had a Calacas cocktail with jalapeño tequila. It's red — because there are beets in it — and it kind of looks like a vegetable juice with a salted rim.
Then the family was back in town, and I had to feed them. We went nuts at Alder. We got a lot of little things: pigs in a blanket, pumpernickel crostini with trout roe and kale, fried squash blossoms, clam chowder, foie gras terrine, and salmon with yogurt and granola. That last one was a complete revelation because you wouldn't normally put those things together, but it was so good. The kids were going nuts for it, and these are kids who don't normally like salmon.
We also had to order two cherry cheesecakes. It's cherries, a graham cracker dusting below them, and then some white bits of dehydrated cheesecake. But when you put the cherries in your mouth, they're actually hollowed out and stuffed with cheesecake. The cheesecake is in the cherries! I don't think the kids even let Christine and me get any of the cherries from the second order — they immediately hoarded them.
I don't want to be all proud dad here, but our kids are really well behaved. When you walk into a nice restaurant with an 8-year-old and a 6-year-old, some people are like, "Aww, fuck." But about half the time, someone will actually lean over and say, "I just want to say, I can't believe these kids are behaving." We're really, really lucky that they picked us to be their parents. They're the coolest guys around. We had the best time laughing and having our minds blown by food. It was nice to be able to share it with them again — no more party of one!