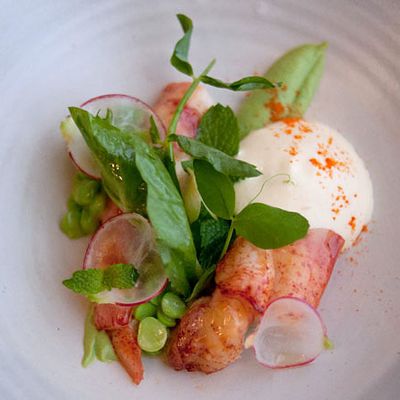 Wells says order the lobster at Betony.
Photo: Gabriela Landazuri/New York Magazine
This week, New York's Underground Gourmet focused on what's next: Get excited for Marco's, Fung Tu, M. Wells Steakhouse, and Rôtisserie Georgette — all restaurants that will probably make it into this very column in the coming months. But the other critics are still focusing on Betony and Corvo Bianco. Read it all, straight ahead.
Pete Wells is a big fan of Betony, which is run by three Eleven Madison Park alums. It's no surprise that "the two restaurants bear a family resemblance": Betony's service is attentive, while chef Bryce Shuman's food "has been fussed over, but it isn't fussy." Wells praises the "smooth and luxurious" chicken-liver mousse, "the most soulful foie gras [he's] ever tasted," and a roasted chicken that rivals the NoMad's. Although the desserts are "scattered" and the "food and service are seriously out of joint with the space," Wells summons his readers to flock to midtown and eat there right away. Three stars.
Alan Richman reviewed his experiences feasting at Smorgasburg, and started some serious drama: He claims that a Mighty Quinn's Barbeque clerk refused to serve him until a line formed. But Mighty Quinn's Micha Magid is refuting Richman's claim, calling it "preposterous." Richman's review is overwhelmingly positive, though: He thinks that Blue Bottle Coffee is "something worth waiting for," the Milk Truck's sandwich with Wisconsin Gruyère is "about as good as grilled cheese gets," and Schnitz's "Mrs. Child" chicken-cutlet sandwich is pretty much perfect. He never actually tried the ramen burger.
Stan Sagner of the New York Daily News dined at Greenpoint's River Styx, which "checks every box." The restaurant feels laid-back and casual, but the team takes its work seriously. Corn-and-shrimp fritters are "delicious" and "decadent," and the bucatini with nettle pesto is a dish that you "can't help drifting back to even after you claim to be full." The fried brown rice and raviolo aren't as successful, but the excellent peach cobbler makes up for any flops. Three stars (out of five).
The New Yorker's Amelia Lester found a reinvented rum-based Negroni when she ate at Corvo Bianco. She didn't like the apertif and isn't a fan of the restaurant's clientele, either: "Judging by the preponderance of women in halter tops and nervy solo guys checking their Blackberries, Corvo Bianco is a favorite choice for Match.com meet-ups." Elizabeth Falkner's food "sometimes suffers from an excess of ambition" (burrata doesn't need fancy "black garlic pan grattato"). The "avant-garde" pastries were the highlight of Lester's meal — particularly the grilled peaches with salty brown-butter almond cake, corn gelato, and a licorice-esque anise hyssop syrup.
Steve Cuozzo wrote an article (though not a review) in defense La Grenouille, arguing that it's "one of the city's greatest dining institutions that's also a great restaurant." In his rant, Cuozzo says that diners are obsessed with Brooklyn and downtown Manhattan, forgetting that Columbus Circle and the Upper East Side are home to many of the city's top restaurants. Good to know that the "temple to classic French cuisine" is still "'throbbing' with life."
Ryan Sutton tweeted that he's mixing up his schedule and publishing a long-form story tonight. Stay tuned.