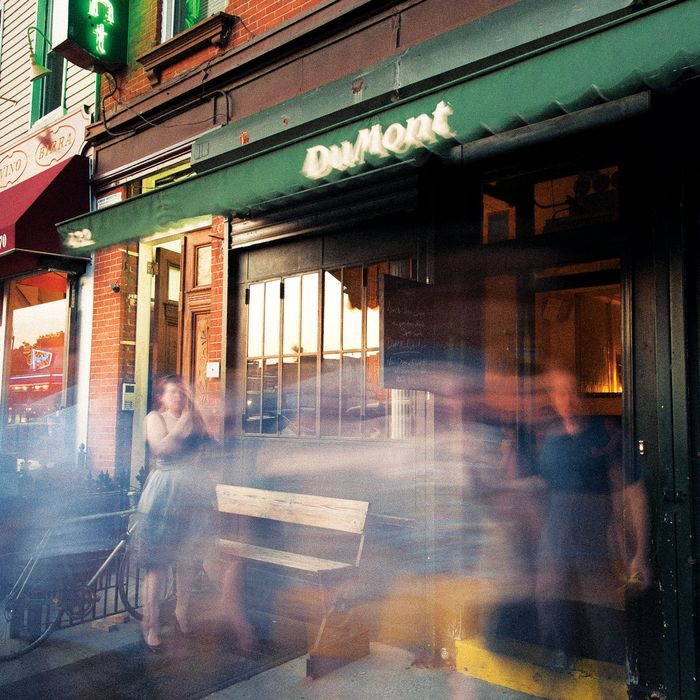 Way back in 2001, when a Williamsburg date night might consist of dinner at Planet Thailand, a 30-year-old Colin Devlin opened DuMont, an unassuming but impeccable little place on Union Avenue that mixed comfort food with refinement years before the rest of New York thought to do so. At the time, Devlin's so-called "DuMac & Cheese," with its cargo of Gruyère and lardons, seemed impossibly exotic, particularly a half-block from the Lorimer L stop. A few years later, when Devlin opened Dressler on a dog-eared stretch of Broadway, it was noted as much for its custom-made aluminum chandeliers as for its menu of high-end but unfussy food that seemed to acknowledge, as Frank Bruni wrote in his Times review, "that Williamsburg has grown up."
Twelve years later, on July 25, Devlin was found dead in a Pennsylvania cemetery, the victim of a self-inflicted gunshot wound. The initial reports surrounding his death claimed that Devlin had gone missing after leaving a meeting in which he'd been turned down for a business loan, and indicated that he'd been under financial stress. (One source with direct knowledge of the situation was adamant that Devlin had not been turned down for a loan and said DuMont was in no financial trouble.) Along with his restaurants, Devlin left behind a wife, two young children, and a tight-knit community of friends and colleagues who had watched as the North Brooklyn dining scene they created mutated almost beyond recognition, right along with the rest of the neighborhood.
Whatever the ultimate reason he took his own life, the loss of Devlin seems like evidence of a harsher Williamsburg than the one where he opened DuMont's doors a decade earlier. Many dozens of other restaurants have opened since then, and what once felt casual, accidental, and ad hoc has turned as competitive as any heat-fueled restaurant row in New York. Every suicide is personal, but Devlin's became an occasion to mourn not just the man but the idea he'd come to represent.
"The spirit of things has changed," says Caroline Fidanza. "The spirit that you have when you do it yourself, which is what made Colin successful, is what you ultimately lose when the neighborhood changes and you have people who are much less inclined to take chances." Fidanza, who owns Saltie, a Williamsburg sandwich shop, worked with Devlin at Diner, the pioneering restaurant opened by Andrew Tarlow and Mark Firth in the shadow of the Williamsburg Bridge in 1998. Devlin, who grew up in Philadelphia, and Firth had met while working at Balthazar. When Firth and Tarlow opened Diner, Devlin tended bar for them.
A few years later, he cobbled together the money to open DuMont. "He was smart," Fidanza says. "He chose a different part of the neighborhood so he could serve a community of underserved, like-minded people but not necessarily be competing for the same group as Diner. He was able to distinguish himself that way."
In those days, aspiring restaurant owners required little more than talent, determination, and the brown paper to cover the windows. "The restaurant scene in Williamsburg came out of people who were able to just go for it, because the times and rents permitted it," she says. Or, as Firth puts it, "You opened, and three weeks later the Health Department would come in. As long as you were in order, you were good to go."
DuMont quickly accumulated a loyal local following and a reputation for solid, bighearted cooking, and Devlin's success there allowed him to spin off DuMont Burger, which drew almost immediate crowds when it opened on Bedford Avenue in 2005, presaging the city's ongoing burger hysteria. A year later, Devlin opened Dressler. In both its proudly made-in-Brooklyn fixtures and upscale, local, seasonal menu, it was a sort of declaration: "He wanted to take it up a notch," says Firth. It received two stars from the Times and one from the Michelin guide in 2007, only the third Brooklyn restaurant to do so.
"He kept doing an amazing job, over and over," says George Weld, who kept DuMont's consistent quality in mind when he opened his own Williamsburg restaurants, Egg and Parish Hall. "When I thought of how to grow a business, I thought of how he did it. He gave the people who worked for him all sorts of opportunities to grow, and he met needs in the community. On the one hand, he was doing fancy food, and on the other, food you might order two or three times a week. It was really smart."
Dressler was also notable for its abundance of one thing most Brooklyn restaurants lacked: Manhattanites. As they arrived in greater numbers, first to eat, then to live, the neighborhood boomed, and Brooklyn became Brooklyn. Williamsburg's so-called "first wave" restaurants—Oznot's Dish, Relish, Miss Williamsburg Diner, Black Betty—closed up shop, while Manhattan fixtures like the Meatball Shop, Crif Dogs, and La Esquina moved in. The next wave of new restaurants was more self-conscious and spit-shined, armed with PR campaigns, Twitter feeds, mixologists, and menus so beholden to the earnest locavore playbook that they approached self-caricature. "In the past, you could just have a little bit of money and do most of the work yourself," says Fidanza. Now "you have to have a few hundred thousand dollars, at least."
Brooklyn's newer restaurateurs are more like Eamon Rockey, who with several partners last winter opened Aska, a Scandinavian restaurant with a six-course tasting menu. "You're constantly thinking about local versus traveler," says Rockey. "What's on the menu that people will come back for over and over? How will we structure the beverage program? What are we going to put on the wine list that will strike a chord with the folks in Brooklyn that are super-excited about sustainable biodynamic wines, and also have some panache that will bring people in when the locals aren't necessarily the only sustainable patronage?" He takes a breath. "It's a challenging game to play, and it's really stressful."
Dressler's corner of South Williamsburg became its own gastro mecca, with the likes of Marlow & Sons, Fatty 'Cue, and Traif luring diners and marauding food bloggers. Even with all of its stars, it was hard for Dressler to hold diners' attention. Last September, Dressler lost Polo Dobkin, its executive chef of seven years. And then in June, Devlin closed Dressler suddenly, writing on its website that he'd failed to come to a lease-renewal agreement with his landlord.
Firth says he never sensed anything was wrong with his friend. Devlin had been in the process of opening another, American restaurant in Clinton Hill, and plans for that are still moving forward. After his death, his restaurant group announced that both DuMonts would continue to operate.
"The neighborhood is harder to read now," says Weld. "There are so many tourists here, and so many new people moving into the neighborhood, to those big towers on the water. I feel like [Williamsburg] is still adjusting really rapidly to their being here; it's not clear what's going to stick. It's more of a high-wire act." When Egg's rent increased 50 percent last year, "I freaked out," he says. "But then I talked to friends on Bedford, and they were like, 'Oh, man, that's not bad.' It's scary, because I know that the next time the lease comes up, it's going to be another story. You can only charge so much for food."

*This article originally appeared in the August 19, 2013 issue of New York Magazine.