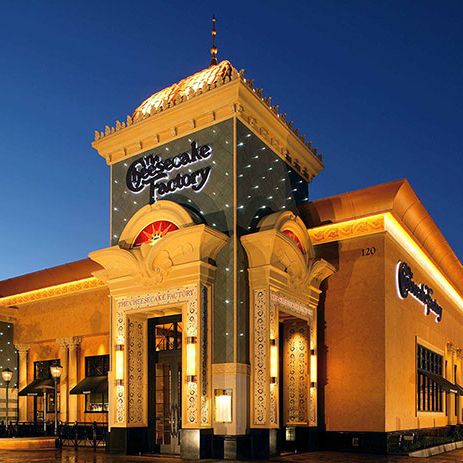 Twilight of the Cheescake Factory.
Photo: Courtesy of the Cheescake Factory
Older folks writing straight-faced newspaper write-ups of huge chain restaurants, such as Marilyn Hagerty's Grand Forks Herald Olive Garden tour de force, are actually often less than endearing, or that's at least what Justin Peters argues at Slate. The newspaper in question is the Cleveland
Plain Dealer, the reviewer is a veteran columnist named Barbara Collier, and Peters writes that the mere mention of Cajun jambalaya pasta and SkinnyLicious mushroom-and-lettuce wraps at the Cheesecake Factory in Lyndhurst is really just dyspeptic shorthand for the imminent demise of the newspaper industry — brunch combos be damned.
All of these things happen in Barbara Collier's Cheesecake Factory restaurant review:
• The menu is revealed to be "22 colorful pages long and almost mind-boggling, with one choice sounding better than the next."
• Readers are informed "Lunch-sized portions are available until 5 p.m."
• A cheesecake is called "Sinfully delicious."
• The Lyndhurst Cheesecake Factory is noted to be "one of the most attractive restaurants in the city. It has a worldly concept that reflects various countries and cultures."
See the really boring, mind-blowing pattern here? Get used to it: Peters writes that Plain Dealer owner Advance Publications has laid off dozens of newsroom staff and announced plans to switch to a three-day-a-week publication format, causing severe blandness and cliché. The Plain Dealer lost 45 employees at the end of last month, and the company's new age of migrating content online to Cleveland.com is looking generic and bland, he argues, perhaps a little bit like the mushroom-and-lettuce wraps on the SkinnyLicious menu. "What will be next for Cleveland.com readers?" he writes. "A review of Red Lobster? Outback Steakhouse? A combination Pizza Hut and Taco Bell?"
Cleveland.com's Review of the Cheesecake Factory Reveals the Sorry State of American Newspapers [Slate via Jonathan Chait/Twitter, Related]