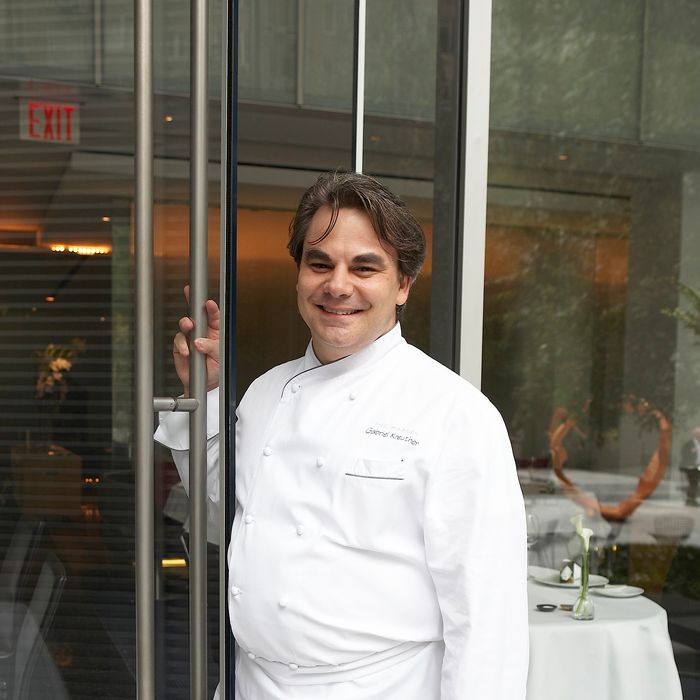 Kreuther.
Photo: Courtesy of the Modern
Danny Meyer's Union Squre Hospitality Group announced today that Gabriel Kreuther, chef at the Modern and the Bar Room at the Modern, will leave the restaurant to work on opening his own restaurant in 2014.
The Modern, of course, has seen great success under Kreuther since opening in 2004: a Michelin star, great reviews from critics all around town (in late 2011 Adam Platt said the food was "as artful and satisfying as ever"; both the main dining room and the bar room hold three stars from the Times), and the creation of what just might be the world's most perfect tarte flambée.
Kreuther isn't gone yet — the official statement only says he'll leave "within the coming months," but in the meantime USHG says the hunt is on for a replacement — so get those résumés ready, accomplished chefs who are looking for a new gig that comes with a lot of pressure and a pair of handsome dining rooms.
Here's the full statement:

After nearly a decade as Executive Chef of The Modern, Gabriel Kreuther will be leaving his post within the coming months to pursue opening his own restaurant in 2014. Gabriel has helmed The Modern's kitchen since its opening in late 2004, during which time he has contributed significantly to the restaurant's success. Under his culinary leadership The Modern has earned both national and international accolades, including 3 James Beard Awards, 2 New York Times 3-Star reviews and a Michelin star. He has also mentored an enormous number of accomplished cooks, many of whom have launched their own careers as chefs and restaurateurs. We will miss Gabriel and wish him profound success when he opens his own place. The Modern will now begin a search for its next Executive Chef, who will be charged with leading the next culinary chapter of a great restaurant.
USHG ANNOUNCEMENT [USHG]