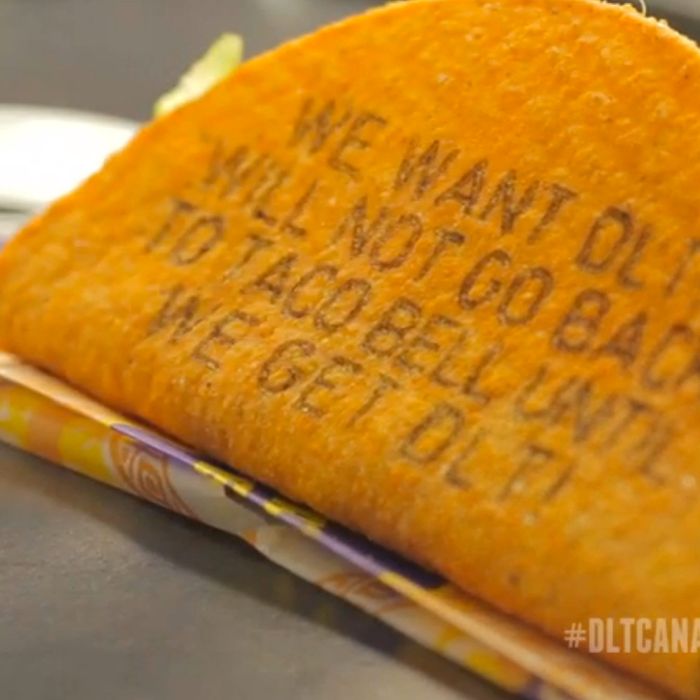 Canada, the long wait is finally over: Doritos Locos Tacos have arrived, dispelling the fears of many envious Canadians who worried the oft-overlooked country might miss out again. The rollout doesn't come without a fair amount of social-media-savvy snark on behalf of the fast-food chain's marketing team; in response to angry messages posted on Twitter about the lack of tortilla-chip-ified tacos in Canada, the company laser-etched said tweets on to actual nacho-cheese Dorito shells, which were then served to the same impatient diners at a gimmicky press event.
It's certainly a good use of lasers:
And that's not all: Canadians will also soon be able to enjoy Marky Mark's favorite burgers and some Smirnoff Fluff–and–creme de banana–spiked "Fluffanuttahh" frappes at their very own outpost of Wahlburgers. The Hingham restaurant, which Mark Wahlberg co-owns with his two brothers, is scouting locations in the Boston area but will reportedly first open inside Toronto's SoHo Metropolitan Hotel in early 2014, just in time for that Wahlburgers reality-TV show.

Taco Bell Brings Doritos Locos Tacos to Canada, Makes Impatient Critics Literally Eat Their Words [Adweek]
Mark Wahlberg's restaurant Wahlburgers to expand into Canada [LAT]
Related: Wahlburgers' Reality Show Will Air on the History Channel