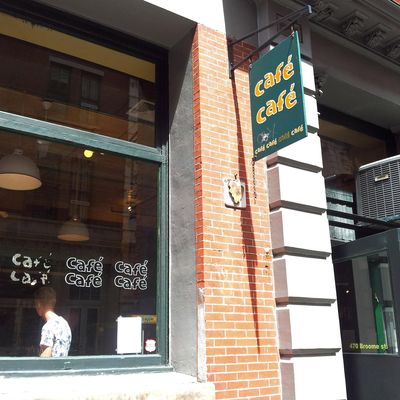 Photo: Lauren Elkies Schram
Soho residents are already feeling the loss of Café Café, which is closing permanently on Sunday after sixteen years in business. The Broome Street dine-in and takeout spot, which has long served a modest menu of eggs, smoothies, and pastries, is really one of the last of its kind of an increasingly rare breed of business in New York, namely a place where movie stars and shop clerks wait on the same line for coffee and no one makes anything of it.
Manager Shilo Tarshish said that the landlord recently exercised his right to take over the café's combined 1,400-square-foot space four years before the end of its twenty-year lease. Meanwhile, Café Café can't afford to take a new space elsewhere. The landlord owns the neighboring tile emporium Sicis.
"The café is closing because the landlord is taking advantage of a clause in our lease," says owner Albert Bitton. "Although the lease initially went until 2018, he has the right to move in at this point if he does not rent the space to anyone else. He owns the mosaic store next to us and has chosen to expand his business."
The restaurant was featured in The Good Wife a few years ago, Tarshish said, and has been visited by David Schwimmer and Uma Thurman. Claire Danes was a regular at one point.
The furniture, which includes wood and wrought-iron chairs and benches, is currently for sale, and what's left will be auctioned off Sunday or Monday, Tarshish said.
This post has been updated throughout.