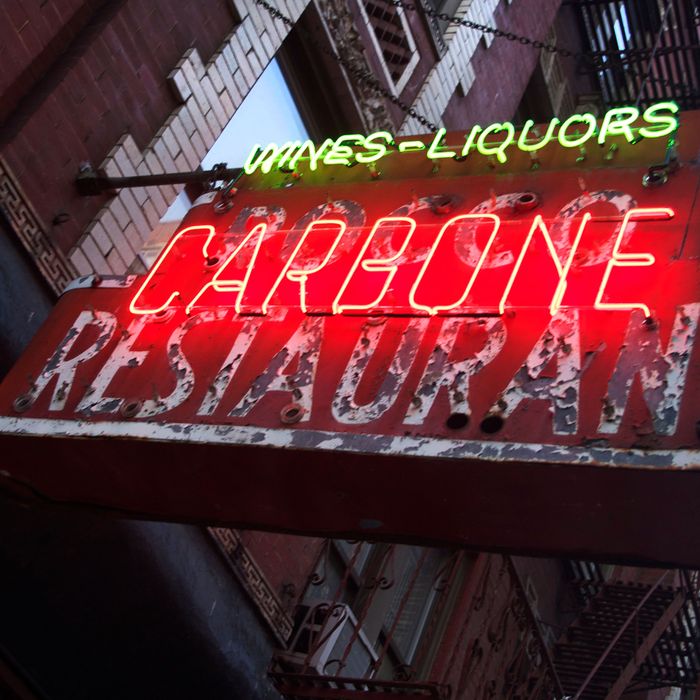 Carbone made the cut.
Photo: Christopher Bonanos
Andrew Knowlton and his team over at Bon Appétit have unveiled their 50 nominees for Best New Restaurant in America. Chicago's Fat Rice, New Orleans's Pêche Seafood Grill, and New York's Alder are on the list, and on August 14 the magazine will reveal its top ten picks. Last year, State Bird Provisions, Blanca, and Battersby received honors. Read all about this year's nominees, straight ahead.
California:
Allumette
Alma
Bar Amá
Chispacca
Hinoki & the Bird
Rich Table
Saison
Colorado:
Old Major
The Squeaky Bean
Washington, D.C.:
Daikaya
Table
Florida:
The Cypress Room
Georgia:
The General Muir
The Optimist
Illinois:
Fat Rice
Grace
Trenchermen
Kansas:
Rye KC
Louisiana:
Pêche Seafood Grill
Maine:
Eventide Oyster Company
Massachusetts:
Puritan & Company
West Bridge
Minnesota:
Borough
World Street Kitchen
Missouri:
Elaia and Olio
Niche
Nevada:
Chada Thai & Wine
New York:
Alder
Aska
Carbone
Lafayette
Pearl & Ash
Ohio:
Metropole
Oregon:
Ava Gene's
Pennsylvania:
Bar Marco
Vernick Food & Drink
South Carolina:
The Ordinary
Xiao Bao Biscuit
Tennessee:
Hog and Hominy
Rolf & Daughters
Texas:
FT33
Jeffrey's and Josephine House
The Pass & Provisions
Ramen Tatsu-Ya
Spoon Bar & Kitchen
Sway
Washington:
Bar Sajor
Joule
The Whale Wins
Wisconsin:
Forequarter