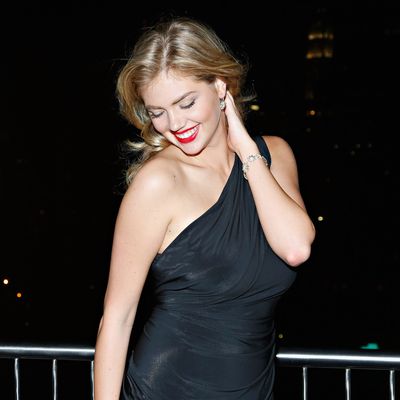 Date night for Kate.
Photo: Cindy Ord/Getty Images
This was a big week for celebrity clubbing: Justin Bieber hit five bars in one night, while David Arquette taught models to twerk at Provocateur. Lenny Kravitz and Ashlee Simpson partied at Darby and 1Oak, and Kate Upton went to Catch with a maybe-boyfriend. Meanwhile, Bill and Hill Clinton had a decidedly more low-key evening out, enjoying a vegan tasting menu at Lexington Brass. This, and more, in our weekly roundup of celebrity dining.
Bill's Bar & Burger: Bow Wow ate burgers and milk shakes with friends at the FiDi burger joint. [amNY]
Caffe Bene: Keri Russell's back from Comic Con and was spotted getting coffee and a croissant. [amNY]
Catch: Kate Upton and Maksim Chmerkovskiy of Dancing With the Stars held hands and "seemed pretty open about their relationship." All signs point to romance. [Page Six/NYP]
Da Silvano: Anna Wintour grabbed a bite at the Italian restaurant in her hood. [Page Six/NYP]
Darby: Lenny Kravitz, Ashlee Simpson, and Simpson's boyfriend, Evan Ross, kicked off their night together at the downtown spot, before heading to 1Oak, where they were seen partying until 3 a.m. [Page Six/NYP]
Flex Mussels: Hoda Kotb stopped by Flex Mussels on the Upper East Side. [Page Six/NYP]
Gramercy Park Hotel : Rita Ora enjoyed a night out with some model-friends. A waitress had to chase her out of the bar to make sure she paid her bill, but, of course, Ora's rep says she was running only to return a forgotten credit card. [Page Six/NYP]
Griffin: Justin Bieber's New York City club crawl got off to a rocky start at Griffin, where the underage crooner was turned away. Undeterred, the Biebs went to nearby Catch instead, where he was joined by Scooter Braun, Stephen Dorff, Owen Wilson, and Tyson Beckford. Next, he headed to 1Oak, where he was seen drinking water (sure) with Rita Ora, and then to Avenue and Marquee. Imagine what this kid will accomplish after he turns 21. [Page Six/NYP]
Landmarc: Gayle King ate an omelette while wearing a bright yellow dress. [Page Six/NYP]
Lexington Brass: Bill and Hillary Clinton shared the vegan tasting menu before meeting with Vietnamese president Truong Tan Sang. Bill joked that the cherry cobbler dessert "should be classified as an illegal substance." [Page Six/NYP]
Osteria Morini: Teri Hatcher and a friend ate pasta, chicken, and sliced meats at Osteria Morini. [Grub Street]
Provocateur: Owen Wilson and Stephen Dorff laughed and looked on as David Arquette gave a table of models twerking lessons at the invite-only Hotel Gansevoort club. Yikes. [Page Six/NYP]
Watermark Bar: Michael Strahan and fiancée Nicole Murphy went to the bar's opening party in the financial district. [amNY]