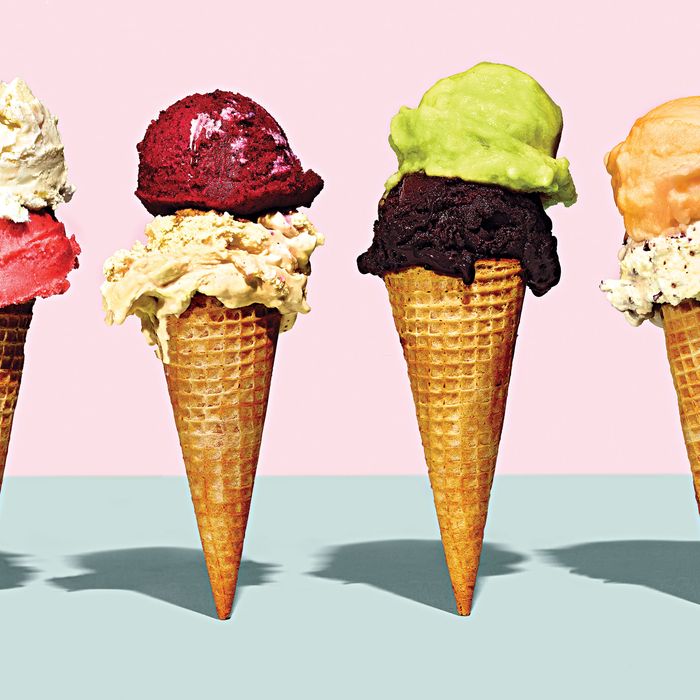 Photo: Bobby Doherty/New York Magazine
Top scoop, from left: Peach-Yogurt (Fresco Gelateria); Blueberry-Mojito Sorbet (Itizy); Celery Sorbet (OddFellows); Melon Sorbetto (L'Albero dei Gelati). Bottom scoop, from left: Fragola (Vivoli il Gelato); Banana Whama (The Evergreen Ice Cream Co.); Chocolate Sorbet (A.B. Biagi); Almond Bliss (Dolce "Sweetness in Life" Gelateria).
With the arrival of some serious new gelaterias, a couple of newfangled retro parlors, and the first local Dairy Queen in three decades, New York is virtually heat-wave-proof. Here's where to get your licks.
Fresco Gelateria
138 Second Ave., nr. St. Marks Pl. 212-677-6320
The scene: A subterranean shop with banquettes made from Coney Island boardwalk planks and café tables salvaged from Bryant Park.
Pedigree: A brother-and-sister team from Athens, Greece, look to their homeland for culinary inspiration.
Don't miss: Fig, peach-yogurt, and exotica like rose water (perfumed without veering into guest-bathroom-soap territory).
Price: $3.50 for a small.
Verdict: The gelato may be displayed in great showy mounds, flouting conventional wisdom that it should rest flat in covered tubs, but the product has a consistently smooth texture and mild, natural-tasting flavors.
Vivoli Il Gelato
At Macy's, 151 W. 34th St., at Broadway, sixth fl. (enter on 35th St.); 212-967-9251
The scene: Frosted-over gelato counter adjacent to the new
Stella 34 Trattoria; get your fix at the restaurant and admire the sweeping views of the Empire State Building, or take a cup to go and browse the bedding department.
Pedigree: First New York branch of an 80-year-old Florentine shop, run by third-generation gelato-maker Silvana Vivoli.
Don't miss: Crema, riso, fragola, arancia-crema, pistachio.
Price: $4.75 for a small.
Verdict: The flavors are classic, pure, subtle, precise; the texture cold, dense, silky, exquisite — the gelato equivalent of perfectly al dente. In short, it's the best new gelato in town.
Itizy
Locations vary, see itizy.com
The scene: Ever-changing, from Tribeca to the LIC Flea.
Pedigree: In the tire tracks of Big Gay Ice Cream and Van Leeuwen before it comes this sleek aquamarine ice-cream-mobile, born in the Queens kitchen
of frozen-dessert aficionados Ann Yu and Kenneth Chen.
Don't miss: Coffee-brownie ice cream and blueberry-mojito and strawberry-balsamic sorbets.
Price: $4.50 for a small.
Verdict: The locavore couple takes pride in sourcing their eggs and dairy from New York State, abstaining from using stabilizers, and churning their product frequently in small batches to guarantee freshness, and it shows.
The Evergreen Ice Cream Co.
144 Evergreen Ave., at Jefferson St., Bushwick; 347-954-5463
The scene: Francisco Garcia parlayed his business degree and an empty storefront in a Bushwick building his family owns into an old-fashioned scoop shop with a living room-cum-art gallery vibe.
Pedigree: Garcia sources his ice creams from Greenpoint wholesaler Phin & Phebes and Jane's in the Hudson Valley — "as close as possible to homemade," he says — and adorns them with "noninvasive" toppings like oats and ginger syrup.
Don't miss: Banana Whama and Vietnamese-iced-coffee ice creams, and the inspired, oft-changing sundaes.
Price: $3 for a small.
Verdict: High-quality raw materials combined in whimsical, satisfying ways.

Photo: Bobby Doherty/New York Magazine
Top row, from left: Fig (Fresco Gelateria); Pistachio (Vivoli il Gelato); Strawberry-Balsamic Sorbet (Itizy); Vietnamese-Iced-Coffee (The Evergreen Ice Cream Co.). Bottom row, from left: Maple-Bacon-Pecan (OddFellows); Basil-Pine Nut (A.B. Biagi); Mint-Stracciatella (L'Albero dei Gelati); Rocher (Dolce "Sweetness in Life" Gelateria).

OddFellows
175 Kent Ave., nr. N. 3rd St., Williamsburg; 347-599-0556
The scene: Hipster test lab of ice-cream technology and flavor experimentation disguised as old-fashioned kid-friendly soda fountain.
Pedigree: Youngsters know him for his work with artisanal mayo, not to mention cocktail and dive bars, but before all that co-owner Sam Mason was the high-flying opening pastry chef at wd-50.
Don't miss: Maple-bacon-pecan, peanut butter & jelly, cornbread, and celery sorbet.
Price: $4.95 for a two-scoop small.
Verdict: Unstintingly smooth, unabashedly high-fat ice cream in fun flavors you'll want to gobble down, not merely sample tentatively from miniature spoons. Plus, the freshest housemade waffle cones in Brooklyn.
A.B. Biagi
235 Elizabeth St., nr. Prince St.; 212-219-8094
The scene: Lovely little canary-yellow gelateria with a bench out front and everything made on premises.
Pedigree: Owner Antonio Barros Biagi has what you might call an advanced degree in gelato studies, having spent seven years under the tutelage of master gelatieri in Italy, not to mention a sorbet savant in France.
Don't miss: Stracciatella, basil-pine nut, hazelnut, vegan peanut butter.
Price: $4.75 for a small.
Verdict: Terrific gelato with a properly dense texture and beautifully balanced flavor. Bonus points for a chocolate sorbet that tastes richer, creamier, and more intense than most chocolate ice cream and gelati.
L'Albero dei Gelati
341 Fifth Ave., nr. 4th St., Park Slope; 718-788-2288
The scene: A double storefront encompasses a takeout gelato counter on one side and a panini-and-pastries café with a garden on the other.
Pedigree: The first American outpost of a Lombardy-based brand communicates in Slow Food-speak ("As good as nature," reads the awning), gives away seed packets, and sources its dairy and most everything else locally. (Italians can be a bit chauvinistic about their hazelnuts, almonds, and pistachios.)
Don't miss: Pistachio, vanilla, mint-stracciatella, melon sorbetto, and a fantastic licorice flavor that even licorice-haters will like.
Price: $5.16 for a small.
Verdict: This is classic, first-rate Italian gelato, textbook-dense and creamy with a clean aftertaste.
Dolce "Sweetness in Life" Gelateria
33 Barrow St., at Seventh Ave. S.; 212-206-8697
The scene: This is the former L'Arte del Gelato space, rechristened by Salvatore Potestio, a former L'Arte del Gelato co-owner, who got the shop in an amicable split with his partner.
Pedigree: Potestio is a native Sicilian; Sicilians love gelato so much they make brioche-bun sandwiches out of the stuff and eat them for breakfast.
Don't miss: Some tasty new texture-forward flavors, like Almond Bliss, Oreo, and Rocher, that would do Ben and Jerry proud.
Price: $4.50 for a small.
Verdict: Life is still sweet.
New York's Soft Spot for Soft-Serve
An ode to an American icon.
For some ice-cream fiends, the most rigorously authentic Italian gelato can't compete with childhood memories of Dilly Bars and Peanut Buster Parfaits from Dairy Queen, that midwestern chain that purports to have invented soft-serve (a claim that Carvel would contest). And of all the DQ loyalists, none might be more devoted than Christina Tosi, the pastry pioneer who, upon opening Momofuku Milk Bar five years ago, introduced it to the world as "Dairy Queen with pork buns." Weekly DQ outings were a Tosi family tradition; without fail, she'd order a Blizzard (that half-shake, half-sundae concoction, in the same category as a McDonald's McFlurry or a Shake Shack concrete) and fries. "Hot meets cold, salty meets sweet," says Tosi. "I was in heaven." Now, though, with the recent opening of New York's first Dairy Queen in 30 years, the Shack has some competition. That this DQ Grill & Chill franchise is located in Staten Island at the St. George Ferry Terminal shouldn't be seen as a hindrance to Manhattanites but as an opportunity for a breezy field trip. It's not as if New York were bereft of soft-serve, of course: We have the Big Gay Ice Cream Truck; Dessert Club, ChikaLicious and its neighbor Nicoletta; and Tosi's Milk Bar itself, home to such avant-garde flavors as blueberry-miso and cereal milk. Technically speaking, Shake Shack is in a different realm altogether, that of rich, eggy, hand-dipped frozen custard, a foodstuff born in Coney Island but raised to an American art form in Wisconsin. That dairy state is the inspiration for 5 Oz. Factory, future home to "Wisconsin cheese melts and frozen custard," debuting soon at 24 West 8th Street.
Flavor of the Month: Blue Cheese
It isn't easy to shock the general ice-cream-eating public these days. We've pretty much seen it all: Bacon is the new chocolate chip. Toast isn't just for breakfast anymore. And beet sorbet might be more common at certain forward-thinking restaurants than raspberry or lemon. If there's one flavor still capable of raising eyebrows and frightening small children, though, it would be blue cheese — which, as it turns out, is having a bit of a moment. At L'Albero dei Gelati in Park Slope, organic Pennsylvania blue establishes the Italian newcomer as a cutting-edge player on the New York scene. And although Antonio Biagi, of A.B. Biagi in Nolita, admits that unlike his goat-cheese-orange-and-anise, his Gorgonzola has been met with decidedly mixed reviews, he plans on bringing it back soon. Even homegrown ice-cream innovator Jon Snyder, who's made
a career of accommodating local chefs' oddball requests first at Ciao Bella and then at the envelope-pushing Il Laboratorio del Gelato, has had blue-cheese gelato on the brain. It's a rare omission for a man who has dabbled successfully in mascarpone, Philadelphia cream cheese, and even Cheddar. "I'll get to it when a restaurant asks for it," he says. "It's all about the right proportion of cheese to sugar." Taste, smell, and gut instinct to the contrary, it's still dessert, after all.
Uncle Boons's Thai Sundae
Owners Matt Danzer and Ann Redding's take on a traditional Thai dessert is a scoop of Il Laboratorio del Gelato's coconut gelato buried in housemade palm-sugar-enhanced whipped cream and sweet and salty candied peanuts — simple but transcendent. $8; 7 Spring St., nr. Elizabeth St.; 646-370-6650.
Dun-Well Doughnuts' Doughnut Sundae
The answer to a characteristically deprived vegan's prayers: a vegan doughnut topped with vegan ice cream and agave syrup. With a rotating roster of 200 sinkers and eight ice creams to choose from, the combinations are endless, but we like the maple-bourbon doughnut with butter-pecan ice cream, made locally by the kosher company Klein's. $6.95; 222 Montrose Ave., nr. Bushwick Ave., East Williamsburg; no phone.
OddFellows' Cornbread Sundae
If there's a better cornbread-ice-cream sundae topped with a pea tendril and layered with corn "soil," blueberry compote, and bacon-scented whipped cream out there, we would like to know about it. $7.95; 175 Kent Ave., nr. N. 3rd St., Williamsburg; 347-599-0556.
*This article originally appeared in the August 12, 2013 issue of New York Magazine.