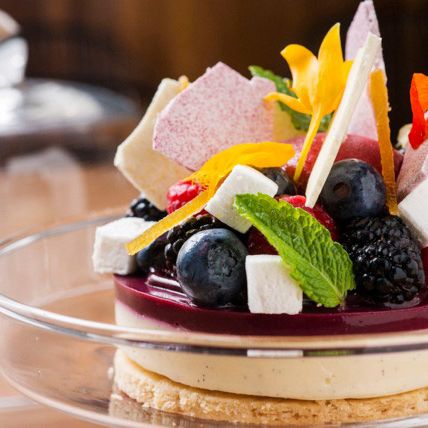 The Elm's red-fruit tart is intended to be shared, but no judgement if you eat it by yourself.
Photo: Evan Sung
The beginning of August sadly means that time is winding down for berries. But the good news is that New York restaurants are making the most of late-summer crops. Blueberry, strawberry, raspberry, currant, and blackberry desserts are the best they've been in a while: Butter & Scotch is making a blueberry pie-shake, Nourish Kitchen + Table is topping light German kuchen cakes with fresh fruit, and the Musket Room is adding strawberries to passion-fruit Pavlova. We've rounded up twenty standout berry desserts, ensuring that you have a strong finish to the summer eating season.
The Dessert: Summer Red Fruit Tart
Where to Get It: The Elm
As you can see, this fruit tart's a beauty — and it's filled with lemon-confit meringue and lemongrass marshmallow. (The Eton Mess, with thumb-size Tristar strawberries and brown butter, is also a strong seasonal choice.)
The Dessert: Peach Melba Sundae
Where to Get It: The Butterfly
Michael White's new new spot is a nod to Midwestern supper clubs, and that explains Robert Truitt's peach Melba sundae. He swaps out classic vanilla for peach ice cream, raspberry sherbet, sweet cream, and almond cake.
The Dessert: Fruit Kuchen
Where to Get It: Nourish Kitchen + Table
This new West Village restaurant is all about "beautiful, fresh food that just happens to be healthy." For dessert, that means kuchen, which is just the German word for cake. Marissa Lippert uses flaked coconut cake and rosewater for the crust and layers berries and plums on top.
The Dessert: Blueberry Pie-Shake
Where to Get It: Butter & Scotch
Dreams come true: At Smorgasburg (and Paper's Super(Duper)Market this weekend), the Butter & Scotch team is taking pies and blending them into shakes with vanilla ice cream and pie crust. The flavors vary, but you can count on blueberry — made with wild Maine blueberries with sweet vanilla and a touch of lemon.
The Dessert: Strawberry-Tomato Sorbet
Where to Get It: OddFellows
Sam Mason's always changing up his ice-cream flavors, but right now you can find strawberry-tomato sorbet, as well as strawberry ice cream (made with Tristar strawberries from Mountain Sweet Berry Farm) and the excellent blueberry-buttermilk honey.
The Dessert: Passion Fruit Pavlova
Where to Get It: The Musket Room
This New Zealand–focused restaurant is quietly becoming a hit. Don't leave without ordering the passion-fruit Pavlova, a meringue-based dessert with fresh strawberries and cream.
The Dessert: Red Currant Upside-Down Cake
Where to Get It: Allswell
The red currant is part of the gooseberry family, and it tastes a bit like a sour raspberry. It makes an excellent filling for cake, especially if you like your desserts on the tart side.
The Dessert: Lemon Blueberry Pie Puddin' Pops
Where to Get It: Puddin'
Why have a regular popsicle when you can eat one made with a rich pudding base and actual bits of pie? Some food just tastes better when served on a skewer.
The Dessert: Strawberry-Rhubarb Semifreddo
Where to Get It: Charlie Bird
Charlie Bird's giving the people what they want this summer: strawberry rhubarb. The refreshing semifreddo comes with homemade mascarpone and salted oats.
The Dessert: Blueberry, Milk, Honey, Crème Fraiche
Where to Get It: Pearl & Ash
The Fernet Branca ice-cream sandwich turned out to be pretty polarizing, so now the restaurant's offering two other dessert options. One is blueberry sherbet drizzled with honey, blueberry compote, crème fraîche cake, dried milk foam, and fresh lemon basil leaves. It's like a fruitier version of the Nomad's milk and honey dessert.
The Dessert: Strawberry Crostada
Where to Get It: Locanda Verde
Nancy Tran recently replaced pastry chef Karen Demasco, and she's making a rustic Italian pastry filled with fresh fruit, lemon crema, and coconut sorbetto.
The Dessert: Blueberry Cheesecake
Where to Get It: Diner
Diner's cheesecake, made with blueberries and lemon syrup, tastes far better than you'd find at your local greasy spoon — but it's served in the same comfortable, retro setting.
The Dessert: Peach & Almond Tarte Rustique
Where to Get It: Lafayette
The must-order dessert here is the warm seasonal tart, and right now it's being made with peaches, almonds, raspberry-yogurt sorbet, and rosemary honey.
The Dessert: "In the City" Cheesecake
Where to Get It: Corvo Bianco
Of course Elizabeth Falkner's making fancy, deconstructed desserts at her new spot. Try "In the City": cheesecake crema, blueberry sorbet, graham-cracker crumbles, and something called "blueberry paper" — blueberry purée with cornstarch that's been dehydrated.
The Dessert Blanc Manger
Where to Get It: Le Philosophe
A new dessert item on the French restaurant's menu is blanc manger, or a sweetened milk pudding. It's made even sweeter with the addition of raspberries, rhubarb, lavender, and pistachios.
The Dessert: Blueberry Parfait
Where to Get It: Betony
With poppy seeds and osmanthus flowers, this is no ordinary blueberry parfait. Get here before the inevitable reviews get published.
The Dessert: Strawberry-Cotton Shortcake
Where to Get It: Piora
At this new part-Italian, part-Korean West Village restaurant, there's an exotic shortcake on the menu. It's composed of fluffy Korean cheese-shortcake, market strawberries compressed with elderflower syrup, yuzu curd, whipped-cream Chantilly, black sesame meringue, and strawberry and vanilla sorbet. Got that?
The Dessert: Sweet-Corn Panna Cotta With Blackberries
Where to Get It: Atrium Dumbo
Finally, blackberries! This new restaurant opened last week in the old Governor space. There's a seasonal panna cotta with jalapeño, blackberries, and cilantro on the menu. Plus: Jalapeño cornbread and housemade blackberry sorbet come on the side.
The Dessert: Blueberry Sorbet
Where to Get It: Estela
After eating lots of the restaurant's excellent steak, you'll want something refreshing. End the meal by ordering blueberry sorbet with yogurt, green-tea meringue, and dehydrated blueberries.
The Dessert: Mint-Scented Strawberries
Where to Get It: Daniel
Perhaps you've read about a little-known restaurant called Daniel this month? Pete Wells called new pastry chef Ghaya Oliveira's approach "more modern and wide-ranging" and this particular dessert "a soft, lilting summer tune I won't get out of my head before Labor Day."