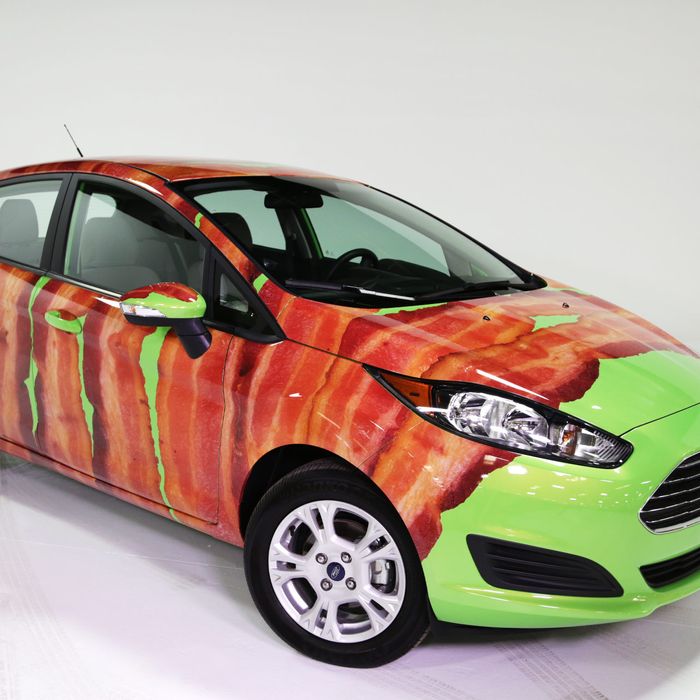 Also incredibly ineffective as an undercover police vehicle.
Photo: Courtesy of Ford Custom Graphics
It's come to this: Because it can, Ford will start selling bacon-themed vinyl wraps for its vehicles. Pictured here is a fuel-efficient Fiesta, sporting an unwieldy amount of artery-clogging bacon racing strips. (Other options include "Side of Bacon" and the spritely "Bacon Mini Strips, which start at $78.75 plus installation.)
Before this latest bacon-related gimmick angers you to the verge of taking a hatchet to your monitor, consider that the illustrious Tennessee ham man Allan Benton supports this simultaneous breakthrough in lard artistry and street style.
"You can only imagine that a hillbilly from Tennessee is pretty happy to hear about a Ford wrapped in bacon," he explains in a press release, in a typical self-deprecating Allan Benton way. "I expect there will be some real excitement among the young city crowd."
Cult-ham-producer endorsements aside, this will never really come full circle until someone figures out how to turn bacon grease into biodiesel. Oh, wait …