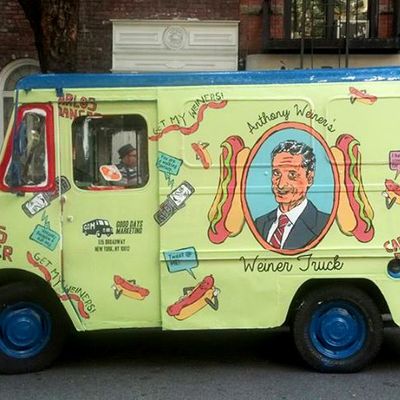 Anthony Weiner most likely does not approve this message.
Photo: Courtesy of Joey Goodwin and John Gagliano for Good Days Marketing/Unruly Heir
A company called Good Days, which is the official marketing arm of clothing company Unruly Heir, has seemingly cornered the market on rapidly deploying fake products to tweak the Zeitgeist. Joey Goodwin says his Anthony Weiner–themed "Weiner Mobile," which is festooned with sexting-charcuterie puns and decorated with a caricature of the mayoral hopeful, isn't affiliated with any campaign but is dispensing free hot dogs (purchased from a real hot-dog shop) throughout its stops on Manhattan streets. If that doesn't float your boat, the marketing company has also been handing out hybrid zine-and-clothing catalogues to stationary Cronut waiters outside Dominique Ansel Bakery in the mornings. Between ads for hand-dyed shirts and festively printed Unruly Heir bandanas is the heartwarming narrative of Danny Bird and his associates, the guys who started (illegally) scalping Cronuts back in May. Here's the pdf.