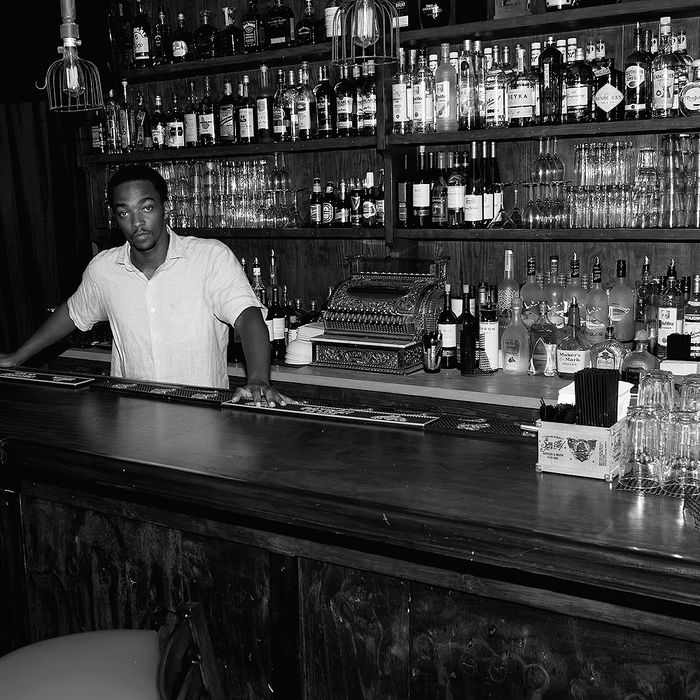 Yes, he'll be tending bar and ladling out milk punch.
Photo: Jennifer Cooper
During last night's Mumford & Sons rooftop show at Soho House, Grub Street caught up with Anthony Mackie, who appears in The Hurt Locker and the upcoming Captain America: The Winter Soldier. Mackie was drinking a Grand Marnier on the rocks, so it seemed like a good time to ask him about NoBar in Crown Heights. He was kind enough to talk about the project and give us details on his second project — NoBar Williamsburg.
Mackie will open the new NoBar this fall near Driggs Avenue and South 2nd Street. Mackie says he got a "great deal" on the space: "I'm the only person in New York that can say I have a great landlord."
It won't be a clone of the original, he says, but will hopefully feel familiar: "I love the idea of community," Mackie says. "I love the idea of being able to go out and have a drink and meet people that live near you. And I feel like my first bar in Crown Heights and this bar are perfect examples of neighborhood bars."
There's also going to be food. "My executive chef is from Atlanta," he says. "We're going to do all Creole, Cajun, Southern cuisine. We're going to have great étouffée and, literally, the best gumbo in the state of New York, hands down. We're going to have hot sausage po'boys."
Like he does over on Nostrand Avenue, Mackie says he'll tend bar at the new place as well, serving a full complement of Southern cocktails, including milk punch.
"I hate when I go to a New Orleans–style bar," he says, "and they're like, 'Oh, we have Bloody Marys.' And I'm like, 'Do you have milk punch?' And they're like, 'What is that?' I'm like, 'You're not a New Orleans bar.' It's just as New Orleans as Sazeracs and Bloody Marys."
The milk punch, if all goes as planned, will start flowing at NoBar Williamsburg in late October or early November.
Related: Anthony Mackie Will Personally Serve You a Drink at His New Bar, Opening This Week