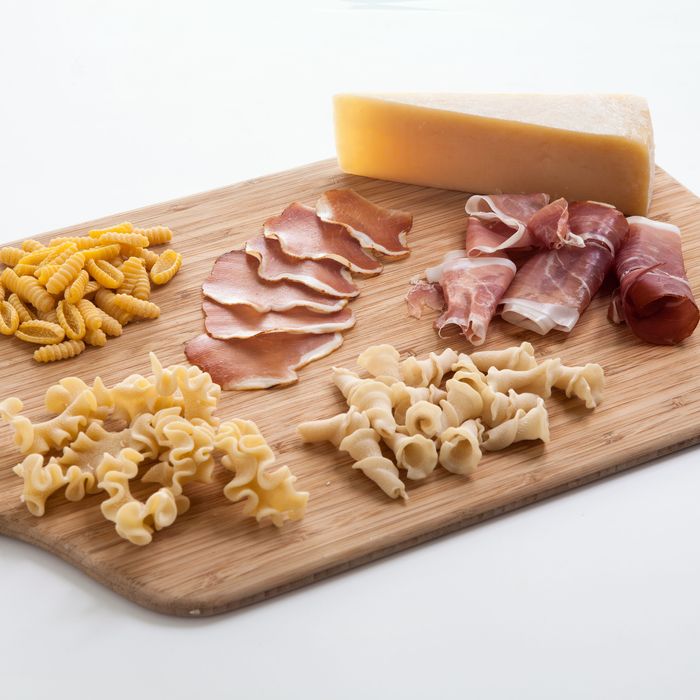 Sartori Parmesan, Sfoglini pastas, and La Quercia hams — made in the USA.
Photo: Jed Egan
American-made hams, cheeses, pastas, and oils are more popular than ever: The Times got Andrew Carmellini to sing the praises of Iowa-based prosciutto this week, and the Torrisi team famously uses American-made "Italian" ingredients whenever possible. Chalk it up to patriotism and, of course, the noticeable uptick in quality among U.S. charcutiers, cheesemongers, and truffle harvesters (you'll see) who have all produced standout replicas of classic Spanish, French, and Italian ingredients. Here are a few that you need to know.
Sartori's SarVecchio Parmesan
Where It's Made: Wisconsin
This is the cheese used in Carbone's excellent veal Parmesan (and, of course, in the sandwiches at Parm). Sartori's a fourth-generation family-owned business that started in Wisconsin in 1939.
La Quercia Ham
Where It's Made: Iowa
It's "the most amazing prosciutto I've ever seen outside Italy," says Andrew Carmellini, who serves the ham at Locanda Verde and Lafayette. The Iowa-based company, which prides itself on its sustainable and humane practices, also makes pancetta and salami.
Anna Maria Fish Company Cortez Bottarga
Where It's Made: Florida
As the Times also pointed out recently, Cortez is a small fishing village on Florida's gulf coast, and it's where excellent striped gray mullet roe is salt-cured and sun-dried. The caviar tastes great when shaved on pasta, deviled eggs, and salads. It's not cheap, but a little bit goes a long way.
Lovera Hand-Formed Caciocavera
Where It's Made: Oklahoma
Caciocavallo cheese is semi-hard and creamy, like mozzarella. The pear-shaped cheese originated in southern Italian provinces, but Sam Lovera started making it in Oklahoma as a kid. Now it's one of the Lovera family's best-selling cheeses.
Sfoglini Pasta
Where It's Made: New York
In Brooklyn, this pasta is made in small batches from U.S.-grown semolina flour and air-dried, creating a unique texture. There are classic Italian variations like trumpets and cavatelli, but you can also get everything-bagel-flavored fusilli, because this is New York, after all.
BelGioioso Burrata
Where It's Made: Wisconsin
This creamy burrata won first prize at the U.S. Championship Cheese Contest. The owner's great-grandfather started a cheese company in Italy, and now the tradition is continued in Wisconsin.
Crespone Salami
Where It's Made: San Francisco
This salami is softer than what you're probably used to, as it's made in the style traditionally found in northern Italy. Plus: The thick pork casing is all-natural.
Owens Creek Company Olive Oil
Where It's Made: California
The California extra-virgin–olive oil market is competitive, and many consider Owens Creek to be one of the state's best producers. The company makes one Tuscan blend (fruity Quartetto Classico) and one Sicilian variety (pungent Quartetto Viola).
Keystone Farms Asiago Cheese
Where It's Made: Wisconsin
Keystone Farms Natural is a family-run dairy farm in the heart of the country's cheese capital. Their asiago, a cheese that originated in northern Italy, is made out of 100 percent Wisconsin cow's milk.
Charlito's Cocina Sausage
Where It's Made: Queens
In Long Island City, master charcutier Charles Wekselbaum is hand-making artisan sausage and salami. He launched his business two years ago with vegan fig salami, but he now uses pasture-raised pork to make dry-cured sausages and chorizo, and has a stand at Smorgasburg.
Perigord Truffles
Where It's Made: Tennessee
American-grown Périgord black truffles are a rarity, so it's no wonder that Daniel Boulud and Jonathan Waxman are big fans.
San Marzano Tomatoes
Where They're Made: California
Despite the deceiving name, not all San Marzano tomatoes hail from Italy. Chances are you may have bought these thinking they were the European original, but these tart, bright-red tomatoes are actually from California.
Jacobsen Salt Co. Flake Finishing Sea Salt
Where It's Made: Oregon
Owner Ben Jacobsen, a former software marketing executive, taught himself how to hand-harvest salt from Netarts Bay on the Oregon coast. It started off as a hobby, but now he sells to April Bloomfield. It takes him about 45 hours to make salt that rivals the finest fleur de sel.
Salumi Artisan Cured Meat
Where It's Made: Seattle
Armandino Batali — yes, Mario's dad — is the co-founder of this artisan meat factory, which draws inspiration from a traditional Italian salumeria. His products include lamb prosciutto, mole salami, and lardo.
La Nogalera Walnut Oil
Where It's Made: California
Nutty walnut oil is a nice alternative to olive oil: Add a few spoonfuls to take pasta, vegetables, or even cookies to the next level.
Xylo's Truffle Oil
Where It's Made: Oregon
Truffle oil — usually made with chemicals — is a big food-lover no-no. But this company makes its oil using only real truffles — no additives. The truffles are harvested by a dog named Xylo, who is trained to find the precious ingredients at their peak maturity levels. Best pet ever.