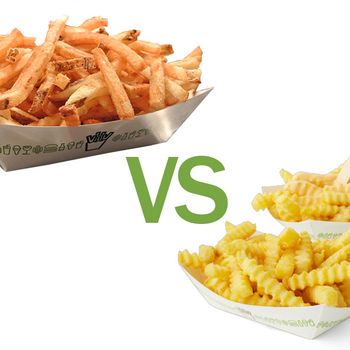 Are the new ones really better?
Unlike many of my respected, French-fry-obsessed colleagues, I've always been partial to the original, fat, crinkle-cut (and yes, scandalously frozen) fries served at my neighborhood Shake Shack, up on 23rd Street. I like the heft and size of the fry and the way the stubby, crinkly cut shape visually complements the densely compact shape of the Shack Burger itself. I like the way the ridges serve as a perfect dredging vehicle for wiping up your excess ketchup. I like the classic shape, with its nostalgic hints of the exciting, though inevitably disappointing, Swanson TV dinners of the sixties and the older suburban burger shacks of my youth. So when the momentous news dropped the other day that Danny Meyer's chain would begin phasing out these old frozen dinosaurs in favor of a new, fresher (and more politically correct) skinny "hand-cut" fry, made fresh on the premises, I took my daughter, Penelope, up to the E. 86th Street branch, where they're currently being introduced, to see what all the fuss was about.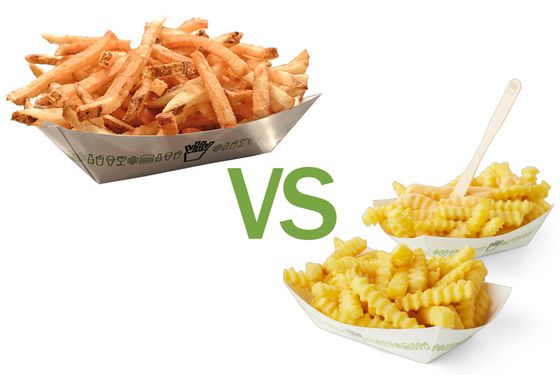 The first thing you notice about the new "skinny" fry is that it's more or less an exact doppelgänger fry for the Five Guys version, only slimmer, crunchier, and slightly more sophisticated. This is the Shake Shack formula, of course, to take the DNA of a popular competitor — concretes from Ted Drewes in St. Louis, smashed burger patties like those served at Steak 'n Shake — and imbue it with a patina of big-city style.
Penelope admired the dark russet color ("like caramel candy, Dad"). I admired the texture, which was uniformly crunchy without being too burnt. Unlike the old fries, the new ones actually taste faintly like potatoes, thanks to the whisper of potato skin that is kept on the fry instead of being shaved off. Our batch was nicely salted and professionally cooked, which is probably the reason why, along with the perfect crunch, we finished it in about five seconds flat.
But for nostalgia's sake, I'll stick with the fat, stubby, frozen originals. The newfangled skinny fries may be tastier and even more elegantly made, but they're not Shack fries anymore. They're regular old burger fries, which is something that's bound to happen, I suppose, when your favorite little neighborhood burger stand morphs, more or less overnight, into a giant, impersonal restaurant chain.
Earlier: Shake Shack Rolls Out 'Fresh-Cut' Fries
Related: The Shake Shack Explosion: How Danny Meyer's Burger Chain Gets Bigger by Appearing Smaller