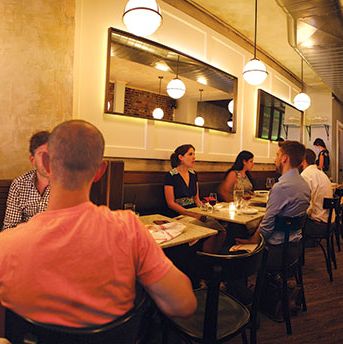 Estela Photo: Jenny Westerhoff/New York Magazine
The new bar-restaurant Estela looks, on first inspection, like all the other undersize, overcrowded bar-­restaurants that have been multiplying around town like rabbits in this post-gourmet age. The walk-up space, on a scruffy stretch of East Houston, is the size of a narrow truck garage. The brick walls are mostly devoid of decoration, unless you count the yards of exposed ductwork snaking along the ceiling. The menu (fifteen Mediterranean-themed items, plus assorted salumi and snacks) seems to have been designed less with a proper dinner in mind than to complement a cocktail or a glass (or three) of wine. And in the grand tradition of tiny bar-restaurants everywhere, the best seats in the house are at the bar itself, which is topped with white marble, accommodates fourteen people comfortably, and tends to fill up for good after seven o'clock.
Unlike most of the clamorous new bar joints around town, this one serves small, perfectly crisped croquettes stuffed, in the classic Spanish style, with blood sausage; and plates of plum-sweet scallops, which were spritzed with wedges of orange and lemon and taste like they've just been brought up from the sea. The seared razor clams I enjoyed one evening at the bar wouldn't be out of place at one of the better tapas establishments on the Costa Brava, and neither would the fat, ivory-colored calamari, which is also seared a la plancha and comes with a spoonful of fresh romesco sauce on the side. The soft, chunky cod had the simple, satisfying quality of good Spanish home cooking, and so did the mussels escabèche, which are set individually on little finger-size wedges of toast, spread with fresh aïoli, and served in a bowl pooled with olive oil and vinegar.
The man responsible for these treats is a talented, peripatetic chef named Ignacio Mattos. We last saw Mattos at Isa in Williamsburg, where he dabbled in various audacious haute-forager experiments (spelt soup, beef tartare with sunchoke cream and crème fraîche, the crisped skeleton of a single sardine). Critics liked the food, but the locals, apparently, did not, and he was canned after a few months on the job. He seems to have learned from this dismal experience, and although the menu here has less flair than it did at Isa, it's also cleaner, more satisfying, and less consciously fussy. Instead of various fancy creams, my order of sweet, rose-colored beef tartare was folded with elderberries and crunchy bits of fried sunchokes. The house burrata cheese is dressed with lovage and shaved radish, and the delicious ricotta dumplings are served under drifts of fava beans and fresh garden peas.
The ricotta dumplings are by far the best of the four entrée-style dishes at Estela, but if you're in the mood for something slightly more substantial, I suggest the culotte steak, which has the consistency of good fillet and is plated with a streak of salty anchovies and a tart cabbage gratin. The accomplished, seven-drink cocktail list includes an excellent, knee-­weakening version of that classic absinthe-and-­Martini amalgam the Tuxedo #2, and the eclectic wine list (as curated by former Blue Hill at Stone Barns sommelier Thomas Carter) has the variety and quality of that of a restaurant twice the size. Each of the three house desserts have their charms, but my favorite is the grapefruit sorbet, which is mingled in a frosty glass with a spoonful of smooth Greek-yogurt ice cream and sprinkled, on its top, with a dusting of sugar flavored, ingeniously, with the slightest touch of Campari.
The Musket Room, which opened a couple of months ago on Elizabeth Street, around the corner from Estela, is another small, sneakily sophisticated downtown establishment with a casual party atmosphere in the front of the house and an obsessive young cook in the kitchen. The two-room setup is owned and operated by veterans of the popular AvroKO hospitality empire (Public, Saxon + Parole), and it consists of a bar-café area (which tends to fill up with crowds of fashion-conscious revelers early in the evening) and a relatively peaceful dining room in the back, which looks out, through tall windows, over a boxed herb garden strung with lights. The garden is cultivated by the restaurant's chef, Matt Lambert, and if you sit down early, you may see him bent over with his clippers, happily harvesting bunches of fresh microgreens for your dinner.
My meals at the Musket Room began with baskets of puffy, fresh-baked bread and a cool orange gazpacho dressed with buttons of dissolving olive-oil gel. Lambert is from New Zealand, and he has a deft touch with poultry and game dishes (roasted duck, quail with a delicious bread sauce, fillet of red New Zealand deer flavored gently with gin). The deconstructed version of steak-and-cheese pie we sampled was less successful (and at $31, overpriced), but no one had anything bad to say about the seafood entrée, which was Chatham cod that evening, plated over English peas. The desserts aren't generally as satisfying as the savory dishes, so stick to the old favorites, like the decorative, Kiwi version of a classic Pavlova (built over passion fruit instead of cherries) and a slim chocolate torte so smooth and sinfully rich that chocolate addicts at the table persuaded me to order it twice.

Estela
47 E. Houston St., nr. Mulberry St.; 212-219-7693; estelanyc.com
Hours: Monday through Thursday 6 p.m. to midnight, Friday and Saturday to 1 a.m.
Prices: Appetizers, $10 to $17; entrées, $24 to $29.
Ideal Meal: Mussels escabèche and/or scallops, steak tartare, ricotta dumplings, grapefruit sorbet with Campari.
Note: Estela's online booking system takes reservations 30 days in advance. The bar/dining counter is reserved for walk-ins only.
Scratchpad: One solid star for the clean Mediterranean cooking and another for the wine and booze.

The Musket Room
265 Elizabeth St., nr. Houston St.; 212-219-0764; musketroom.com
Hours: Monday through Thursday 5 p.m. to midnight, Friday and Saturday to 1 a.m., and Sunday to 11 p.m.
Prices: Entrées, $12 to $32.
Ideal Meal: Gazpacho or quail; duck or red deer; chocolate torte.
Note: The Kiwi-heavy wine list features a very nice Rippon Riesling, from the most southerly wine region in the world.
Scratchpad: One star for the polished cooking and another for the small, elegant back room.
*This article originally appeared in the August 19, 2013 issue of New York Magazine.