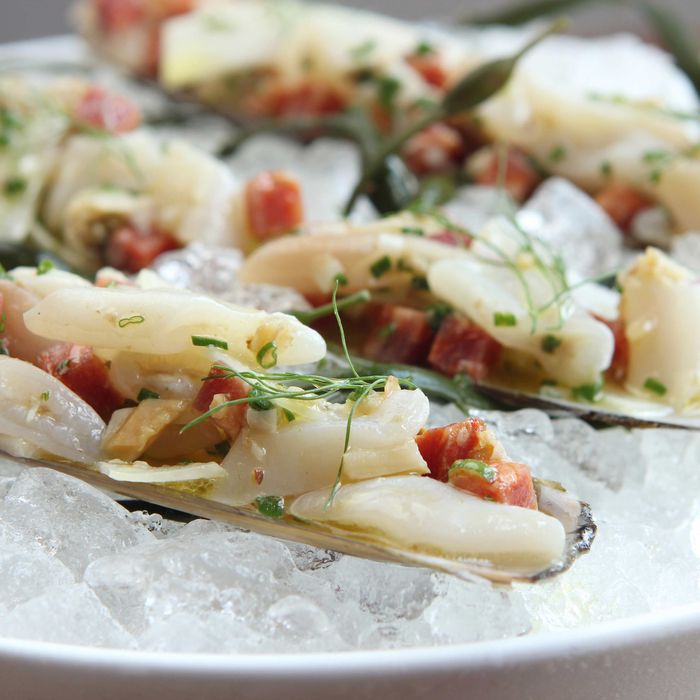 Pricey, delicious razor clams at Costata.
Photo: Melissa Hom
New York's exclusive sushi bars have long been dining destinations for bankers and high-rolling out-of-towners willing to drop $500 (or more) for a meal of jet-lagged seafood, intricately prepared and simply presented. Old-school raw bars with by-the-dozen half-shell clams, by comparison, are ostensibly places for the working class — or at least for people without access to corporate credit cards. But recently, a new breed of raw bar has emerged in New York, and by stealing tricks and techniques from sushi culture, New York's chefs have steadily gotten away with raising seafood prices ever higher. Like it or not, we've reached the era of the $13 clam.
To get a sense of the traditional raw-bar class hierarchy, just imagine so many tiers of a towering plat du mer: Lowly clams are jammed into steerage, oysters hobnob with lump crab or the upwardly mobile Jonah crab in the middle, and cocktail lobster tends to stick with the exotic Santa Barbara uni on the upper decks and balconies, sometimes with sea scallops still wet from their journey in on the apocryphal day boat. But while lobster and uni still rule, other raw-bar staples are getting the glam treatment, too.

At Maison Premiere in Brooklyn, a composition of sliced Washington State geoduck — a long, wormlike clam that requires anyone washing it to peel off a layer of gnarly skin with a motion many have said is not dissimilar to removing a used condom — costs $14 with uniformly cut peaches and sliced hearts of palm.

At ZZ's Clam Bar, where, despite the name, there's no pump-your-own Heinz cocktail sauce or a vat of lemon wedges, a composed clam dish — a mix of top neck, orange clam, geoduck clam, and giant clam with serrano pepper — goes for $23.

But nothing can match the ascent of razor clams.

Unlike oysters or hard-shells, East Coast razor clams have no storied place in the colonial histories of early American food. For years, they made only cameos at notable New York restaurants. A nervous, 38-year-old Daniel Boulud served razor clams to guests in 1993 just after striking out on his own, right around the same time razor clams started to become commercially available in Gloucester, Massachusetts. At the same time, pioneering chefs like Jean-Louis Palladin convinced restaurant suppliers like the now-venerated Browne Trading Company that specimens like tidal clams that gorge on silty mudflats deserve a spot next to sevruga or steelhead roe. It worked: Razor clams brimmed to the surface on menus, gracing Ruth Reichl's Times review of Joe's Shanghai in 1996, then scoring a follow-up appearance in the critic's 1997 Balthazar review — prescient foreshadowing of our current culinary culture, where immigrant traditions have caught up to and commingle with fine dining techniques on plates around town. (New York's embrace of the Nordic culinary ethos — predicated on the idea of finding wild stuff in the woods and on the shore and charging a lot of money for it — hasn't hurt, either.)

Now razors are cut on the bias and laid into an ornate mound of sliced pickled garlic and almond slivers at Atera in Tribeca. At Masion Premiere, one razor, dressed with fresh mint and radish brunoise, runs $13. And raw razors no doubt provide a crucial textural element within Rich Torrisi's $100 plated Technicolor orgy of Chianina beef carpaccio, urchin lumps, raw spot prawns, and caviar at ZZ's. They may not be top-billed on the menu, but the sliced siphons are right there on the plate — at the only twelve-seat clam bar in New York City with a bouncer wearing a fitted suit.

It's something of an inspirational Horatio Alger story for bivalves everywhere.

At Michael White's Costata, a dish of three elongated razor shells arrives on ice and brimming with uniform cross sections of raw, meaty clams, shaved fennel, cubed sopressata, and bits of fronds and chives. The dish costs $21 (just $3 less than deluxe lobster cocktail all'amatriciana, by comparison), but the cost is not really $7 per clam. Executive chef PJ Calapa says that because the edible portion of shucked razors is relatively small, it takes the combined meat and the associated involved prep of five or six clams to round out each order the kitchen receives.
But even still, $21 for a plate of clams is a bit much, isn't it? Well, at Costata, the Maine or Montauk-sourced clams in this mix are shucked and marinated in lemon, but Calapa also puts Manila clams and their liquor to use in the vinaigrette — that level of care and attention to detail is indicative of why these dishes now cost so much.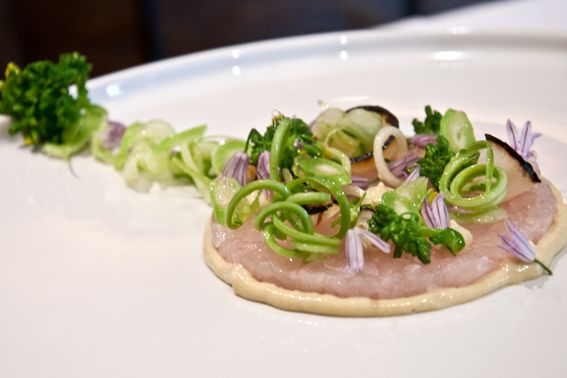 Kanpachi tartare at ZZ's Clam Bar, built on a foundation of pulverized raw oysters.Photo: Sarah Silberg/New York Magazine

At ZZ's, a $29 item billed simply as "Tartare: kanpachi, broccoli, oyster sauce" is built on an aïoli made with Montauk Pearl oysters — which retail for $3.50 each at most restaurants — and gets finished with a seared oyster and a fried oyster. The finished dish is so intricately decorated with broccoli flowers and micro-florets that it resembles an ornate bio-marine ecoculture.

Next-level raw bars aren't about local seafood that has simply been steamed or shucked and served on ice. These places ask customers to trust chefs who are kitted out with an arsenal of citrus zests and herbs and garnitures — chefs take the highest-quality ingredients they can find, then apply their expertise. The plates are more finely dressed than crudo, and are not unlike, you guessed it, sushi bars.
So, yes, the prices are higher, but there's a lot more work involved in putting out the finished products. But, as always happens, there will be a trickle-down effect from the high-end spots: David Chang's pork buns, for example, inspired a legion of low-cost knockoffs, so there's every reason to believe some young upstarts will put together their own $8 riffs on ZZ's $23 clam bonanza. And when that happens, Rich Torrisi, Michael White, and others will have set their sights on something new. After all, there are bean clams and blood clams out there, waiting for Horatio Alger moments of their own.