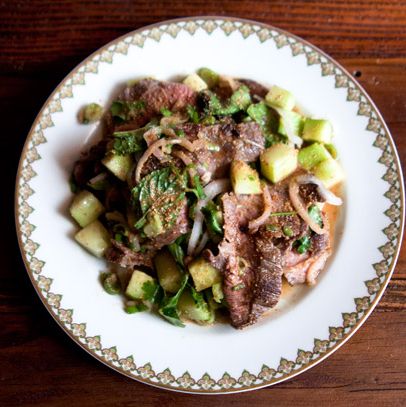 Wells called this beef cheek and potato massaman curry "amazing."
Photo: Erin Kennedy
While New York's critics have been busy compiling this year's Cheap Eats, and others seem to be on vacation, a few critics did file reviews. Pete Wells enjoyed Uncle Boons (and apparently, so did Danny Bowien — he photobombs the Times' picture). But The New Yorker's Lizzie Widdicombe wasn't pleased with Antica Pesa. Read on to see how the other critics fared.
Pete Wells ate through a blackout at Uncle Boons, and assures us that the kitchen has "all the power any lover of Thai food could ask for" — except for the electrical kind, apparently. Wells likened the restaurant to Pok Pok Ny, citing the "Thai pub" vibe, charcoal grill, Singha slushies, and a menu that veers from the "choose a protein" paradigm. After only three months, the service "is already quite polished," and the food is "working its way toward consistent excellence." An "amazing" beef cheek and potato massaman curry swaps gooey sweetness for "a drier sauce with the exotic muskiness of a walk through a spice shop." And though crab fried rice was soggy one night, and neither of the cocktails on the menu are "a complete triumph," the chicken liver and fresh pineapple curry is "remarkably aromatic." The khao soi, Wells declares, is "the best I've eaten in New York." Two stars.
Stan Sagner sampled the simple pleasures at Ichabod's, a new American restaurant that "hits the mark." The "refreshingly tender kale Caesar breathes new life into a vegetable now more overexposed than Kim Kardashian," and the burger "comfortably holds its own among the city's best." But note: The fried "jerk" pork belly "has about the same degree of spice you can expect at a Republican fundraiser," and roasted carrot dumplings should be avoided at all costs. Three stars.
Time Out's Daniel S. Meyer filed on Lao Dong Bei, a "six table paean" to the Dongbei region of northern China that's full of "homestyle warmth." Though the fare can be a bit heavy for summer, lighter dishes are there, "if you know where to look." Lamb ribs are braised "until the meat teeters on the bone," and are fried "to an impeccably crackly chew" with a "cloudburst of cumin seeds, ground chili and sesame seeds." The crispy sliced fish is "shatteringly crunchy." The green-bean jelly sheet, which is mung-bean-starch noodles in cucumber, has a "bright, rice-vinegary sauce" so good you'll want to drink it. The hostess and co-owner doesn't speak much English, but "that doesn't stop her from tending to you as if she's known you her whole life." Two stars.
The New Yorker's Lizzie Widdicombe dined at Antica Pesa. She finds lackluster dishes: Fried eggplant slices are paired with mascarpone and ricotta, making it taste "like cream-cheese dipped potato chips." And slow-cooked pork belly with eggs turns out to be "a light but tasteless pile of egg whites and pork that is somehow both undercooked and rubbery." This is all served in a "blingy atmosphere." With $18 appetizers and $28 entrees, "the most ambitious thing about Antica Pesa may be its pricing."