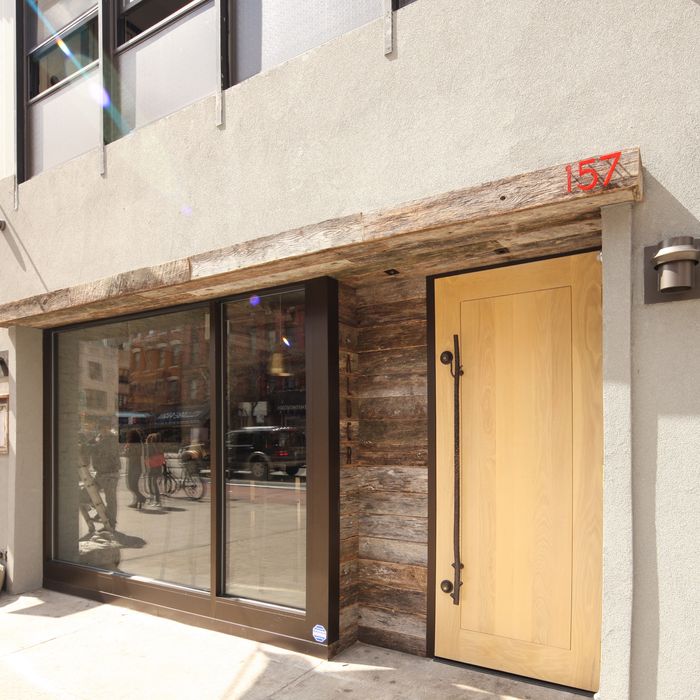 Two stars for Wylie.
Photo: Melissa Hom
New York's critics took the week off, but the city's other food writers have been doing the rounds. Pete Wells filed on Alder, finding Wylie Dufresne's new restaurant both "exciting" and "accessible." Daniel S. Meyer dished on buzzy Lafayette, which Wells took down a notch the other week, and Meyer's critical of the service. He also warns, "some of the entrées could kill your buzz as well." Read more, straight ahead.
Pete Wells ate at Alder, and called it "an exciting restaurant" that "belongs to anybody who wants to see things differently." The "mad neurologists" in the kitchen turn out dishes that defy expectations, like fettuccine that tastes "exactly like a Katz's pastrami on rye with mustard," or a "seductively smooth" clam chowder garnished with oyster crackers that dissolve in the mouth, "leaving nothing but a ghostly flicker of oyster flavor." But much of the charm of Alder is in its more relaxed dishes: Foie gras, though done up with shiso and yuzu-infused watermelon, is served on a simple Ritz cracker, and is "delightful beyond all reason." There are a few misfires on the menu, though, like the Caesar salad nigiri, where "slabs of raw yellowtail were overwhelmed by Parmesan-dressed leaves of Romaine," and a dissembled cheese cake in which "the waxy lumps of cake brought to mind only cheese-scented candles." Two stars.
Daniel S. Meyer dined at fire-starter Andrew Carmellini's Lafayette, deeming his new brasserie "more a controlled burn than a conflagration." The baked oysters with seaweed butter and toasted bread crumbs are "a worthy snack," and the pastas like the fleur de soleil noodles "are tasty across the board." But the dining experience flickers with erratic service, and nearly gutters out with entrees like the rotisserie chicken for two, which "isn't nearly luscious enough to justify the absence of a deeply browned, crackly skin," or a steak-frites dish that "lacks char and musky depth, and is drowned out by béarnaise butter." The "skillfully executed dessert menu" does something to rekindle the mood, particularly a strawberry delice that's Meyer's favorite dish on the menu. But coming from a Promethean figure like Carmellini, Lafayette "doesn't ignite much ardor." Two stars.
Ryan Sutton reviewed Jean-Georges Vongerichten's ABC Cocina, and unlike Platt, isn't a fan. He enjoyed the "verdant" snap-pea soup, the short rib and the pulled pork tacos, and the raw fluke, which sported a "precise balance of intense acid, wicked heat and powerful herbs." But he thought the menu was "mostly a skip." The "terrible" burger tacos are a "heavy, mushy disaster," and the "under-salted" calamari are drowned in "cloying" ancho chili glaze, like "a mouthful of sugar in each bite." A dish of "cold white shrimp in 'ague diablo'" has "the flavor and texture of styrofoam." If Lafayette's Carmellini is a fire-starter, Vongerichten is "one of the original gangsters of fusion," but his new Mexican-Spanish fusion restaurant doesn't live up to his name." One star.
Michael Kaminer hit up at an old favorite: Gotham Bar and Grill, which has "become what it set out to combat in the first place — a safe bet." The pork chop with escarole "feels like an edible still life," and the "overdone duck," served "with boring quinoa and tame port sauce elicits yawns." It's not that the cooks have lost their chops. "Melting" scallops are perfectly seared, and a "feather-light" Meyer lemon dessert is "supremely elegant." But although there is still "rigorously unfussy fare" and excellent service, "passion is absent." Still, three stars.
Steve Cuozzo returned to some popular old haunts to see how the restaurants, and his reviews, have held up over the years. La Mar Cebicheria Peruana "got off to a galloping start," but has since collapsed under "shrill" sauces that "make it impossible to taste seafood," and "sludgy" potato causa" that "weighs down dish after dish." Zero stars (two and a half stars in 2011). BLT Steak, however, has "kept up its game. Three stars (two and a half stars in 2004). Millesime's "formerly assertive" North African spices in the food "now often seem retiring," and the main courses are "average," but Millesime is "far from a disaster — you can still eat here." Two stars (two and a half stars in 2011).
More Cuozzo! Boulud Sud's Aaron Chambers has "pull[ed] the kitchen together," and the front of house team "commands the floor with the grace of an army on the Metropolitan Opera stage." Three stars (two and a half stars in 2010). With a new chef, the once "spirited" Kutsher's Tribeca has become a "plodding wallow in American-bistro mediocrity." The "insipid" gefilte fish and rainbow cake with "scant taste of anything but freezer burn" fail to impress. One star (two and a half stars in 2012). Finally, Cuozzo took a seat at ABC Kitchen. When he first came for a meal, he enjoyed the food, but had some reservations about the space and the aesthetic. Now "all's forgiven," particularly when Cuozzo has one of the "great" salads in front of him. Three stars (two and a half stars in May 2010).