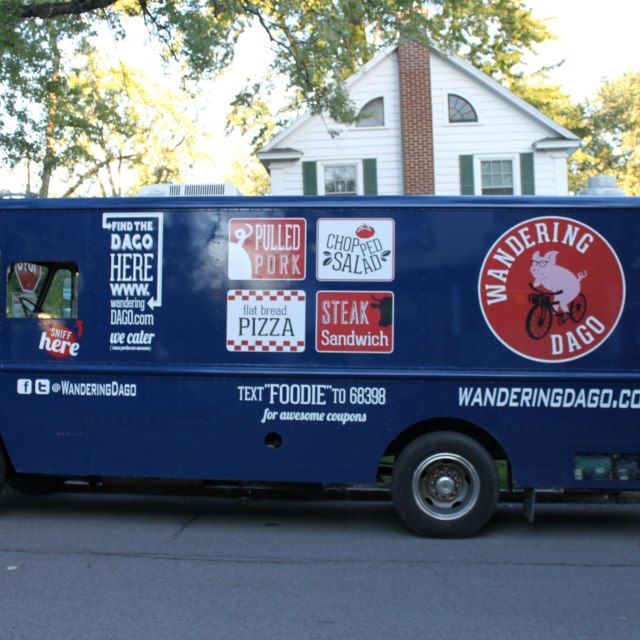 The truck's owners says no one brought up any potential issues during six months of negotiations.
Photo: Courtesy of Wandering Dago/Facebook
The New York Racing Association abruptly dismissed a food truck from its roster of concessionaires at the Saratoga Race Course on opening day, less than 24 hours after it received "several complaints" about its offensive name. Brandon Snooks and Andrea Loguidice are the co-owners of the Schenectady-based Wandering Dago food truck; they also both happen to have Italian roots, the Albany Times Union reports, and that's precisely why they chose the name as a way "to honor their heritage." Of course, "dago" is a slur against Italians (and Portuguese people, and then some) in pretty much every context imaginable, so that honor is made all the more questionable when its attached to bowls of not-so-Italian "Montana" chili, pulled pork sandwiches, and "truckmade" Buffalo sauce. Right?
A New York Racing Association spokesman says the dismissal was the result of complaints it received after the Wandering Dago, billed as "one of the country's top barbecue fusion trucks," was announced in a press release. "Once we received complaints, we took immediate action on behalf of our customers," the NYRA rep says.
In addition to getting kicked out of Saratoga, the truck is now also banned from selling food at the state-owned Empire State Plaza in Albany. Snooks and Loguidice say they don't find their own truck's name offensive, and that's in part likely due to their fondness for ethnophaulisms in general. The Wandering Dago serves a sandwich called the Mick & Cheese, after all, and another called the "Polack." Perhaps it's time for some broad menu revisions?
Truck's name leaves bad taste [Times-Union]