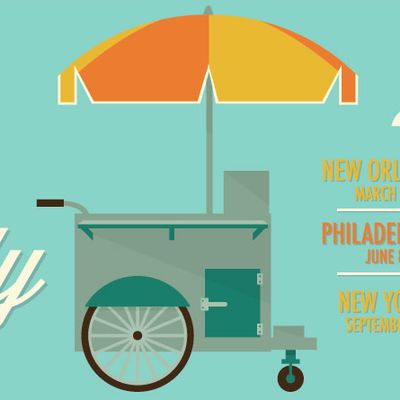 Finalists vying for the Vendy Cup, the event's top prize, will be announced next month.
Photo: Courtesy of the Street Vendor Project
The ninth annual Vendy Awards, which celebrates all things excellent about street food and mobile vendor culture in New York, will take place on September 7. While the finalists for the top prize, the Vendy Cup, won't be announced until next month, here's the rundown of four out of seven main categories, including those up for the coveted Rookie of the Year honors. The nominees have been gleaned from thousands of nominations, and in less than two months, this select group of finalists will gather at Industry City in Brooklyn to grill, scoop, stir-fry, and otherwise proffer their very best dishes in a head-to-head showdown, which will be judged by a panel of experts during the ceremony. Let the games begin.
Rookie of the Year Nominees
The award for newcomers.
• Mamak
• Mysttik Masaala
• Neapolitan Express
• Nuchas
• Sweet Chili
• Toum
Best Market Vendor Nominees
This one goes to the top truck that turns up at outdoor events like markets and street fairs, and places an emphasis on locally sourced ingredients.
• Bon Chovie
• Brooklyn Cured
• Lonestar Taco
• Khao Man Gai NY
• Porchetta
Best Desserts Nominees
Next year, we may see the rise of the cronut truck, who knows. But for now it's this select group.
• Del's NYC
• Carpe Donut NYC
• Itizy
• Liddabit Sweets
• OddFellows Ice Cream Co.
• Popitbaby
• Cholita Cuencana
Best of New Jersey Nominees
Returning from a year's hiatus, this honor is back with five finalists from the Garden State.
• The French Quarter
• Hunger Construction
• Molly's Milk Truck
• Home by the Range
• Tony Boloney's Moustache Mobile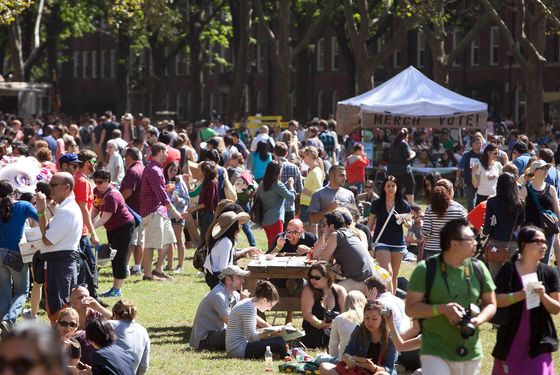 A scene from the 2012 Vendys.Photo: Street Vendor Project

A hearty congratulations to all the nominees! Tickets are already on sale and the Street Vendor Project, the group that organizes the Vendys, is offering a new incentive to early birds: Buy before midnight on Friday, July 26th and you could land the esteemed position of citizen judge, putting you on the competition's discerning panel.