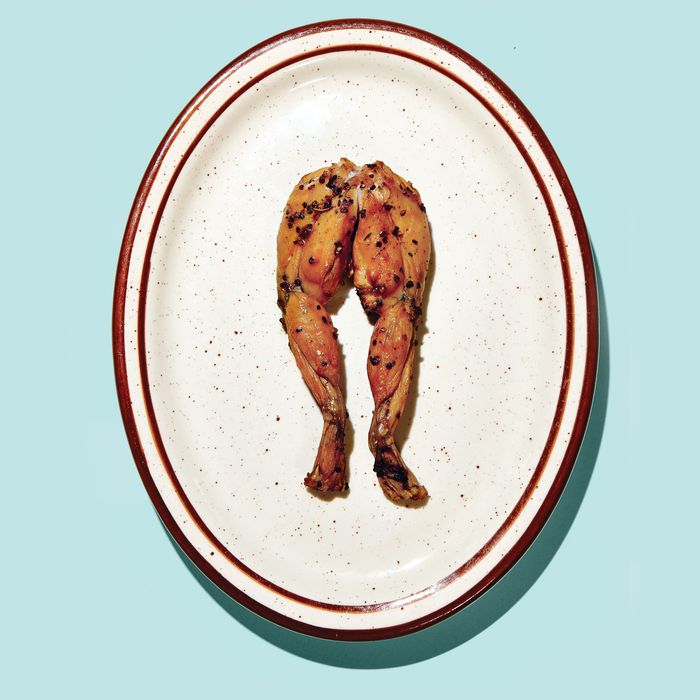 Alchemy Texas BBQ's smoked frogs' legs.
Photo: Bobby Doherty/New York Magazine
It's tempting to blame the resurgence of frogs' legs on New York's burgeoning French-food renaissance: You need look no further than Matt Aita's frog-leg fricassée with watercress purée at Noho's classicist Le Philosophe (55 Bond St., nr. Bowery; 212-388-0038) for savory proof. But that's not why Chris Pizzulli, chef at Runner & Stone in Gowanus, deep-fried a batch for a beer dinner last week. Rather, the amphibian hindquarters were an homage to the original Coney Island Nathan's (1310 Surf Ave., nr. Stillwell Ave., Coney Island; 718-333-2202), which has been serving them since 1958—four years longer than La Grenouille (3 E. 52nd St., nr. Fifth Ave.; 212-752-1495), an institution so closely identified with the throaty denizen of the swamp it's named for it.
Almost as surprising as frogs' legs' sharing a menu board with the world's most famous hot dog ($7.59 for four legs, in case you were wondering) is the delicacy's presence at Alchemy Texas BBQ (71-04 35th Ave., Jackson Heights; 718-803-8244), one of New York's new breed of urban barbecue joints. "I like the texture, the way they hold smoke, and the hilarity of frog BBQ," says owner Josh Bowen.
They've also made somewhat unexpected inroads into Williamsburg's hipster cocktail culture, materializing at Maison Premiere (298 Bedford Ave., nr. S. 1st St., Williamsburg; 347-335-0446) in a Creole gumbo and at racetrack-themed OTB (141 Broadway, nr. Bedford Ave., Williamsburg; no phone), where chef Sam Glinn sautés them in heaps of garlic.
Although wild frogs are said to possess superior flavor and texture, most of the meat eaten today is farmed and frozen, often imported from Asia, sometimes Florida. They're especially big, in all senses of the word, in Thailand, where the well-developed specimens Uncle Boons (7 Spring St., nr. Elizabeth St.; 646-370-6650) partner Ann Redding encountered at a dedicated frog restaurant looked like they worked out obsessively at SoulCycle. In her Nolita kitchen, she and her husband and co-chef, Matt Danzer, marinate the legs in garlic and soy and serve them over a fragrant Thai-herb salad, but they're hardly Thai-frog pioneers; out in Queens, Sripraphai and Ayada have been cooking them for years.
It would seem, with their adaptability and delicate, somewhat neutral flavor (not quite chicken, vaguely fishy), frogs' legs could one day become as popular as hot dogs. But even though the ingredient has long been featured in global comfort-food dishes like Chinese congee and Italian risotto, not everybody is a fan. According to French-food bible Larousse Gastronomique, "they have usually filled the British with disgust."
*This article originally appeared in the July 29, 2013 issue of New York Magazine