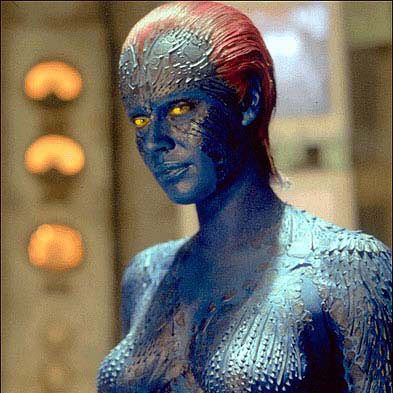 How pissed is she?
Photo: 20th Century Fox/Marvel
Lewisville, Texas, police say it's perfectly legal for local waitresses to wear body paint and pasties instead of shirts because body paint isn't opaque, but such rationale means nothing to the all-powerful town council, which has just ruled that the festive makeup, along with "dyes and tattoos cannot be considered decent covering" for waitresses (and presumably waiters). So sad. The controversy began after a local resident was just cruising down S. Stemmons Freeway with her buddy, who just wanted to take a photo of the bar and restaurant Redneck Heaven because she thought its name was funny. The ladies were baffled and appalled, apparently, to find brightly decorated women bringing giant Miller Lites and Nolan Ryan "Monkey Snot" burgers to famished Redneck Heaven customers. An important civic investigation ensued. "How far is too far? And how little is too little?" The newscaster intones, but the real question is: Does this new ruling at all affect Redneck Heaven's upcoming "Hot Summer Nights Lingerie Party"?
During testimony, the town council heard from the local professional body painter, who is no doubt bummed out by the fact that she just lost twenty of her best clients. "I do consider it a form of art — I consider it a very beautiful form of art," said Kristal White. "If you've seen X-Men, you've seen Mystique. That was a movie and that was body painting, and it was beautiful."
Note to future generations of legal scholars: The Mystique Defense does not hold up.

Body Paint & Pasties Outlawed For Restaurant Waitresses [CBS DFW]