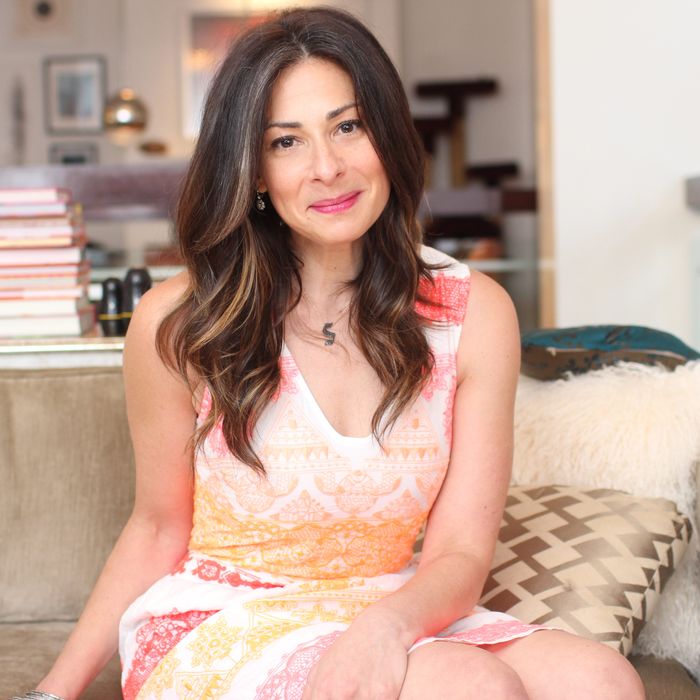 London, at home in Brooklyn.
Photo: Melissa Hom
Lately, Stacy London — author, style maven, and co-host of TLC's What Not to Wear, which begins its final season on August 9 — has been trying to figure out what not to eat. That's because at the suggestion of an integrative medicine doctor, London is embarking on the Paleo diet. "No carbs, no dairy, no sugar, no anything fun," she says. "Eat the way cavemen ate, or as I keep confusing it, eat the way dinosaurs ate." London still found a way to sneak plenty of non-dino-approved foods (and wine). You can catch her next Thursday, July 25, alongside Janeane Garofalo, Joy Behar, and Emily Nussbaum in Catie Lazarus's comedy talk show Employee of the Month, but first see what a stegosaurus would sample, in this week's Grub Street Diet.
Friday, July 12
Leftover grilled shrimp for breakfast at home, made with nothing but olive oil. Now, if this had included cheese grits, it could pass for normal breakfast. As it stands, I just feel weird.
Normally I wouldn't eat grilled shrimp for breakfast, but that's the whole thing with Paleo: You eat shrimp for breakfast, cauliflower for breakfast, whatever. Unless you're gonna eat eggs — which I'm not a big fan of — there aren't many options.

I had whole milk in my coffee (bad) and I'm pretty sure no pterodactyl ever ate Splenda, so I'm already a failure at this.
Late for a meeting. Lunch is a handful of hazelnuts I grabbed from home. I get them from the gourmet deli around the corner, and they are surprisingly filling and yummy. I usually go for cashews and almonds, but hazelnuts have really thrown a pleasant spanner in the works here — and added bonus: They make me think of Nutella.
For dinner, I really go all out and actually make a salad of Brussels sprouts, cauliflower, beets, and black radishes (yep: black and rad), which I found at the market. I munch on some store-bought Boar's Head turkey slices while I mix up my salad, just to make sure I get some protein in there. Al, my cat, eats them with me.
I go to sleep pretty impressed that I made a salad.
Saturday, July 13
I wake up starving and eat almost an entire jar of Mar Nara almond butter. An entire jar. At some point, I realize I am not simply eating out of hunger. Something else is going on. The mouthfeel — this almond butter has the best mouthfeel of any almond butter ever. I cannot stop eating it. It literally feels too good to stop eating.
I look at the label: almonds (well, one would hope), sugar, palm oil. Fuck. Failed again. That palm oil is a killer. Dinosaurs definitely did not eat palm oil, though I do wonder about their thoughts on mouthfeel.
I feel so guilty about the almond-butter binge, I skip lunch and wait for the early bird dinner (yay, mid-forties!) I'm having with pals, really talented jewelry designers Alexis Bittar and Leeora Catalan, and Edwin, a friend of Alexis's. Cobble Hill is like the new Upper West Side, which is kind of hard for me, but I was really into the idea that we went at 6 p.m. for dinner, and we were this ragamuffin crew that was like some weird, twisted version of Girls. We had so much fun. We go to Watty & Meg on Court Street. Pretty much everything on the menu gets ordered between all four of us, but I still try to maintain some discipline.
I get the kale, quinoa, and avocado salad, but since each ingredient comes in its own pile on the plate, I skip eating the quinoa (I can't remember if that's allowed). For my main dish, I have grilled tilefish with an eensy bit of lobster. It's all delicious — though Alexis's cheeseburger and fries look way more delicious.
Don't tell anyone about the one glass of rosé or the three bites of chocolate cake (which is dense and beyond delicious).
Sunday, July 14
Happy Bastille Day!
Normally, I would stuff my face with pain aux chocolats or crepes or croque madames from Provence en Boîte, but dinosaurs, even French ones, didn't have much in the way of dough.
So I have a handful of hazelnuts, three turkey slices, and a cup of herbal tea.
For lunch, I have an avocado, then a bike ride to Prospect Park. The Sunday bike ride isn't a ritual yet, but I'm trying to make it one: I got a new specialized bike that weighs about twenty pounds, and it's spectacular. There were a lot of people out, which I found astounding because it was so hot. I had to bring a water bottle that I filled half with water and half with ice, and I added some coconut water for the electrolytes. And I literally was melting after a couple of loops around the park. And then I see people running and I'm like, what kind of cardiovascular skills do you have?
For dinner, I have turkey slices and some asparagus. I know. It was hot. I just really couldn't be bothered.
Monday, July 15
It's really hot today, which makes me cranky. So I have my coffee with half and half with Splenda. (Sue me.) And some hazelnuts.
I wonder if I can survive on hazelnuts, sliced turkey, and avocado for the rest of my life? Do nuts have seasons? Avocados are in season in the summer, right? When are hazelnuts in season? What are going to be my winter season substitutions? When is ramp season? When is fiddlehead season? What are ramps and fiddleheads?
I'm not sure this Paleo thing is helping or hurting … My brain is all over the place. Survival of the fittest and all. I don't have to tell you, no dinosaur came out unscathed.
I eat an overripe avocado (for which I almost need a straw in this heat) and some more turkey for lunch. Look, I go with what I know. And even though it's 100 degrees outside and getting some fruit might be a good idea, I read in a book that a lot of fruit isn't good when you're Paleo, so I'm just steering clear altogether. Who wants trouble?
I am craving ice cream. I want a cereal milk shake from Momofuku Milk Bar or a Coolhaus ice cream sandwich.
I want to go to Brooklyn Farmacy and have a Sundae of Broken Dreams. I want to go to Ample Hills and eat ample amounts of their maple oatmeal which cannot be all bad for you because it has tons of oats in it. Oh wait, no oats for the dinos. Scratch that.
It is really not a surprise dinosaurs could not survive this.
I make a big, huge salad — a vat, really — of mixed greens (kale, spinach, and romaine) with black radishes (I am going to make them the next "It" vegetable), asparagus, broccoli, cauliflower, red and yellow peppers (for a pop of color).
I dice up a grilled chicken cutlet (I didn't make it; I bought it at a gourmet deli) and mix it in.
I make a dressing out of Frankie's 451 olive oil and Dr. Bragg's apple cider vinegar. Apparently, apple cider vinegar is the WD-40 of nutrition.
Tuesday, July 16
Okay, this morning involves hazelnuts and some old gluten-free crackers meant to accompany cheese I found in my cupboard from when I used to eat cheese. I got them at Stinky on Smith Street a while back, and while the gluten-free ones are good, the non-gluten-free ones are literally the best crackers with or without cheese ever. They're called Lesley Stowe. Not just awesome mouthfeel, awesome taste. And you can pick up some awesome gorgonzola dolce, la peral blue, aged gouda, and a variety of the yummiest cheeses ever there, too, next time you're in the 'hood.
Anyway, I also have the last of my sliced turkey, my last avocado, and realize that I'm going to have to go shopping soon-ish or eat out.
It is so hot today, I can get down not much else besides ice cold carrots and an eensy bit of grilled chicken for lunch.
I meet a friend at August on Bleecker Street, which appears to have absolutely lovely pizza and cocktails and quickly pronounce I am Paleo and can have neither. We have two glasses of wine each. Surely, dinosaurs foraged a grape or two.
Then I go to meet another friend for dinner at Melibea, a Mediterranean joint on Bank Street. It takes us a few minutes to establish what we can and can't order as I explain that while being the cornerstone of the cuisine, nightshade vegetables are a no-no for me. (That's not the Paleo talking, that's my auto-immune stuff. You gotta keep up here. )
So hummus, yes. Babaganoush, no. We pass on a salad called the Study of Tomato, which is sad, because how often does one get the opportunity to order a salad that is a study?
I have scallops. She has pasta. Both okay. But the Brussels sprout and cauliflower sides were truly yummy, though, unlike my cauliflower at home, theirs is deliciously fried. I don't think that's super-Paleo.
I'm still hungry when I get home close to 11 p.m. and devour some of my personal "home" cauliflower and some more grilled chicken.
Wednesday, July 17
Hazelnuts for breakfast.
Wednesday I went to my trainer. I can't complain. I mean, I can. It's an exercise not only in futility but in pure, unadulterated humiliation. It is not the same thing to go to a trainer and watch yourself get better, like you do very quickly when you are in your twenties and, say, thirties. Going at 44 is just a painfully slow process of staying bad at the same thing over and over again.
I was done by 11 a.m., and I went to see my dermatologist, which happens every six months, but he's in Mount Kisco, and I'm very loyal to him, and it's a drive. It was a big chunk of my day. I ate some Mentos in the car, which was a disaster, because I was completely eating out of frustration. I have two lunch boxes — one is a square one with a Batman logo that says "London" that I got from Pottery Barn kids, and another one I got at Amazon kids, which is in fact a matte black Darth Vader. I usually have my cauliflower, my grilled chicken, all of that with me, but I forgot it on Wednesday. And that's what happens when you don't plan — you end up eating sugar.
I came back to Brooklyn and had some chicken and some kale.
For dinner, I went to Battersby on Smith Street. The food was absolutely fantastic. People have been raving about it to me forever and I was like, Oh, it sounds too hipster for me, I don't know. But I'm going to be honest here — the menu looked really fancy and it's not the cheapest restaurant in the world, but it has a B rating, which I find fascinating. Because it was packed to the gills, and I couldn't help to say, Wow, that's a big deal. And I was wondering what that was all about. I don't remember the last time I saw a B.
We just walked in, and they asked if we wanted to sit in the garden. And since it was 87 degrees and it was sweltering, we were like, Sure! Why not? But I will say, not only was the staff amazing and the menu looked incredible, but they asked if we wanted to try the "spontaneous tasting menu," which is a combination of things you see on the menu and things the chef just throws together. "Do you have any dietary restrictions?" I thought my head was going to explode. I went off on all things, and they did it! It was glorious.
We got this watermelon and razor clams amuse bouche, and one of my best friends that was with me said, "I wish there was more than one amuse." It was fabulous. He did something with green peas and salad that was warm, and even though it was so hot outside, we could not stop devouring it. There was a sunny-side-up egg and tripe — and that I had to pass on, because even though I said that I'm Paleo and gluten- and dairy- and sugar-free, I don't like organs. And then we got this amazing Wagyu beef short rib with crispy kale that was out of this world.
So basically my conclusion was "B stands for Battersby" — it was super-delicious and I would go back in a heartbeat.