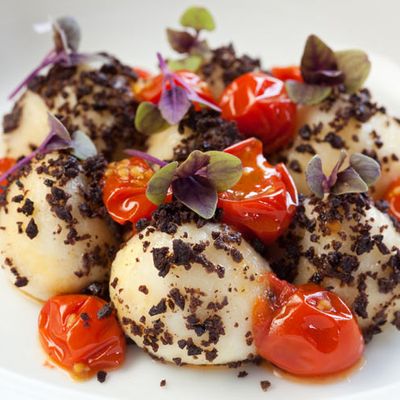 Sweet 100 tomatoes are the best part of Colonie's gnudi.
Photo: Courtesy of Colonie
Looked at one way, summer is already half over. But looked at another way, tomato season is about to begin in full. And, just as they do every year, New York's chefs are embracing this time of year with plenty of innovative, outstanding new preparations for the much-loved produce. Paul Liebrandt has a refined pan con tomate at the Elm, Wylie Dufresne's team at Alder pairs tiny sun golds with crab and edamame, and Marietta's using green tomatoes to make some seriously crowd-pleasing chow-chow. That, of course, is just the beginning. Check out a bunch of brand-new tomato dishes you need to be eating this summer.
Alder
The latest addition to the menu is a dish made of sun-gold tomatoes, Peekytoe crab, and edamame. And of course, because Wylie Dufresne and executive chef Jon Bignelli always need to throw at least one curveball at diners, there's a strip of fried naan, too.
Marietta
Green tomatoes are fried and served with "Marietta's comeback sauce" at this Southern restaurant in Clinton Hill — and house-smoked sausage comes with green-tomato chow-chow.
Glasserie
The Greenpoint restaurant is serving a simple, super-seasonal dish composed of grilled tomatoes, sweet corn, yogurt, and Thai basil.
The Elm
Tomatoes are all over Paul Liebrandt's menu at his new Williamsburg restaurant: Kanpachi "jamon" comes with heirloom tomatoes and watermelon; summer beets with tomato crème and bacon XO sauce; and pork belly with "pan con tomate," baby squid, and tomatillo.
The Musket Room
One of the bolder items on the "modern New Zealand" menu is tofu gnocchi, which comes with roasted tomato dashi, oyster mushrooms, and Asian greens. There's also vegan heirloom tomato gazpacho, which is made with herbs grown in the restaurant's on-site garden.
The Butterfly
At his Tribeca cocktail bar, Michael White has crafted a special BLT salad with marinated tomatoes, kale, spinach, Nueske's bacon, a crispy six-minute egg, and warm sherry vinaigrette.
Empellón Cocina
Alex Stupak is reinterpreting pico de gallo as a light beefsteak-tomato salad. Here's how it works: He makes pico de gallo, extracts the liquid via a cheesecloth, and then uses it to marinate tomatoes. Then they're cored, filled with cream, and submerged in a bowl of pico de gallo broth. Awesome.
Kajitsu
The seasonally focused Japanese restaurant is adding grilled tomatoes to an atsuage (tofu) steak. It also comes with white mushrooms, eggplant, snap peas, fennel, and a ton of other vegetables.
Atera
Of course Matthew Lightner's new tomato dish strays far from tradition: He's making a dried tomato, parsley, and raw-milk ice cream. The dried tomato adds a bit of sweetness, and the dish's consistency is comparable — as hard as it is to believe — to a Fruit Roll-Up.
Bar Boulud
Another dressed-up BLT: This one comes with Eckerton Hill Farm heirloom tomatoes, house-cured bacon, Brunia lettuce, toasted focaccia, and basil ricotta. It's garnished with a yellow cilantro flower.
Dell'anima
Or maybe you fancy your BLT in pasta form? Dell'anima's making a BLT orecchiette dish with sun-gold tomatoes, confit pancetta, and basil.
Take Root
For brunch, this restaurant-meets-yoga-studio is serving a "pasta salad" with yellow-squash "linguine," confit cherry tomatoes, and a tomato vinaigrette. And at dinnertime, tomatoes are paired with Hudson Valley duck breast, cauliflower, quinoa, and mint.
Corvo Bianco
At Elizabeth Falkner's new spot, which opened yesterday, you'll find tomato bruschetta with peach, basil, and stracciatella. The pancotto mare — cold tomato soup with bread, squid, clams, chilis, olives, and purslane — is also a good choice.
Lafayette
New to the menu at Andrew Carmellini's Noho bistro is Maine Crab à la Nage: lightly dressed chunks of crab meat that are swimming in a broth filled with smoked tomatoes.
Colonie
This Brooklyn Heights favorite is making delicate ricotta gnudi with sweet 100 tomatoes, Niçoise olives, and basil — a simple preparation that highlights the sweetness of the tomatoes.
Distilled
The open-faced sandwich at this month-old Tribeca spot is composed of housemade farmer's cheese, wedges of market tomatoes, basil, syrupy vinegar, and Dickson's Farmstand bacon that's been dehydrated and shaved to make a smoky bacon powder.
The Harrison
Bread pudding is usually the ultimate cold-weather comfort food, but the Harrison's fresh, savory bread pudding features sweet summer tomatoes and zucchini. It's surprisingly light, even with Pecorino and a poached egg on top.
Manzanilla
Tomato toast is popular this time of year, and Manzanilla's pan con tomate is a standout. Fresh and sun-dried tomatoes are cured in the oven; seasoned with sherry vinegar, mustard, and capers; and garnished with tomato seeds and mangoes. It all gets paired not with a tiny baguette, but instead with thick, toasted country bread.