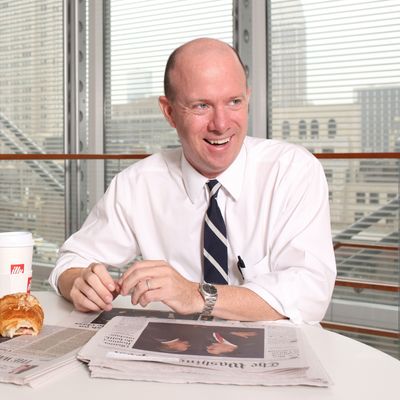 He's hungry for more.
Photo: Melissa Hom
Here's some completely unexpected Friday food news: New York Times executive editor Jill Abramson announced a number of changes at the newspaper today in a long memo, Capital New York reports. Most saliently, former restaurant critic Sam Sifton, who has served as national editor since last year, will step down in order to spearhead a new "immersive digital magazine experience." (Weekend editor Alison Mitchell will replace Sifton at the national desk.) But that's not all. "The second assignment," Abramson writes, "puts Sam's incredible depth as a food editor and food writer to use in creating a new dining news product." This new food coverage will be separate from the paper's current dining section helmed by editor Susan Edgerley.
Abramson's full announcement is here; below is the portion that pertains to the "new dining news product." ("Snow Fall" refers to the comprehensive, award-winning digital feature the Times ran last year.)
[Sifton's] first assignment is to create an immersive digital magazine experience, a lean back read that will include new, multimedia narratives in the tradition of Snow Fall and last weekend's compelling account of the Arizona fire, as well as some of the best reads published during the previous week. As the new Need to Know project is aimed for quick and periodic dips into the news, the new digital magazine would be a need to read. (This is a different product from the Sunday magazine, where Hugo Lindgren has been unendingly creative in digital presentations and he will surely be a counselor to Sam).The second assignment puts Sam's incredible depth as a food editor and food writer to use in creating a new dining news product, separate from our current dining report and section led so expertly by Susan Edgerley, who has already drawn up some very exciting ideas for expanding our dining coverage and will surely be an invaluable partner on this project.
When Grub Street reached out to Sifton for more on what to expect from the new food section, he replied in an email that the project in still in its early stages. "All I'll say for now is that we're hoping to do great work for our readers," he writes, "and to help them cook and eat better along the way."

Jill Abramson announces big leadership changes at 'New York Times' [Capital New York]
Related: Sam Sifton's Deadlines Screw Up His Dinner Plans
This post has been updated with new information.