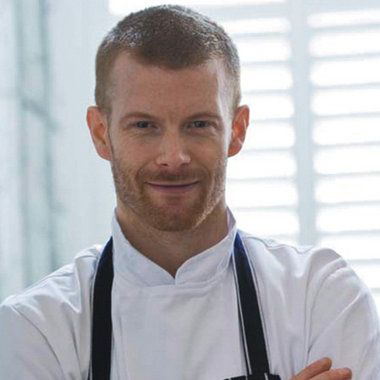 Robert Aikens is moving to New York City from Philadelpia.
Photo: Courtesy of Robert Aikens
Proprietors Yves Jadot and Jason Hicks of Jones Wood Foundry have hired English chef Robert Aikens to run the Peacock and the Shakespeare, the new restaurants opening inside the boutique William hotel in the old Williams Club at 24 East 39th Street. (The 100-year-old alumni club bunked up with Princeton's venue a few years ago.) Robert Aikens, the twin brother of English superstar chef Tom Aikens, recently left the Stephen Starr Philadelphia venue the Dandelion in order to join the 10,000-square-foot double-header, a move that abruptly prompted the restaurateur to announce he has himself been scouting New York real estate for a second location of that restaurant. Grub Street spoke with Jason Hicks of Jones Wood Foundry for more details on the Peacock and its lower-level pub component, the Shakespeare.
You're a chef yourself, and now you've brought in Robert Aikens to be the kitchen at your new places. You're both British. Is the food at the Peacock going to be superfine dining?
Rob and I have been friends for a long time. So we're not kids; we understand the business, and the Peacock is not really meant to be a chef-driven place. We won't be tweaking our menus to compete with the great restaurant next door. We're not chasing stars. Hopefully, we'll get them, but by doing what comes naturally. So it'll be British food like we serve at Jones Wood Foundry, but what we're really trying to do is take Jones Wood to the next step.
How would you describe that kind of food?
There's nothing pretentious about it. We aim to provide more than what the customer expects, and keep it very consistent. But we're not trying to compete with anybody at the Peacock and the Shakespeare, basically. This is an extension of who we are now.

The Peacock's website gives off an old-fashioned, clublike vibe.
Well, it's not going to be a private club by any means, but it'll hopefully have that kind of atmosphere because that's the building's history. It's been a private club for the last 100 years, so part of the mood will be a "private nineteenth-century supper club in London" type of feel, and people will be able to come in and have drinks at the Library, which is a bar as well.
What will it be like dining at the Peacock?
We're going for high-end, but we're going to strip down the fine-dining-service aspect of it. We're trying to make it unpretentious, but you may see a liqueur trolley in there, or there may be some tableside carving. We're pretty far from opening right now, so some of what we're planning will change. In general, though, we're just going to do what we do best, which isn't necessarily opening a trendy restaurant. At Jones Wood, we give everything the same level of service, whether they're a food writer from Forbes or the guy from next door.
And downstairs is the pub component, the Shakespeare, where you're serving a British beer list?
The Shakespeare is more or less all bar. We'll serve food, but it'll be more stripped down. We're trying to embrace American culture and British traditions. A lot of the beer will be British, but we're also going to have a number of American cask ales. But we're going to let people get involved in British beers in a very unique way. It's about the lineup, and it involves a couple of brewers in England. There's a good chance that people will get to experience things like they never experienced before that are coming from England, but there's an even better chance that people are going to better experience some domestic cask-conditioned ales as well.
And you'll have a full cocktail list?
There's going to be a very good cocktail program. The idea is that it won't be expensive. It won't be mixology we're doing, but there will be some very classic cocktails.
So, how many seats, overall, will there be between the two places?
Right now, it's not final, but I'll answer that in terms of square feet: We have 1,700 at Jones Wood Foundry, and the new places combined are 10,000 square feet. They're very separate spaces, with two entrances.
The Peacock and the Shakespeare will open in the early fall.
24 E. 39th St., nr. Madison Ave.; no phone yet