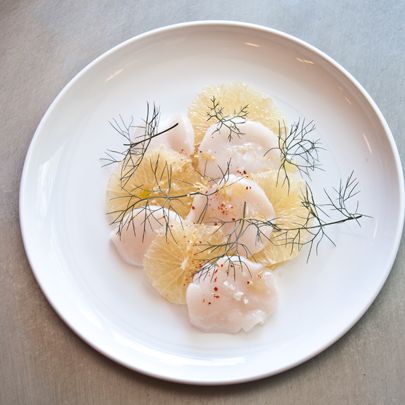 "The dish proves that inventiveness need not mean over-complication," Stein says of Estela's scallops.
Photo: Sarah Silberg/New York Magazine
New York's Adam Platt wrote about the increasing noise level in restaurants instead of a review, but plenty of other critics filed this week. Pete Wells took a trip to Memphis, where he stuffed his face at Hog & Hominy; Steve Cuozzo tried the beefy fare at Costata; and Joshua David Stein raved about Estela, where chef Ignacio Mattos pulls "some straight-up David Blaine shit." Read on to see where the others ate.
Pete Wells continued his "Critic on the Road" quest, traveling to Memphis to review Hog & Hominy, an Italian-Southern hybrid restaurant from Michael Hudman and Andrew Ticer. If the duo's first restaurant, Andrew Michael Italian Kitchen, can be a bit plodding at times, Hog & Hominy is "the scrappy younger sibling," where the cooking is "more freewheeling" but also "more focused." Wells is still "daydreaming" about the fryer rabbit, and grilled asparagus has a "strangely wonderful" sauce of "melting" pimento cheese. The "blissful" sweetbreads, slathered in a hot sauce of roasted peanuts, lime, chiles, and balsamic and honey vinegars, were "more fiery with every bite." There are some misses, like a "dry and crumbly" chicken tamale. But the Cheddar dog is a "vastly" improved version of the childhood favorite that manages to avoid "the trap of making it highbrow." And the delicious pies, like the restaurant itself, may be "fancied up a little," but always keep "the sense of fun."
Joshua David Stein dined at Estela, where Uruguayan chef Ignacio Mattos cooks. The space, upstairs from Botanica, "combines the charm of a Nordic monastery with the comfort of a Temple Grandin-designed 'hug box.'" The small-plate heavy menu is filled with a "joyful, anarchic juxtaposition of flavors." The "lychee-like" slices of scallop, interspersed with wheels of grapefruit, fennel, and Calabrese chile flakes, "proves that inventiveness need not mean over-complication." Cured arctic char, layered under "perfectly sliced coins of zucchini and cucumber," captures "the delicate balance of earth and sea" with Japanese flavors, and the steak is "enhanced by a smokey charred eggplant." Though the menu could use more entrees, the four on the menu are "some straight-up David Blaine shit," as Mattos is a master of "gustatory prestidigitation."
Steve Cuozzo dished on Costata, Michael White's "well-muscled steak house," which drew him back "again and again." Though his earlier meals there included a "denatured" pasta, "dull" swordfish, and shellfish salad that "forgot the seasoning," these dishes aren't really the point anyway. The point, of course, is "magnificent" 40-day-plus dry-aged steak, and Cuozzo ranks Costata's "among Manhattan's grandest new steaks." And there is more than steak to be had here. The lobster al forgo was a "oreganata-style masterpiece," the Italian sashimi was "well calibrated," and the striped bass "sensuously fresh." Two and a half stars.
Daniel S. Meyer reviewed Uncle Boon's, a "forward-thinking" Thai joint from two Per Se vets that takes liberties with tradition. The lamb larb, slyly paired with cucumber and mint, is at first "irrepressibly reminiscent of India or Greece." But then the fish sauce, lime juice, and chile hit, and "swerve you back to Thailand." Sometimes, the cooking here derails. The fried sweetbreads distract from a tamarind flavored crispy noodle salad, and a massaman curry is thrown off by "long, noodlelike strands" of "slightly too raw" potato. But the "gamey richness" of chicken liver is unexpectedly "mellowed by a gently sour pineapple curry," and the scallop-and-red-curry-custard is a "sleeper pick" that is "gentle," but vibrant. Two stars.
The Daily News' Stan Sagner ate at Biang! The restaurant is an offshoot of the Xi'an Famous Foods empire, and the signature lamb burgers are "better than ever" — "crisp, tangy pressed flatbread gripping the hauntingly smoky meat." The selection of skewers features plenty of innards: "Delicious" coins of pork intestine are "like meaty subway tokens," dusted with cumin and chile. Chicken gizzards "taste as if a whole bird had been distilled into each tiny nugget." But the soul of Biang! is the pulled noodles that star in the Mt. Qi Pork Biang-Biang Noodles, which "unapologetically tingles your tongue with sharp licorice notes." Three stars.
The New Yorker's Ariel Levy visited the Cleveland, the Nolita restaurant where "vegetables are the stars of the show." The bulgar salad, which looks "like a delicious box of crayons," was one standout. Vegetables are the highlight of meaty entrees and desserts, as well. The "golden and savory" roast half-chicken, for example, is "made memorable" by the zatar-spiced sumac, kale, chickpea, and quinoa it's plated with. And the excellent biscotti is made with chocolate and carrot. "English country cottage" touches like the bar, "made of rustic pine and zinc," plus a "lovely" back garden, and bumping music, make the Cleveland a "rocking garden party, indoors and out."