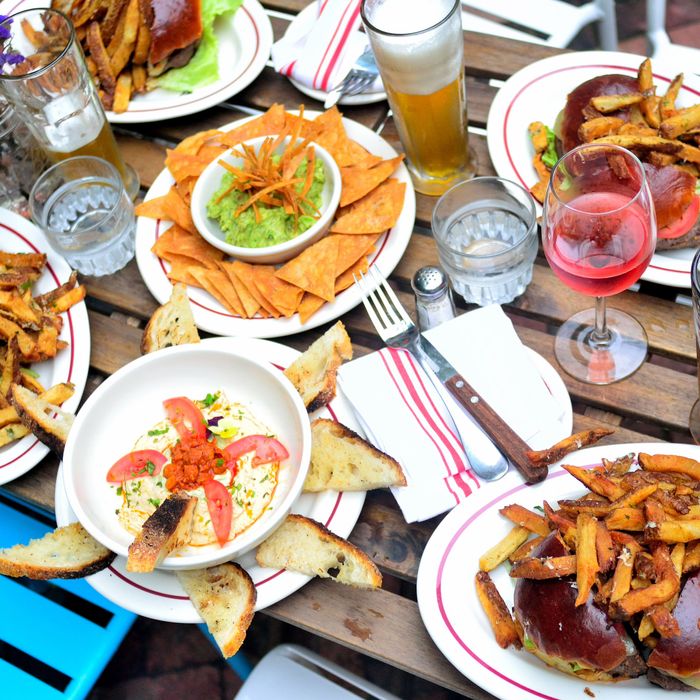 This spread at the Cleveland only costs $25 per person.
Photo: Courtesy of the Cleveland
It's not always terrible if you can't get out of this city this Fourth of July: Plenty of restaurants will throw festive parties with fried chicken, suckling pig, live music, and tons of unlimited booze. While all of your friends are schlepping to the Hamptons, you can enjoy extended happy hours and all-you-can-eat hickory-smoked pork ribs. Plus: After the Fourth, you can try to get into all of those booked-up restaurants since the city is sure to be pretty vacant. Here are 25 standout places offering patriotic specials, because if a holiday is centered on hot dogs and pie, you need to be celebrating.
The Fourth
When: 11:45 a.m. to midnight
What: The appropriately named Union Square restaurant is hosting a traditional New England–style clam bake, with corn on the cob, steamed potatoes, chorizo, and a big steamer pot of mussels, clams, and lobsters. The blackberry pancake cocktail, which comes with a strip of bacon, is definitely patriotic.
Price: $36
Maison Premiere
When: Noon to 8 p.m.
What: In Williamsburg, festive specials like a seafood boil will be served in the restaurant's pretty backyard garden. There will be live music from the Bedford Avenue Society band and lots of absinthe, too.
Price: À la carte
Fatty 'Cue
When: Noon to 8 p.m.
What: Brooklyn's Fatty outpost is celebrating the holiday with a pig roast. Expect live music, unlimited keg access, "kitchen sink" punch, brisket tacos, and, of course, plenty of pig.
Price: $35
The Cleveland
When: All day
What: In the Nolita restaurant's pretty backyard, there will be a "for-the-table" barbecue spread with herb-roasted chicken, Brooklyn Hot Dog Co. dogs, burgers, and il laboratorio del gelato.
Price: $25 per person
Riverpark
When: 2 to 6 p.m.
What: The Gramercy restaurant's first-annual barbecue will include smoked Wagyu brisket, whole-roasted pigs, fried chicken, live music, and bocce ball and Ping-Pong on Riverpark's terrace.
Price: Free for kids under 5; $65 for those under 21; $95 for those over the drinking age
The Mermaid Inn; Mermaid Oyster Bar
When: 4 to 7 p.m.
What: All three locations of Mermaid are opening an hour early at 4 p.m., which means early happy hour! Until 7 p.m., you can get $1 East Coast oysters, $1.75 West Coast oysters, $6 wine, and $7 select cocktails.
Price: À la carte
Preserve24
When: 4 p.m. to 2 a.m.
What: Happy hour is being extended here for the Fourth, so you can enjoy $1 oysters, $3 draft beers, and $6 glasses of wine from the afternoon to the next morning.
Price: À la carte
Red Rooster
When: All day, July 4 to 8
What: Marcus Samuelsson's doing three different takes on the hot dog: the midsummer (with shrimp salad, chili sauce, and crispy onions), banh dog (with Sriracha mayo, cucumber, carrots, and cilantro), and mac (with cheese sauce, jerk bacon beans, cornbread crumble, and pickles). All dogs are available for takeout too.
Price: $5 to $7
Sons of Essex
When: Noon to 7 p.m.
What: This Lower East Side hot spot will host its first annual Beer and Bacon Block Party, with unlimited Berkshire pig cooked porchetta-style, Southern-inspired sides, and draft beer.
Price: $48
Amigos
When: 11 a.m. to 4 p.m., July 3 to 7
What: The celebrations at Amigos start a day early and extend past the Fourth: All lunch and brunch entrées — plus two sangrias or frozen margaritas — cost $17.76.
Price: $17.76
MexiBBQ
When: 5 p.m. to midnight
What: Over in Astoria, MexiBBQ is offering all-you-can-eat hickory-smoked pork ribs for $19. To top it off, you can choose between three different types of exotic barbecue sauce. Plus: There are 48 beers on tap.
Price: $19
The Lion
When: Noon to 9 p.m.
What: The swanky restaurant's barbecue packages the price of one entrée with a pint of draft beer. Choose between the burger, chicken and waffles, smoked pork butt, the crispy oyster po'boy BLT, and the lobster roll: You can't go wrong.
Price: $25
The Strand Smokehouse
When: 11 a.m. to close
What: In Long Island City, Strand is hosting an all-day "Do It for America" party with live music, $2 hot dogs, and $3 Narragansett beers.
Price: À la carte
The Dutch
When: Noon to 9 p.m.
What: A spread of Texas-style smoked brisket, suckling pig, St. Louis ribs, watermelon, Mexican corn on the cob, slaw, and, of course, your choice of pie is available to eat in or take out.
Price: $40
Recette
When: 8:30 to 11 p.m.
What: For a post-fireworks snack, hit up Recette in the West Village: $18 gets you a beer, salt-cod fritters with lamb sausage ragout and curry aioli, and the restaurant's famous s'mores dessert.
Price: $18
Slide
When: 11:30 a.m. to 2 a.m.
What: At the burger-and-shake spot on Bleecker, you can get two boozy American pie ice-cream shakes (cinnamon ice cream, Applejack, Strega liquor, and nutmeg) for the price of one all day long. And a shake and three sliders is on special for $19.
Price: $11 for two drinks; à la carte
Upper Elm at King & Grove Williamsburg
When: All day
What: There will be a bash at the salt-water pool with a D.J., sunbathing, and à la carte food and drinks. It's as close as you'll come to a beach.
Price: Admission costs $55, includes no food
Five Points
When: 5 to 9 p.m.
What: The restaurant's second annual barbecue on the Bowery includes live music, two hot dogs for $10, pulled-pork sandwich and chips for $15, festive patriotic cocktails, $8 sangria, and $6 draft beers.
Price: À la carte
Mas (la grillade)
When: 11:30 a.m. to 6 p.m.
What: Mas is offering a special menu of $14 hot dogs from Flying Pigs Farm and $21 lobster rolls with smoked green peppercorn mayo and celery salt. Expensive, but worth it considering the quality of the food.
Price: À la carte
No. 7
When: 11 a.m. to 4 p.m.
What: Head to Fort Greene for brunch and enjoy all-day happy hour! All beers are $3, and there are discounts on cocktails, too.
Price: À la carte
Pera Brasserie
When: All day, July 4 to 7
What: The midtown location's "Boundless Barbecue" includes a spread of Mediterranean dishes like crispy phyllo rolls, lamb riblets, and pistachio baklava during lunch and dinner. Unlimited house wines, beer, and watermelon martinis for $21.
Price: $29 for unlimited food; $21 for unlimited booze
Pera Soho
When: All day
What: Great deal: For $35, you get a selection of food that includes fried calamari, sliced sirloin steak, and black-cherry crisp with ice cream. Margaritas and other drinks are $9 a glass ($36 for the pitcher), but the best part is that you get rooftop access for fireworks viewing.
Price: $35
Maya
When: 10:30 a.m. to 3 p.m
What: Bottomless brunch at this Upper East Side Mexican spot comes with unlimited small plates and as many brunch cocktails (mango mimosas, spiked aqua fresca, margaritas, and Bloody Marys) as you can handle.
Price: $35
Momofuku Noodle Bar; Ssäm Bar
What: Want to throw a party at home? Momofuku's catering specials include a Noodle Bar spread of Korean-fried chicken wings, noodles, rice cakes, and more. And Ssäm Bar is offering a pork-shoulder Bo Ssäm with three sides and cherry-yuzu ice-cream pie. Both serve eight to ten people. These are only available for takeout.
Price: $250 (Noodle Bar); $350 (Ssäm Bar)